This summer, Pismo Beach will lose one of the town's fixtures. The historic Pismo Beach Hardware store will close its doors in August to allow the owners to focus on their nursery, Pismo Garden Art, and—after 33 years of helping customers find just the right nuts, bolts, or whatchamacallits—some much-needed time off.
"This is a hard time for us, but everything has to come to a close at some point," said Pismo Beach Hardware owner Bob Pringle.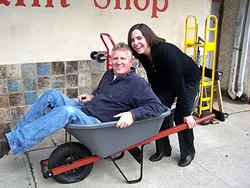 PHOTO COURTESY OF BOB PRINGLE
FAMILY AFFAIR: Bob and Toni Pringle opened Pismo Beach Hardware more than three decades ago, and their six children grew up helping out in the business.
A liquidation sale runs through the store's final day on Aug. 15.
"Hopefully it will all be gone by then. We didn't expect to have to close the store, so our shelves are stocked," Pringle said.
For Pringle, the passion for hardware began in college when he took a job in a hardware store. A few years later, in 1982, he and his wife, Toni, opened their shop on Price Street. Since then, the couple's raised six children in the store, and Pringle's become Pismo Bob around town.
"I like helping people, and I became really passionate about it—it's in my blood," Pringle said.
His dedication to customer service led to some of Pringle's favorite memories in the store. Once, when a customer came looking for an O-ring of an unknown size, Pringle told that person to take a whole tray of them home, test them out, and bring back the ones that didn't fit. The customer was dumbfounded, but obliged.
"The story must have reached hundreds of people—that's how many times I've heard it over the years," Pringle said. "We're just really trusting, and we take care of people."
The Pringles found various ways to contribute to the Pismo Beach community beyond the confines of the store. Among other things, they dedicated palm trees on Price Street, organized the World's Worst Poetry contest for 18 years, and supported the local Rotary and Lions clubs.
Once the hardware inventory is gone, Pismo Garden Art, the Pringles' nursery next door, will expand into the building. A garden sanctuary full of succulents, waterfalls, and other garden essentials will replace the current industrial look of the store.
"We want to provide every gardener with a unique feel that reflects their personality," Pringle said. "There will be a whole new spirit. Just wait till you see it."
Community reactions have been overwhelmingly supportive since the decision to close was made public, Pringle said. One customer even came by the store with a giant bottle of Jameson whiskey as a thank you.
"It made me feel so good," Pringle said. "You try to be humble and not look for a thank you, but it all comes back eventually."
There's also the possibility that community members may help carry on the store's legacy.
"A number of people have asked us to consider selling the store. They're looking for locations right now; that just happened since we announced that we're closing," Pringle said.
The Pringle family's time in the hardware business, however, is coming to a close. Pismo Bob's will still be around, but the days of sifting through thousands of products for that one special screw or fastener are over.
"I hope people remember the impact we've made on the community, both in the development of Pismo Beach and with our outreach," Pringle said.
Pismo Beach Hardware and Pismo Garden Art are located at 930 and 940 Price Street in Pismo Beach.
Fast fact
This weekend, the third annual Seven Sisters Craft Beer and Music Fest takes over El Chorro Regional Park for three days of—well, music and beer. Tickets range from $28 to $115 for one, two, or three days, and benefit Woods Humane Society and the Infinite Music Foundation. For more information, visit sevensistersfest.com.
Intern Anna Hoernell wrote this week's Strokes and Plugs. Send your business and nonprofit news to strokes@newtimesslo.com.