Members of the Pismo Beach City Council breathed a collective sigh of relief on March 20, finally settling the contentious issue of just where to put bathroom facilities at the city's newly renovated pier.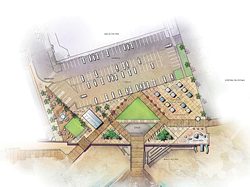 Photo Courtesy Of The City Of Pismo Beach
POTTYS ON THE PIER The city of Pismo Beach has finally found a place for new restroom facilities near its pier. This spot is not far from the bathrooms' current location.
After two other options for potty placement were scrapped due to divided public opinion last month, the council voted unanimously on a third option developed by city staff and the RRM Design Group.
"I think we are all ecstatic," Mayor Ed Waage said. "We struggled, but we have something we can be proud of."
Initially, the city mulled two possible locations for the restrooms. One would have placed a facility at the northeast corner of the pier's parking lot and another at its south end. The second option would have put a bathroom on each side of the pier's entrance. But local residents and city hoteliers clashed over which option was best at a Feb. 20 meeting, leading the council to vote 3-2 to send city staff back to the drawing board.
The new plans will instead move the toilets to the northwest, about 70 feet from the current restrooms. The new bathrooms will also be placed at an angle to preserve the Pomeroy Avenue view of the beach and pier.
"It opens up the view of the pier dramatically," said Debbie Rudd, a representative from RRM.
The new bathroom facility will be larger than the current one, providing a total of 18 stalls. Those include 10 women's stalls, six men's stalls, and two "family" stalls. The newly designed facility will reduce parking spots for cars at the pier plaza from 124 to 119, but Rudd said an additional six spaces for motorcycles could be added.
The revised plans appeared to smooth over some of the friction in the community, with both residents and members of the hotel and tourism industry giving their approval.
"I think this is a good alternative," Pismo resident Don Day told the council.
Mark Eads, president of the Pismo Beach Hospitality Association, agreed.
"I think it's something that will be very beneficial to all residents," he said.
With the placement approved, the city will continue to refine the design of the bathrooms, which are part of an $8.7 million pier renovation project. Δ