New Times Why the heck open a gallery in Pismo? Why not SLO or Cambria?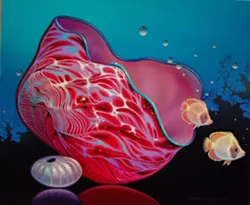 IMAGE COURTESY OF WEST COAST GALLERY
Janice Simich I grew up in Pismo Beach and have lived here my whole life. I went away to college and came back. I thought it would be a great location for a gallery and I am more familiar with the Five Cities
New Times What got you into the art scene?
Simich I started collecting art about 13 years ago and have a huge appreciation for it, and so with wanting to get into something new, I decided to open an art gallery.
New Times Tell me about the art you carry.
Simich I am meeting quite a few local artists now and I have three local artists in here now. Laurel Sherrie, Gregory Simmons, and Rubi Glass (hand blown glass). I want to represent Central Coast artists.ÜPeople who come to the Central Coast from out of town, out of the state, or out of the country would like to bring something home with them that is from this area.
New Times Are you looking for any particular genre to hang in your gallery?
Simich Besides the artists I mentioned, I carry quite a few different things—not the norm. I exhibit vibrant, very colorful, very loud works. (Thomadro, Lassen).
New Times How long has West Coast Gallery been open?
Simich We've been open since March of this year. We had a grand opening and then a reception at the start of August. I would like to have something [an event] each month. I would like to cater to the people, the local residents. Some of my proceeds are donated to charities for preserving sea life and an organization called Compassion.
IMAGE COURTESY OF WEST COAST GALLERY
New Times I've asked other Five Cities' galleries this and would love to see this happen—an Art After Dark event, similar to what happens each month in SLO, but in South County. What do you think?
Simich I'm pretty much open to anything. I would like to do something like Art After Dark with nearby galleries.
New Times Who's your favorite artist?
Simich Thomadro. He was born in Southern California but now resides in Las Vegas. His stuff is a little off the wall. A little different.
REVAMPED
West Coast Gallery, the latest art space in Pismo Beach and South SLO County is quaint, yet luxurious. It's what a gallery should be. Owner Janice Simich gutted the pre-existing space, which consisted of one room cloaked in remnants of nasty 1950's de cor. Now it's two rooms of powerful art: Thomadro's bold vibrant tigers and zebras in hues of pinks and blues, and a lion swathed in a Miami Vice palette. Christian R. Lassen's almost electric landscapes are hang front and center. Locals Laurel Sherrie, Gregory Simmons and Rubi Glass (West Coast carries exclusive pieces from them) also exhibit in the gallery. 991 Price St., Suite A, Pismo Beach. Pictured: the seascape is by Gregory Simmons and the horse is "Natural Pride" by Thomadro. Info: 295-6120 or 305-8103.
---
Christy Heron can be reached at cheron@newtimesslo.com.