Charlie Puffer is the kind of guy you want tending bar. He's got big stories, bigger hand gestures, and a big, bold Chicago accent that's as exotic as it is engaging. After years of owning and working in bars in some of the noisiest cities (Los Angeles and Chicago) the entrepreneur found a new calling. It's a story as old as time around these parts. Guy finds good wine. Guy falls for good wine. Guy moves to the Central Coast to be closer to the unique and alluring wine region.
"I knew I wanted to go someplace that has to do with wine, is low-key, has a higher quality of life with low light pollution and sound pollution," Puffer said. "I like that I can go out into my backyard and just look up at the stars."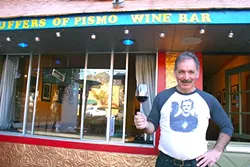 PHOTO BY HAYLEY THOMAS CAIN
HIS NAME IS PUFFER: Charlie Puffer opened Puffer's of Pismo Wine Bar last year with the idea of bringing some funk, adventure, and local flavor to a longstanding neighborhood watering hole.
The wine lover's latest business venture, Puffer's of Pismo is a proud "hole in the wall" wine bar nestled next to Chop Street and the iconic Cracked Crab. Pretty much everything in the joint can boast its own story (the front sign (repurposed), the candle holders (brought in by a customer); even the brightly painted fish that dangles above the doorway, which—Puffer will enthusiastically tell you—is not actually of the puffer variety.
"I want to be a place where the locals drink, and so far, that's what's happening," Puffer said. "We had some Europeans come in recently, and they said the place feels like somewhere they'd go back home. That's fine by me."
The wines here are a mix of worldly and local; sophisticated and casual—kind of like Puffer himself. The level 1 sommelier can spit $80 French wines with the rest of them, but he can also grill up some sausages on a humble panini press while KCBX's Freedom Jazz Dance blares in the background. I was lucky enough to sample the reluctant chef's antipasto plate, filled with olives, cornichon pickles, grainy mustard, fig jam, salami, Marcona almonds, toast, and three big hunks of distinctive cheese. The plate provides more than enough gourmet munchies for two people, with a few bites left over in case a new friend wants to pull up a chair and mooch (isn't that what it's all about?).
"People tell me I should charge more for the cheese plate, but I don't," Puffer said. "I want this place to be about abundance and value. That's what always brings people back."
Puffer knows a thing or two about people. His story is one undeniably intertwined with the human experience and customer service. The native New Yorker owned a rock club in Chicago for about a decade. In the '90s, he relocated to Los Angeles to fulfill a romantic relationship.
"I became no one, instantly, and had to rebuild my life. But I didn't want to be in the bar business anymore," Puffer said. "I became an English teacher and taught for a few years in Watts, arguably one of the worst high schools academically and socioeconomically. A rough place."
PHOTO BY HAYLEY THOMAS CAIN
WHAT'S COOKING?: Puffer's of Pismo wine bar is always serving up gourmet-meets-everyday munchies, like this bountiful plate of cheeses, olives, and more. As a former Chicagoan, bar owner Charlie Puffer is always one to add a bunch of sausages to the mix, too.
Puffer said his time teaching was "a beautiful and rewarding experience" that eventually wore him out. A summer job at a buddy's Glendale wine store eventually evolved into more, as Puffer found himself attracted to the romance (and paycheck) of a job in wine sales.
"I like to joke that, as a teacher, my clients didn't have much trust or interest in what I had to say. But as a wine salesman, people paid very close attention," Puffer said with a goofy smile. About a dozen years later, Puffer again sought a change. Avid wine experimentation had brought in plenty of Central Coast bottles—and people too.
"I remember Kenneth Volk. I love the man and the wine," Puffer said. "I call him 'the old professor' because he's really into wine and viticulture; the guy is amazing. I met the guys from Tooth and Nail and Field Recordings. I had a lot of change in my life, the end of a 15 year relationship, and I knew I wanted to leave LA."
Thanks to some help from his pals at Kenneth Volk, Puffer soon found himself in Paso Robles, learning about wine at Villa Creek. Although the wine aficionado enjoyed the gig, he's never been a very good employee. He'll tell you that this is a badge of pride (he just can't not do his own thing). So, in the summer of 2015, Puffer set his sights on doing what he does best: getting behind the bar and serving up stuff local folks like.
"I saw an ad for 'hip little wine bar by the beach,' and thought 'that sounds like me,'" Puffer said, adding that the previous bar Vino Versato, featured local wines exclusively. "I knew that if I put a little time, money, and effort into it, I could make this thing work."
The newly remodeled space accommodates more seating, and Puffer has also installed wooden bars throughout, milled by a friend, of course. A large street-facing window opens into patio seating. You can watch the sleepy Pismo world go by or turn inward and allow the sounds of live music and chatter to envelope your senses.

REEL IN THE WINE: Puffer's of Pismo is located at 781 Price St. in Pismo Beach. For more information, go to puffersofpismo.com or call 773-6563.
Oh, and the food is not to be missed either. These days, you can stop in for a glass of wine (this list is always evolving), an amazing cup of parsnip ginger soup, chicken liver pate, his sister's famous meatballs, or surprise entrees provided by local chef pop-ups. There are never more than four things on the menu, but you can bet that Puffer has put a lot of heart and soul into those four items (he likes to say he's "throwing meatballs at the wall" to see what'll stick).
Luckily, we get to benefit from Puffer's insatiable appetite for adventure. A small tap of two rotating local beers offers up a counterpoint to his stable of unique wines from around the world. Once a wine sales guy, always a wine sales guy.
"I'm doing some Old World wines, Spain, France, Italy, Austria, New Zealand. I want to mix it up, with some concentration on local, but also traveling to other places—because, why wouldn't you?" Puffer said. "What can I say? I just want to add a little funk to the table."
Hayley Thomas Cain is always down for meeting a new wine for the first time. She can be reached at hthomas@newtimesslo.com.