After complaining for years about the increase in traffic in Nipomo's core, the community's residents could soon see key improvements to the area's main thoroughfare and most congested street, following the San Luis Obispo County Planning Commission's approval of the West Tefft Corridor Design Plan.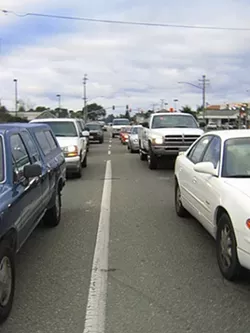 PHOTO BY JEANINE STEWART
TIRED OF WAITING : Traffic piles up daily on Nipomos West Tefft Street, as commuters wait to enter Highway 101, but congestion may clear if the San Luis Obispo County Board of Supervisors approves the neighborhoods new design plan.
# Mike Winn, president of the Nipomo Community Services District, has followed the preparation of this plan for five years.
"We've had hundreds of people out to the public meetings and polled them," Winn said. "And significantly, we don't want big-box stores. So I think what people like about the plan is that it helps maintain a small-town feel and a more intimate landscape."
The draft plan aims to ensure attractive, pedestrian-friendly development, somewhat akin to the older part of downtown on the east side of the highway, San Luis Obispo County planner James Lopes said.
He added that the plan for the new development projects on Tefft prioritizes attractive architecture as part of a goal to encourage people to get out and walk. For instance, the plan would require at least 60 percent of building frontage to face the street to create an inviting environment for passers-by.
There are several development projects for the area in the works, according to Lopes. A residential/commercial project was recently approved, and two other mixed-use projects are currently in the process of applying for permits.
In light of all the new development and the current bumper-to-bumper traffic, the plain aims to reduce congestion by putting in a new median in the center of Tefft, a new traffic signal, and new cross streets with traffic signals. One such traffic signal would go in at Blume and Gardenia.
The Planning Commission made its decision partly in response to the unincorporated area's growing population. According to the county's 2005 population projection, Nipomo's population will increase from 14,536 in 2005 to 16,446 by 2010. The county report states that Nipomo's general plan will need revision if the community grows to 23,819 by 2025 as is expected.
The county has not yet set a date for the West Tefft Street plan to go before the Board of Supervisors, where it will be up for final approval.