Before Roxanne Lapuyade became known for her fresh-pressed juices, kitchen sink salads, or "Ro boats," (romaine lettuce leaves filled with persimmon, avocado, mixed veggies, and cashew tamarind spread), she was a lot like the average American kid. Along with the rest of us, she snuck the odd candy bar before Halloween or yearned for the chemical warmth of a Happy Meal.
As a teenager, though, she awoke to a new way of looking at the universal food chain and our human place in it. Part of this credit can be awarded to an older, cooler big sister, as is true with so many of life's revelations.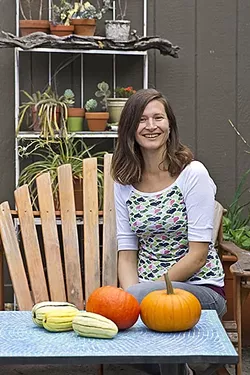 PHOTO BY JAYSON MELLOM
GREEN DREAM: Roxanne's Cafe owner Roxanne Lapuyade encourages diners to not only nosh, but relax, rejuvenate, and recharge at her green garden patio tucked just off Archer Street behind the Smiling Dog Yoga studio in SLO.
Lapuyade painted the picture for me: It was the '90s in the Bay Area, and a teenaged version of herself proudly rocked a shaved head and combat boots (these days, her look is tamer, although plant-based passions remain).
Back then, a stroll through the city might produce sights of mohawkhed Food Not Bombs activists selling bread rejected by grocery stores or fringe organic farmers selling quinoa or kale behind makeshift tables. Even punk rock shows might allude to the state of agriculture, organic labeling, or farmers' rights.
As Lapuyade rejected the prepackaged and embraced a whole foods diet, it became clear that a new path was emerging—a path that led to better wellness and a whole lot of food for thought.
"I was opening up to this incredible awareness that was supported through my choice of community and friends," Lapuyade said during an interview at Roxanne's, her open-air cafe located just behind Smiling Dog Yoga in SLO. "I was getting really into learning about a healthy lifestyle; I was hiking and spending time outside—and, of course, cooking everything from scratch."
This passion only intensified as Lapuyade grew up and explored her green dream. Years later, her excitement about healthy living is as vibrant as ever.
"At 16, I started going to my first farmers' markets and really learned how to use fresh vegetables. It was life changing," she added.
Little did Lapuyade know, but those bustling farmers' markets and the living, breathing growers behind those stands would become a huge part of her life for decades to come. Lapuyade moved to San Luis Obispo in 2001, after spending many years visiting her aunt in the area. She liked the idea of being able to ride her bike around town—and being closer to nature.
PHOTO BY JAYSON MELLOM
BACK IN BLACK : Although she's always got different specials on offer, Roxanne's Cafe chef/owner Roxanne Lapuyade always comes back to her famous (and filling) black bean burger and warming Thai curry soup.
Fatefully, Lapuyade snagged the perfect job at the San Luis Obispo Natural Foods Co-op, which—at that time—was a bit more "homespun." The new expanded location, as you may already know, is now located on Victoria Avenue.
"Back then, the cooperative was in this tiny wooden house; it was cozy and the light would come through the windows in such a nice way," Lapuyade reminisced.
You could say this is also an apt description of Roxanne's Cafe, which features a large enclosed courtyard and a small commercial kitchen not much larger than what you might have at home. The main vibe of her space is "cozy" with a dash of bright, aquamarine paint and oodles of ferns and flowers.
"At the cooperative, I'd arrange the vegetables by color to really make them pop. I was always looking for new produce to share with the community," said Lapuyade, who worked as cooperative produce manager for eight years.
But Lapuyade isn't just some earth momma with a few half-baked healthy recipes. She's also had some killer formal chef training, too, working as sous chef under Chef Julie Simon at Thomas Hill Organics (Simon is now at Foremost Wine Company in SLO).
Eventually, the commute to Paso and late nights got to her. In 2011, Roxy Borger, owner of Smiling Dog Yoga, was trying to find someone to take over the cafe space tucked within her secluded courtyard. There had been tons of turnover; nothing stuck.
"She just wanted to focus on her yoga studio, and I knew Roxy from the cooperative, and talking produce," Lapuyade said. "I had to think on it, but finally decided to give it a try."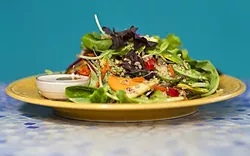 PHOTO BY JAYSON MELLOM
WHERE SALAD STARS: A salad with a cult following? You bet! In SLO, the Kitchen Sink Salad—which always features whatever's fresh and seasonal right now—is a total phenomenon.
It's never easy to start a restaurant, especially one that is virtually hidden from view. When the chef-owner started out about five years ago, she worked hard to offer tons of rotating menus and complicated items (layering mango and avocado to make a beautiful pattern, say). It didn't take long for the chef to realize that simple, casual lunch food is best.
"Now I toss everything together, and it's fresh and people love it," Lapuyade said. "I've been going to the Saturday farmers' market since I moved here, and it's become both great for the restaurant and a social time to connect with friends and farmers."
Word of mouth has traveled, and the die-hards come each week to get their fix of freshness, which includes creative juices and smoothies like "A Date in Paradise," a mix of pineapple, mango, banana, dates, lime leaf, coconut oil, and coconut water.
To this day, the chef doesn't make your order until you ask for it, so you're literally forced to slow down and enjoy the sun dappled seating area. You'll likely see Lapuyade in the kitchen alongside her employees, of which there are just three.
GO GREEN FOR A MEAL: Roxanne's Cafe is located at 1227 Archer St. in San Luis Obispo. For more information, call 549-0878 or visit smilingdogyoga.com/pages/cafe. Hours are from 11 a.m. to 3 p.m. Monday through Saturday.
Not sure you can swap a meaty meal for a green one? On the menu you'll find filling black bean burgers on fresh-baked local bread made with a farm-fresh egg and topped with cheese. Note: Most dishes on the menu will work for vegan, dairy-free, or gluten-free folks.
Lapuyade's mantra is sinple: "light, fresh, and satisfying."
"During lunch hour, you have to keep working and doing your errands and tackling your day. If you eat a heavy meal, you won't feel like doing anything at all," Lapuyade said. "We get skeptics here once in a while, but at the end of their meal, they're always smiling and laughing and having a good time. I love watching that turnaround."
Hayley Thomas Cain is craving a Kitchen Sink Salad like nobody's business. She can be reached at hthomas@newtimesslo.com.