For $90, you can have your very own slave. That's not in the year 1670. Not in the year 1890. It's now, in the year 2012. Ninety dollars is the average going rate for a human being in the modern age. According to dosomething.org, 80 percent of human trafficking and slavery is sexual in nature, and there are more than 27 million people trapped in slavery worldwide at this moment.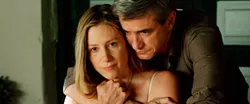 PHOTO COURTESY OF MONTEREY MEDIA COMPANY
STOP TRAFFIC : Dermot Mulroney and Mira Sorvino play Alex and Claire Becker, a couple still grieving the loss of their own child, who fly across the world to help end the sex-trade industry that exploits helpless young children every day.
The statistics are sobering—and for Americans, they can also seem distant. According to a survey conducted by the Polaris Project, nearly 90 percent of Americans are unaware of the number of people living in sexual slavery or other forms of forced labor.
That all might change thanks to Trade of Innocents, a new feature film starring Dermot Mulroney and Mira Sorvino. Directed by Christopher Bessette, the film screens at San Luis Obispo's Palm Theatre Nov. 2 through 8.
Perhaps part of the problem stems from the confusing nature of the phrase "human trafficking" as it now pertains to an American audience. The Polaris Project found that many Americans erroneously believe human trafficking means to smuggle people across the borders of one country to another, without proper documentation, for the purposes of immigration and work. But a majority of human trafficking happens within the borders of one country, and the U.S. Department of Justice estimated in 2011 that there are more than 100,000 children in the United States involved in prostitution each year.
This is human trafficking, and this is the subject at the heart of Trade of Innocents. Trafficking in its many incarnations isn't necessarily an ocean away, and neither is the drive to end it.
Trade of Innocents delves into the horrors, complexities, and cultural hang-ups of the child sex-trade industry in Southeast Asia, and specifically Cambodia. Alex Becker, played by Mulroney, is a human trafficking investigator who's been asked by Cambodian officials to help work undercover to find and arrest the men responsible for trading young girls and women to rich and eager clients (often tourists), with some of the youngest girls up for purchase being only 5 or 6 years old. His wife, Claire, played by Sorvino, begins volunteering her time at an aftercare shelter for the same girls Alex helps to rescue.
Alex's sense of responsibility to these children is only made stronger by the loss of his own child. Alex and his wife Claire's 7-year-old daughter, Abigail, was abducted, murdered, and dumped in a field. With every child he helps rescue from the brothels, Alex is reclaiming his sense of control over the world. But for his wife, Claire, helping the young women in the aftercare rescue shelter only sharpens her sense of loss.

MAKE A CHANGE: Trade of Innocents is showing at the Palm Theatre, 817 Palm St. in San Luis Obispo, Nov. 2 through 8. For more info, visit tradeofinnocents.com
The film focuses on a fictional brothel in Siem Reap, Cambodia, which is run by an American-obsessed Cambodian named Duke, who drives a beat-up old convertible and owns an extensive Hawaiian T-shirt collection. He's a ruthless and cunning businessman,
"So. You want little girl? Virgin? 4,000," he tells Alex.
It's the opening scene of the film, and it gives you everything you can expect from the rest of it: heartbreaking, breathtaking inhumanity at every level.
The brothel is hidden in the back of a restaurant, obscured by a cartoonish plaid curtain, behind which lies a hallway littered with the shells of young girls leaning against the sweltering walls, waiting for the next customer to come along.
Duke and Alex work out a deal, and Alex arranges to be taken to meet his "virgin" in the country.
Once there, a small girl, no more than 10, appears from a back door. Her eyes break away from the floor only briefly to focus on unbuttoning her blouse as Alex sits down on a chair. He stops her at the second button, adjusts the secret recording device in his pocket, and begins to teach the girl a very tenuous game of rock, paper, scissors.
It's the first time you sense the enormous cultural gap he faces on his mission, and this is the film's strongest attribute and most noteworthy facet.
It begs the question, "How do we do this?"
Because really it isn't a matter of "If we do this" for many cultures. Although there is an implicit bias and hypocrisy interlaced in the belief that Western or developed cultures are too advanced for such practices, or that we are immune to them (obviously, we aren't), it's a fact that the discussions surrounding the sex trade in the United States are vastly different from those abroad.
The film's producer, Jim Schmidt, could tell you better than anyone why this film isn't just about Cambodia or the sex trade in Southeast Asia.
A woman approached him after an event for the film in Bakersfield, Schmidt said, to ask if he thought it was reaching for a more global message. He responded that yes, he felt it was more about what happens to people on a broader scale. Her reaction was intriguing, so he asked her what she meant by the question.
"She told me, 'When I was 12, my father used to sell me out on the highway here [in Bakersfield].' So, it's happening here. It happens everywhere," the producer explained.
The hope lies in the number of people from all over the world willing to put in the work to end the destructive practice of human trafficking. In San Luis Obispo County, we need look no farther than our own backyard for such support.
Timothy Hosman, long-time Cambria resident and film and television composer, produced more than an hour's worth of original orchestral music for the film. Randy Goodrum, a part-time Cambria resident, co-wrote the film's theme song, for which Hayley Hosman (Timothy Hosman's daughter) provided the vocals. Cambria dentist and harpist Jill Poulos is also featured on the score.
(Sorvino herself has also been heavily involved in the effort to end human trafficking. A UN Goodwill Ambassador to Combat Human Trafficking, the actor was awarded the Global Advocate Award in 2010 for her work to end the modern-day slave trade.)
The principal characters of the Trade of Innocents, both American, are told time and time again, with and without words, that they will probably never understand what sex slavery means in Cambodia.
As the chief of police tells Alex, "There is something in your Western brain ... that doesn't let you understand. I have rescued many children that choose to go back to the brothels."
It's a poignant and maddening thought, as is a mother's explanation that her daughter returned to work as a prostitute to "provide for the family."
And this is where the truth about the sex trade industry desperately needs to come into the light, because nothing is worth the catastrophic suffering of commodifying human life; of treating people as goods to be used and disposed of.

Calendar Editor Maeva Considine can be reached at mconsidine@newtimesslo.com.