It's described as a revolution in power, a "blue sky" idea that's quietly taking hold in California and around the country. More and more local communities are choosing to unplug from utility monopolies and set up their own electricity agencies—with a focus on clean energy and local jobs.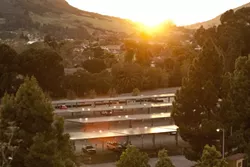 PHOTO BY STEVE E. MILLER
SUNNY SOLUTION : Interest is growing in forming a local energy authority, with a focus on providing electricity from clean, local, renewable sources.
The concept is sparking interest in San Luis Obispo County, with discussions under way about how it would work here. Elected officials are especially intrigued by what's happening in Marin County, where nearly $100 million a year is now flowing into local coffers instead of going to Pacific Gas and Electric.
"Everyone sees the possibilities that we're seeing and wants to be involved in the discussions. We've got great traction moving forward in San Luis Obispo County," said Eric Veium, an energy engineer who's part of the leadership team for a new nonprofit, the SLO County Clean Energy Economy Coalition.
Veium and Shawn Marshall, a board member of the Marin Energy Authority, have been meeting with local elected officials and other community leaders to talk about some of the benefits SLO County residents could see from localized green energy.
Here's how it works: A local government negotiates its own cost of electricity from suppliers other than PG&E, pooling buying power to get a better deal. Local officials choose what energy they'll buy for residences and businesses—with a focus on renewable sources.
Eventually the local energy agency earns enough revenue to invest in localized green energy—including solar, wind, small hydro, and biogas—and energy efficiency programs.
The power is still delivered over the lines and pylons of PG&E; it's just not generated by PG&E.
Technically known as Community Choice Aggregation, or CCA, it's an innovative idea that's grown from a handful of communities into a national phenomenon in the last couple of years—800 U.S. cities are now providing community-choice energy, according to energy consultants Local Power, Inc.
In California, San Francisco county supervisors recently approved the launch of CleanPower SF, with a focus not just on buying from renewable energy sources but also on the development of local, customer-owned power. Sonoma County is setting up community-choice electricity through a new agency, Sonoma Clean Power. The Marin Energy Authority launched its program in May 2010.
These agencies are reducing greenhouse gas emissions—required under California law—and putting money into clean energy, according to Andrew Christie, director of the local chapter of the Sierra Club.
"They're not paying executives. They're not paying bonuses. They're not maintaining infrastructure. They're not ruled by the profit motive, the corporate imperative," Christie said.
In San Luis Obispo County, as much as $115 million annually—now paid to PG&E by electricity customers—could come back into the community instead, according to Marshall from the Marin Energy Authority.
Much of that would go to paying power suppliers, she said, but around 10 percent—$10 million a year—would stay in the community for local energy projects. Once there's enough revenue to issue bonds, "you get to the golden phase of developing your own electricity supply."
And all of that happens with no new taxes and no taxpayer subsidies, as Christie points out.
The SLO County Clean Energy Economy Coalition (slocleanenergy.org) wants to see the local development of clean energy, with the goal of reducing greenhouse gas emissions and creating local jobs.
"We see the development of local energy as a key aspect of San Luis Obispo County moving forward," Veium said.
Energy reliability is also important, he noted, pointing to the New York City area, where many residents still had no power weeks after a devastating storm.
"Through a community-based energy program, we'd redirect $115 million a year into our local control for year after year investing—investing into emergency response and infrastructure, and local onsite generation, so if we are hit by an earthquake or a wildfire we're able to respond," he explained.
Rather than buying renewable energy from out of the area, "we see it being built here, maintained here, operated here—that's all about jobs and local economic development."
Veium also sees an opportunity for San Luis Obispo to become a leader in innovation and creativity in "the new clean-energy economy," through partnerships with Cal Poly and the local business community.
Comparing the technology of local energy generation with the rapid changes in telephone technology, he said, "In 10 years our way of relating to energy is going to be dramatically different. We should be leaders in that."
PG&E, once staunchly opposed to community-choice energy (as demonstrated by its failed $60 million campaign on Proposition 16 a few years ago), is now changing its approach, according to Veium.
"We need PG&E's support in our innovation. They're an important partner, since they operate the wires," he noted.
SLO County officials have already pledged in the county general plan to look at community-choice energy as a way to "realize a low-carbon, local energy portfolio."
County planner James Caruso said community choice "certainly could hold potential" for SLO County, and said a feasibility analysis would be the first step. A partnership with local cities would make sense, he added.
That's the approach used by the Marin Energy Authority, where the long-term vision is local, diversified electricity generation. Their "feed-in tariff" is a first step that could be emulated in SLO: local electricity customers or solar companies that install solar panels on rooftops or parking lots can sell any surplus power to the energy agency at full retail rates.
Marin County's community-choice electricity is voluntary; customers can choose to remain with PG&E. Rates offered by the Marin Energy Authority are competitive, but PG&E charges customers a monthly "exit fee" for opting out of the utility's electricity. That exit fee means Marin Energy Authority customers are currently paying a few dollars more each month, but they are getting a higher percentage of renewable energy than PG&E currently offers, Marshall said.
In SLO County, local elected officials are asking if a local community-choice program would be cost competitive, she noted.
"A feasibility study should be done in each community to answer that question. Once the answer is yes, the benefits are significant. Then the decision becomes more of a no-brainer," Marshall said.
She added: "San Luis Obispo has been dancing around this for a long time. But now there's market proof, with Marin. It's taking off around the U.S. California policy supports it. Now is the time."

Contributing writer Kathy Johnston can be reached at kjohnston@newtimesslo.com.