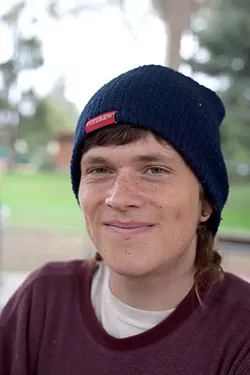 PHOTO BY GLEN STARKEY
DO GOODER : Trevor Barrick is one of several young 20-somethings involved in the local grassroots movement Food Not Bombs, which feeds the hungry Friday evenings and Sunday afternoons in two SLO Town parks.
I
don't "get" face piercings. OK, sure, some little speck of a thing in a woman's nose is fine, but eyebrows and lips? What the hell is that all about? I tell you, the kids these days! Geesh! But then every once in a while, these little ruffians surprise you, like they are right now on Sunday, Oct. 24, at Mitchell Park. Twenty-nine hungry people are eating a free vegan meal because some smelly, ratty-haired kids aren't self-involved jerks. Instead they're idealistic punks who want to change the world. It's freakin' heartwarming, I tell you!
Food Not Bombs isn't a nonprofit organization. In fact, it's not organized at all. When I ask Trevor Barrick who's in charge of the local chapter, the answer is "no one." It's also not a charity. Sure, it feeds the hungry, but these kids are activists first and foremost. They're like little commies or something.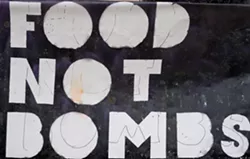 PHOTO BY GLEN STARKEY
FOOD NOT BOMBS? : This now 30-year-old international organization promotes social causes and condemns the Military Industrial Complex.
"Food Not Bombs is for unity and community; it's for solidarity," says Barrick, his dreadlocks peeking out from beneath a rain-touched beanie. "We're against the military industrial complex, the prison industrial complex. We're against police brutality and capitalism."
Idealists! Huff! They're the worst … except when they're not. Barrick and his compatriots hit Farmers Market every Thursday, pushing around a shopping cart and soliciting donations.
"The cart gets filled," says Barrick, "and then we make food on Fridays and feed the people in Meadow Park at about 5 p.m., and then we make more food and feed the people in Mitchell Park on Sundays around 1 p.m. I think the people in Meadow Park are more receptive. Some of them live there."
With Barrick's encouragement, I take a plate (no paper or disposables; these kids take silverware and china and wash them after) and load up on curried rice and vegetable stir-fry, with tortillas and guacamole on the side. Pretty tasty, I must admit.
PHOTO BY GLEN STARKEY
VEGAN DELIGHT : Curried rice, vegetable stir-fry, tortillas, and guacamole for free!

EAT UP!: Food Not Bombs offers free vegan meals to any and all takers on Fridays at 5 p.m. in Meadow Park and Sundays at 1 p.m. in Mitchell Park. The group is also available to prepare and serve free food at protests and political rallies. Contact them at sanluisfnb@gmail.com.
"It's always vegan," Barrick says. "The whole thing was started in the early '80s by anti-nuclear activists, but we're also against the military. I don't know if it's true, but they say one week of the military budget could feed the whole world for a year. It's like that old bumper sticker: We'll be happy when the schools are fully funded and the military has to hold bake sales."
They're also against factory farming, multinational corporations, racism, and big fat jerks. Just saying.
So anyway, I still think face piercings are stupid looking, but these kids are all right.
Glen Starkey takes a beating and keeps on bleating. Keep up with him via twitter at twitter.com/glenstarkey, friend him at Myspace.com/glenstarkey, or contact him at gstarkey@newtimesslo.com.