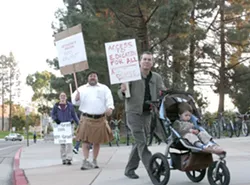 PHOTO BY MATT FOUNTAIN
PHASED OUT? : Student protesters gathered in front of the Administration building at Cal Poly on Nov. 9 after learning the dean of Continuing Education planned to initiate a process to discontinue the Adult Degree Program.
R
oughly 30 students, teachers, and supporters of the Adult Degree Program (ADP) at Cal Poly staged a rally in front of the university's administration building to protest the possible elimination of the program they say has given many in the community a second chance at a first-rate education.
On Oct. 29, Dean of Continuing Education Brian Tietje sent a letter to students enrolled in the program stating he would be submitting a proposal to discontinue the program, which he said was no longer sustainable.
"After thoroughly studying the [ADP's] business model and competitive space, I reached the conclusion that we cannot provide the level of support that is necessary for the Program's long-term success and viability," Tietje wrote.
ADP offers students—most of whom work full-time and have families—a path to an interdisciplinary studies bachelor's degree through evening and weekend courses.
Some protesters said ADP, which doesn't provide revenue to the university, was being marginalized in favor of new, lucrative master's programs.
"If they want to provide more master's degrees, great. Do it," said Margaret Chruszch, an ADP student with just more than a quarter left before she graduates. "But I think more people out there need bachelor's degrees."
"I do envision Ca Poly launching new master's degrees in the near future, but they're in no way a replacement for this program," Tietje said in response.
As mandated by the CSU system, the program is completely self-funded through student fees. As such, ADP students typically pay higher fees than state-subsidized students: approximately $300 per unit.
Tietje told New Times, "I don't have the faculty and support staff to provide the resources necessary for our students in the long-term."
He added that the original program architects envisioned enrollment levels at about 100 students, but enrollment is currently at about 40. The school stopped taking new admissions weeks ago.
According to the Academic Senate's procedure for discontinuation of an academic program, the provost will review Tietje's proposal and either reject it or begin the discontinuation process within three weeks. The appointment of a review committee—which would include current and former students in addition to administrators and faculty—would follow; that group would make a recommendation to the provost and president. Ultimately, the Chancellor's Office would have the final say.
Tietje said the entire process could take up to 47 weeks. The program is salvageable if one of the university's academic colleges absorbs it and contributes the necessary faculty, he said. But so far, he hasn't heard any such responses.
"If this was truly an option, why not approach the students first before proposing to scrap our program so we can help market this program to other colleges?" said ADP student Nancy Wilcher. "We are probably the best ambassadors for this program."
Tietje said, should the program ultimately be discontinued, adults committed to jobs and family would still have other resources to achieve a degree. He referred to a number of local institutions.
"I know that there are online degree programs offered through University of Phoenix or La Verne or Chapman [University]," Wilcher said. "But let's face it, it does not carry the same gravitas as having a Poly degree."