You can hear Grace Miller walking down the street for a clear mile. As general manager of the three Poor But Sexy Inc. locations in downtown San Luis Obispo, she has a lot of keys on her chain: 27, to be exact. The effect is a constant energetic jingle in her step. It's fitting of a woman in a perpetual state of kinetic productivity.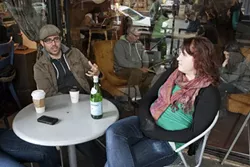 PHOTO BY STEVE E. MILLER
THE PEOPLE WITH THE PLAN : James Whitaker and Grace Miller took a rare moment to sit down and chat about café life.
Since her start as a prep cook for coffee-house-and-more Kreuzberg, Miller has been acquiring keys like she's been acquiring responsibilities.
For most, waking up at 5 a.m. to cut vegetables would be the perfect deterrent from taking a vested interest in the company image. But for Miller, it was just instinct to tweak things at Kreuzberg.
"I just went up to the managers' meeting one day and said, 'Hey James, I hate to be that guy, but you need to fix this, this, and this,'" Miller explained.
For owner James Whitaker, it was just the push he needed.
"I told Grace to start coming to the meetings from now on," Whitaker said. "I think it's great she was willing to step up like that."
Fast forward to the present. It's Saturday afternoon, and Miller is attempting to reason with a malfunctioning espresso machine at Kreuzberg. When she finally sits down to talk, you get the feeling it's not common to see her off her feet.
"James [Whitaker] will be here in just a second; he's going to take a look at the machine and see if we need to call someone," Miller says.
Whitaker is the owner and man-of-a-thousand-uses at Kreuzberg Café, restaurant/bar Sidecar, and Sal's Sandwiches & Beer. At 32, he has opened three separate enterprises in downtown San Luis Obispo in less than two years during a recession that's knocked other well-established entrepreneurs out of business.
When Whitaker finally steps out from behind the counter, the espresso bar has been successfully wrangled back into functioning order.
"These things are tricky, but thankfully I just had to press this one button," he says.
PHOTO BY STEVE E. MILLER
BOOKENDS : Kreuzberg's couches are rarely empty, and patrons of all ages can find something to sip and read.
When Whitaker first considered opening a café, he couldn't have imagined the response—maybe because Kreuzberg's namesake isn't necessarily associated with prosperity.
"I lived in Kreuzberg, which is [a] neighborhood of Berlin; so I wasn't really a coffee dude or a café dude up until my time in Europe," he explained.
In truth, many Berliners weren't coffee or café people up until the fall of communism, when they were left to find ways of entertaining themselves in the absence of steady, government-enforced work. As a result, café life became the way of life, and budding communities of artists and writers sought refuge in places that could meet a spectrum of palatal needs.
"Those cafes were unique because you could get a cappuccino at 11 a.m, and then at 4 in the afternoon you could get a sandwich, then at 8 at night you'd close your laptop and get a beer, all in the same spot," he said. "So that was kind of the beginning of the idea to open a café in San Luis Obispo."
Whitaker returned to California only to find himself in the throes of a creative rut. On a return trip to Berlin a year and a half ago, he shared his frustrations with his friend-turned-business-partner, Chris Tarcon.
"I went back to Berlin with my friend Chris, who was my college roommate and also a Cal Poly grad. When Chris and I were in Berlin, I said, 'Tarcon, I'm about to be 30, I don't want to do this web development anymore.' I was sitting at home every day, programming in my underwear, not talking to anyone, so I basically said to Chris, 'Let's really do this.'"
The original Kreuzberg location on Monterey Street was relatively small, compared to its current digs on Higuera, but it embodied those facets of post-communist German café life. Its upside-down lamps; banged-up and mismatched furniture; aromatic, used paperbacks; and communal typewriters all carried over to the new location, as fixtures of that disenfranchised, underpaid, cool European style.
"One of my favorite cafés was a spot in Berlin run by a Brazilian couple, and they had books in their café, and they just had them, not even in bookshelves, but there would be stacks of them on the ground everywhere, and they had thousands and thousands of books and it just made it feel cozy," Whitaker said. "It's an eclectic mix of all the cool cafés, we say."
And that mix of things seems to have spurred an explosion of cool, young fans banging down the doors of what has come to be the Poor But Sexy Inc. brand.
Lindsey Miller, director of marketing for the San Luis Obispo Chamber of Commerce, isn't surprised that Whitaker has built such a successful empire in the downtown area. She's known Whitaker since his college days.
"He's definitely a doer and an entrepreneur by spirit," Lindsey said. "I always see him doing things in Kreuzberg. He's always moving things or painting the walls or fixing something."
Lindsey believes that entrepreneurial spirit, combined with good timing, gave Whitaker the momentum necessary to open three businesses in the downtown area, in the face of an economy that hasn't proven all that friendly to small businesses.
PHOTO BY STEVE E. MILLER
STOP: SANDO TIME : Sal's Sandwiches & Beer is the baby of the Poor But Sexy Inc. Family.
"I think, you know, the first Kreuzberg location was good timing. He found a building in the middle of a retrofit, so the rent was relatively inexpensive, and he's so hands on so he did a lot of things by himself and he had a lot of support behind him," she explained. "I think he finds a need for a business in the community and he does it. He's great at building niches."
In the case of Sidecar on Broad Street, Lindsey believes Whitaker created a restaurant that showcases the local way of life.
"Sidecar has that great farm-to-table concept that people really love in this area," she said. "He's great at making businesses that don't exist exist."
Grace Miller, too, seems to agree that Whitaker is something of a business magician: "When I first walked in [to Kreuzberg], I thought to myself, 'There is nothing else like this here.'"
As a homegrown SLO native, she's seen her fair share of cafés come and go from the downtown area.
"This town has been needing something like this for so long," she said.
Since opening his first café, Whitaker now employs nearly 75 people in the downtown area, providing jobs in a time when the unemployment rate has stood firm at 8.8 percent for the last two years, according to the San Luis Obispo/Paso Robles metropolitan area data compiled by the U.S. Bureau of Labor Statistics. In fact, local unemployment was 10.1 percent at the time Kreuzberg opened.
SLO Economic Development Manager Claire Clark says Poor But Sexy Inc. is unusual, but that it seems to be following a pattern of new restaurants flooding the downtown area.
"It's certainly remarkable," she said. "I have to say that I find the business model fascinating and young. … I think that it's remarkable that that company is taking on so much at once, and they're doing it successfully."
Neither Grace nor Whitaker seems to take a moment to sit down. They have a near-constant presence in each location and see and hear all when it comes to what's working and what's not working at their restaurants.
"When I moved back from the Bay Area, I told people I did it because I was working too much, and then of course I ended up working here with three different jobs," Grace said with a laugh. "But I'm old enough now to know how much I need to be working to not be crazy. I would be working this much anywhere, but in this situation it's cool because I love who I'm working with."
Whitaker agrees that the hours can be grueling.
"The most important part is, yes, right now we're both working a lot, but we're also building, so … you don't expect to work this hard forever, but unless you put in your due diligence, and work your ass off for … three, four, or five years, you can't build anything worthwhile," he said.
PHOTO BY STEVE E. MILLER
ALL ABOARD : Customers can come to Sidecar for a sit-down experience, or cure that hangover with a totally out-there Bloody Mary.
"Grace and I don't have meetings where we think, 'How is this going to fit into our master plan?'" he went on. "We think, 'This is an incredible opportunity to build something in town that could last forever, be extremely beneficial to people in town, and we can employ people. It secures all the things I want to do by staying in San Luis. So it may not fit in the plan, but if it's an incredible opportunity, we do it."
Because of this, Whitaker said he doesn't see much use for the more traditional modes of advertising. Instead, he opts for word of mouth, particularly social networking sites such as Facebook.
But Whitaker uses more than back-pats and congratulatory reviews to dictate what happens inside his locations. Less than glowing reviews have resulted in positive changes to the Poor But Sexy brand.
"If we get a bad review on Yelp, I always respond, usually within an hour," he said. "It's only with criticism that we get better."
It's such criticism that changed Sidecar's hours of operation to provide more accessibility to a less-dressy crowd. Once solely a sit-down-dinner location, Sidecar is now open for brunch, and soon it will open its doors to a lunchtime crowd.
Whitaker's partner, Tarcon, said it's smart business decisions like these that have enabled Poor But Sexy to go so far.
"James and I go way back, to the college days, and even back then we talked about doing something together," he said. "Our personalities are similar enough that we are friends, but different enough that we complement each. We both respect each other's veto power. It's kind of that entrepreneurial spirit, and James has it 100 percent, and it's very contagious. We want to keep that momentum going, as far applying it to Sidecar and recently Sal's. We've had a lot of success."
Of course, running three businesses isn't for the faint of heart, but Miller, Tarcon, and Whitaker agree that the road to success has been paved with understanding girlfriends and boyfriends.
"I live up in San Jose, so I come down a lot whenever we open a new location or to just check up on things," Tarcon said. "My girlfriend has been so supportive. I can't imagine doing this without her. Opening three new businesses and having a newborn is difficult, and having another person supporting you splits that stress."
Ultimately that stress has paid off, but nobody at Poor But Sexy worries about swollen egos, and for now they are settled on making the existing locations work. Whitaker says that people sometimes mistake Kreuzberg's laidback vibe for the grating hipsterism found in larger cities like Portland or San Francisco.
"People sometimes think we're just hipsters, and that this place is hipster. But I am the most uncool person I know. I listen to country music in the car," Whitaker said. "I just want to work hard and make a business that will last. It would be amazing if in the future someone walks by this place and says, 'Look, this place has been here for 50 years.' That's what we're trying to do."
Most importantly, Whitaker and his brood of employees have created a place where even the management is dying to hang out.
"James and I look at Kreuzberg and we say to ourselves all the time, 'Man I wish we could hang out in there," Grace said.
For now, though, there is much work to be done in order for Poor But Sexy Inc. to maintain its momentum, and Whitaker believes all will be well as long as he and his crew remember where they came from.
"Berlin has this very open, progressive mayor, and that's where Poor But Sexy came from. Right now, in Berlin, the economy is horrible. They don't have any money; they're broke. Like 20 percent of the people are unemployed," Whitaker said, "and everyone is living on the next five bucks in their pocket.
"But they're all in it together, so when they asked the mayor to describe the people of Berlin at a news conference, he said, 'Eh, we're poor, but we're sexy.' As if to say, 'We don't care if we're poor and there's graffiti everywhere and we live in this gray kind of city that's still rebuilding after the war. Who cares? We're sexy.' And he's right."
Contributing writer Maeva Considine can be reached via Managing Editor Ashley Schwellenbach at aschwellenbach@newtimesslo.com.