Since Mark Bryan's last show at the Steynberg Gallery, the world has arguably grown a little gloomier. That year was 2012; the world was supposed to end. It didn't, and now, we're left with the consequential rubble: Ebola, ISIS, and yet another Nicolas Cage movie. These are bleak times, and if the name of Bryan's new exhibit at Steynberg is any indication, the trials are far from over. After two years away, the local painter of political satire and cartoonish absurdities has returned with a two-part spectacle: More Things to Worry About and Interiors.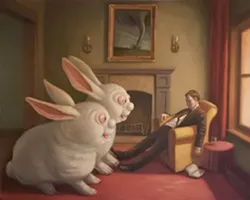 IMAGE BY MARK BRYAN
MO BUNNY, MO PROBLEMS: Mark Bryan's work often showcases a surreal sense of humor, as seen in the painting 'Too Much Bunny.'
On the walls of the Steynberg, you'll find the same kind of pop surrealist style that Bryan has become known for. Giant Kewpie babies loom over a petrified rabbit. Hello Kitty kicks back in an opulent chair; a crucified Christ peeks his head out from behind a crimson curtain. And bunnies. So many bunnies—all rendered in a fantastical mix of lurid colors fit for a fever dream. It's an intoxicating blend of comical menace and scathing parody that Bryan has mastered over the years.
"I usually have kind of an idea to start with," he explained over the phone. "Then, I paint real fast with an acrylic primer paint, just monotone, and I start painting. I think I know what I'm going do and then very seldom does it end up that way. I'll think something is a great idea, but then another thing pops into my head. You don't know what's going to happen. Art is an adventure."
An adventure, indeed. The works of Mark Bryan are an unexpected journey into the subconscious of a bizarre and savvy mind. What appears to be madcap lunacy (i.e. all those babies and bunnies) is actually quite sinister upon closer inspection. Of the 12 new paintings to appear in the show, about seven or eight constitute Interiors—an exploration of rooms, and the things that lurk within them, inspired by the work of Edward Hopper.
"A room is a metaphor for a dream, or the inside of your head," Bryan observed. "What's inside the room? That kind of format could go on forever."
In those inner spaces, you can see the familiar pop culture icons of Hello Kitty, a Kewpie doll, or a sock monkey. But, their expressions and positions, huddled and slouched with piercing eyes, convey an eerie terror instead of commercial nostalgia. The subjects of these paintings may be cute and cuddly, but as seen in Too Much Bunny, subtle nods to darker portents crouch in the background. A picture of a threatening tornado hangs beyond two gargantuan bunnies with popped-out pupils that sport scorching red veins. In another context, they would be adorable children's book fare. But not with Mark Bryan. Here, their gaze stabs like a dagger at a man asleep and unaware. Again, funny but also somewhat frightening, alienating, and ghoulish.
IMAGE BY MARK BRYAN
PRIVATE EYES: Many of Bryan's paintings have a satiric political bent, like 'The New Normal,' an amusing commentary on the surveillance tactics of the National Security Administration.
These are the same themes and tones that permeate Bryan's politically themed work.
Bryan's second display, More Things to Worry About, pokes frothy fun at myriad hot topics, both local and national, from Diablo to the NSA to humanity's gross abuse of nature. As with his more surreal pieces, Bryan's political work is similarly a strange and alluring hybrid of trenchant criticism and 1905s B-movie camp.
"Certain topics get my interest," he said. "The zeitgeist of the day. How can I express my feelings about that particular topic in a visual way? The other work comes out of my experience in relation to life. I grew up in the '60s in Southern California. We were all into pop art and the surrealist movement, all underground comics, and a wacky sense of humor. That mixed with sci-fi shows, and all that stuff's there."
You can see that Ed Wood and eccentric sci-fi influence in paintings like The New Normal. It evokes the covers of 1950s fringe comics with giant eyeballs hovering over a city skyline and the mindless humans below. On the sidewalks, the people are oblivious to the enormous eyes; they just mill onwards, glued to the omnipresent glow of their phone screens. It's simultaneously fantastical and bitingly cautionary—the distinguishing characteristic of both exhibits. In the eyes on those city skyscrapers, and in the larger-than-life Kewpie heads and the fuzzy blobs of bunny rabbits, there is a persistent note of not fear, but encroaching pessimism.

NIGHTMARE ON MONTEREY STREET: Mark Bryan's work will be on display at the Steynberg Gallery in San Luis Obispo until Nov. 18. The gallery is located at 1531 Monterey St. For more information, call 547-0278.
"Over time, you see things happen in a similar way," Bryan said. "You think, this is just the way human beings are; they just aren't that bright. We don't learn anything. I try to keep some kind of hope; some things are changing for the better. It's hard to say. I just keep making comments. The job of an artist is communication, and that brings humans together."
There's no such thing as too much bunny for Jessica Peña. Draw her one and send it to jpena@newtimesslo.com.