Chef Maegen Loring believes that all kitchens have spirits, and her own San Luis Obispo kitchen is no exception.
"My cooking totally changes every time I'm in a new house; each kitchen has its own personality," Loring says. "It's like a yeast—the spirit sort of lives in the air."
PHOTO COURTESY OF NINER WINERY
POP IN FOR A BITE: Niner Winery Executive Chef Maegan Loring is cooking up creative, garden-fresh grub during the winery's popular Sunday pop-up suppers continuing through this summer and fall.
Her culinary workspace is bright, cheery, and modern thanks to a bit of help from her architect husband. A glass mason jar labeled "Meyer lemon" sits on the counter, proof of the chef's newest obsession: garden-fresh cocktail infusions made with from-scratch vinegars.
This playful spirit spills into Loring's living room, chock-a-block with paintings crafted by artistic friends (the common subject among them is "carrots," an homage to when Loring owned and operated The Neon Carrot in SLO).
But let's not stray too far away from the almighty kitchen—that's where the longtime chef and caterer would always rather be, whether chopping herbs, drizzling pan juices, or simply putting silverware away.
Her newest professional kitchen is a stainless steel extension of this most intimate workspace. Stitched into the guts of Niner Wine Estates on Paso Robles' idyllic Highway 46 West, it doubles as an artist's studio.
Loring isn't working with paint or pastels, although she could be. Color is everywhere, from the dark red of Olive Ewe Ranch lamb to the vivid green of just-picked Windrose Farms lettuce. Then there are the eggs. Plucked from the winery's onsite flock of 20 hens, the yokes boast the rich, buttery hue that only a happy bug-pecking bird can produce.
These fresh flavors mix to create Niner Winery's new Sunday pop-up suppers. The best way I can describe the dinners is this: It's like dining in a wine country daydream. During a Sunday in late June, I found myself surrounded by other excited local folks who told me, a little later than I'd wished, "you better reserve your seat now!" With my sweater slung over a chair in the winery's vast dining room—I made my way to the patio facing Heart Hill—a heart-shaped oak grove surrounded by lush vineyards. Niner wine, Reef Points Cider—and the best onion dip in the world—followed. Dinner was a whirlwind of honey-drizzled fried chicken, crisp horseradish veggies, and refreshing jalapeño-watermelon salad served family style. All the while, Loring bounced around her wonderfully exposed kitchen.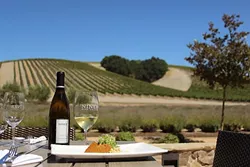 PHOTO COURTESY OF NINER WINERY
HEART THIS FLAVOR : Heart Hill—an oak grove surrounded by vineyards—offers up a killer view at Niner Wine Estates.
Sitting on her deck in the sunshine, Loring talks freely about the joy she feels there.
"Sunday nights give me a chance to do something a little more playful," she said, adding that September will likely showcase "breakfast for dinner" (she's currently toying with biscuits and green chili gravy). Each dinner pairs Niner Wines alongside a non-Niner beverage. You might experience Greek wine or Japanese beer. My advice: Expect the unexpected.
Amazingly, it's only been about four years since Richard and Pam Niner first opened the towering doors to the LEED-certified winery at Heart Hill Vineyard. With its lavender-scented courtyard and vaulted ceilings, the locale already feels iconic to Paso Robles. Producing a holy trinity of estate-grown cabernet sauvignon, pinot noir, and chardonnay (among others), Niner wines are—in two words—delicious and elegant.
Still, the family-owned operation hasn't grown too big for its britches. Andy Niner, the second generation, took over day-to-day operations in 2013, and he's been shaking things up ever since. Last year, Loring moved from Lido at Dolphin Bay to her new home at Niner (she plans to move her actual home to Paso, too). The chef found good friends among the Niner team, including winemaker Patrick Muran.
PHOTO COURTESY OF NINER WINERY
THE PLACE TO BE: On select Sunday evenings, Niner Wine Estates is packed with flavor seekers hungry for Executive Chef Maegen Loring's imaginative suppers.
"Everyone is just so fired up," Loring says. "I can say 'let's get chickens,' and the next thing I know, Patrick has gone out and built a whole chicken tractor."
The winemaker did indeed create a chicken tractor for mobile use, allowing the animals to enrich different areas of the land. Until recently, the young birds spent most of their time inside a protective dome (for fear of getting picked off by hawks that dine on the vineyard ground squirrels). These days, the mature birds are coming into their own—just like the restaurant at Niner Wine Estates.
Loring only had to mention to Muran her latest interest in creating sweet vermouth—and bam—he had 32 botanicals in glass jars ready to go. Come September, a chef's garden will grace the hill just north of the outdoor patio—a welcome addition to the winery's estate olive oils.
You can experience these regional flavors at the restaurant—open for lunch Thursday through Sunday—or at the next Sunday pop-up dinner coming up this Aug. 16. Word on the street: Loring plans to create an Italian-themed feast paired with Vietti Family wines.
"This is an extension of what I've always done," Loring says, adding that she had a similar pop-up concept at The Neon Carrot. "There was always a line out the door; I felt like we built a community. I just love that."
SUNDAY DELIGHT : See what Chef Maegen Loring is excited about next. The restaurant at Niner Wine Estates is open Thursday through Sunday for lunch from 11 a.m. to 4 p.m. Sunday pop-up suppers are held from 6 to 7:30 p.m. on select Sundays. Tickets are $40 for wine club members and $50 for non-members. Reservations are required for pop-up dinners and lunch. Embark on your own flavor adventure by calling 226-4891 or by emailing events@ninerwine.com. For more information, including upcoming menus as well as food and wine education classes, visit ninerwine.com.
The Niner pop-ups are following that same path to community eating. About 70 people showed up for the first dinner held earlier this summer and, of that group, about 25 signed up for the second. When I showed up for the third, I was surprised to learn that many people already considered themselves "regulars."
That's a good sign.
It's also a good thing, then, that Loring isn't running out of creative ideas just yet. I asked her where her inspiration comes from, but that's like asking which kitchen she likes best.
"I could do menus all day long. If you said, 'drop and give me 60,' I could give you 60 menus in an hour," she says. "It's like music—you're looking for high notes and bass notes and finding that balance. It's about contrast in textures and flavors. I love it when I find something new."
I sure do, too. Take the chef's "wine-sicles," made with half-consumed bottles of Niner wine, simple syrup, fruit, and spices. The results—like her plum blackberry, black pepper, fennel, and merlot flavor or peach-jalapeño-white Rhône blend—show that her culinary curiosity is a lifelong pursuit.
Maybe it has something to do with the kitchen. "There's just an awesome energy going on right now at Niner," Loring says. "Everyone in the kitchen is food geeky and natural. It's got a really good spirit."
Hayley Thomas is trying to commune with her own kitchen spirit at hthomas@newtimesslo.com.