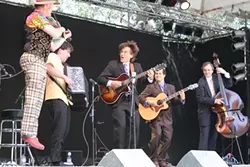 PHOTO BY GLEN STARKEY
EVERYBODY JUMP!: Emcee Joe Craven (left) jumps for joy while sitting in with Frank Vignola's Hot Club on the main stage.
U
ntil this weekend, I was a virgin. What can I say? I just wasn't ready until now. Well, I've "taken the missile defenses off-line," and I have to say, I loved every minute of it! I know what you're thinking: "All three of them?" Hardy-har-har. I'll have you know my first time lasted three days and three nights. Yes, I'm exhausted, but it's a good exhausted. Luckily, I had a very gentle partner, or partners, actually. Yes, I went from virgin to total slut, and I'm not ashamed. I'll tell you something else: I plan to do it again. Again and again and again!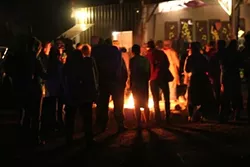 PHOTO BY GLEN STARKEY
GATHER 'ROUND THE FIRE : Campers warm up before the start of a Hot Licks Dance concert.
You see, I've just returned from my first Live Oak Music Festival, which is positively shameful considering I've written about it for almost two decades. In the past, I'd call artists on the phone and use press materials provided by the festival organizers to write a preview, but I could never bring myself to just "do it." It just always seemed too folksy, too hippy, too … I don't know … not my kind of thing. But as Steve Martin said in The Jerk
, "I've found my special purpose." He also said, "It's like a ride!" and "Can't you see I'm busy drinking?"—two sentences that aptly apply to my "found" weekend, which is going to stick with me for a long time.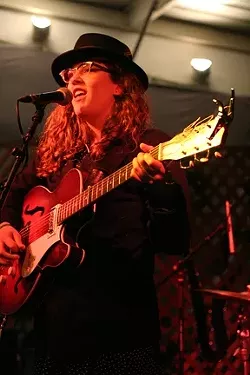 PHOTO BY GLEN STARKEY
FRESH VOICE : Sallie Ford wowed the festival with her arrestingly original vocal phrasing.
In fact, I can still feel the wristband when I move my hand, even though I cut it off more than an hour ago. Like the phantom sensation of a recently amputated limb, something feels missing and yet still there. I gained something at Live Oak, and leaving it, I've lost something. I guess I've rarely felt more connected to other people, and never over such a short period of time. Live Oak, my friends, is an instant family.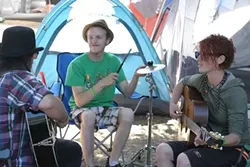 PHOTO BY GLEN STARKEY
PRACTICE MAKES PERFECT : (left to right) Sam Boorman, Molly Reeves, and Kenneth Davis—three members of the six-piece Red Skunk Jipzee Swing Band—practice in their campsite a few days before their main stage appearance.
First, I got to camp with a bunch of volunteers, the people who transform this dusty patch of oak-filled land into a tiny city with three stages, signposted roads, and all the amenities one needs to comfortably spend several days in the California wilds. These people come back year after year because long ago they popped their Live Oak cherry and discovered the joy of hanging out with other music lovers. They trade free admission and camping for a few days of hard work. Think of them as Live Oak hookers.
PHOTO BY GLEN STARKEY
SOUL MAN : Charles Walker delivers a blistering set of old-school soul on the main stage.
I also met a bunch of Live Oak regulars who seem to free themselves at the festival. These folks dress crazy, dance with abandon, embrace new experiences, and essentially live life the way it's supposed to be. They're the Johns.
Of course, kids are everywhere, and they couldn't be safer. Everyone seems to look out for everyone else. The kids get to see grownups acting silly, and it seems to open their eyes to the joys of adulthood. As emcee Joe Craven noted when introducing the Red Skunk Jipzee Swing Band, a lot of the band members grew up at Live Oak, were maybe even conceived at Live Oak, and learned to play music at Live Oak.
I think my prostitution metaphor dies here.
My point is, Live Oak, I've been an idiot. Please accept my sincere apology for ignoring you all these years because you are freaking awesome! I know I'll never be a virgin again, but I can hardly wait to help pop somebody else's cherry next year.
Glen Starkey takes a beating and keeps on bleating. Contact him at gstarkey@newtimesslo.com.