TOP ART FOR THE TOP DOGS: Artwork by Kyanne Goelz will be on display at Top Dog Coffee Bar, 857 Main Street in Morro Bay, Aug. 9 through Sept. 8. The Cayucos Art Association, 10 Cayucos Drive, will be displaying her work from Sept. 10 through Nov. 5. There will be an opening reception Aug. 14 from 5:30 to 8 p.m. For more information visit kyannegoelz.com.
Kyanne Goelz paints in a tilted house in Cayucos. That is, she pours India and Bombay ink onto Denril, building layers of liquid pigments across a surface that often resembles a topographical map. Windex, which Goelz wields as a reductive tool, creates an atmospheric fog. What she is left with, after the ink has snaked and pooled and finally settled in the place and pattern of its choosing, is a topography more biological than geographical. She has been pouring out of the tilted house for the last year, since graduating from Cal Poly with a Bachelor of Fine Art.

"I almost feel like I didn't know anything about the art world when I became an artist," admitted Goelz, who lives and creates in her parents' house. "And then it was like, 'Wait, this is a really competitive field. Wait, I'm not going to make any money. It's not your everyday job. There's not a lot of prospects coming out of school.' I don't really want to be a starving artist."


Besides creating new work for her approaching show at Top Dog Café—Aug. 10 through Sept. 8—Goelz is an artist's assistant, graphic designer, and cookie roller. The odd jobs support her art, which has not yet learned to pay for itself. Part of making her work more marketable may include dissecting larger pieces and selling smaller drawings for cheaper prices. But Goelz gets attached to her larger pieces and is, therefore, reluctant to sacrifice them on the altar of marketability. Creating large works comes with the added difficulty of paying for them to be framed, which has led Goelz to consider simply floating them on the wall and using magnets for support.
Goelz has questions she will eventually have to answer, difficulties she will have to remedy as she strays farther from her years as a student and into adulthood. But whether or not to make art is, happily, not one of those questions
Her work has always been preoccupied with the human body, especially with breaking it down and examining its various organs and arteries. To Goelz, the liquid media suggests the 60 percent of the human body comprised of water, and the blood that pumps through its veins. With it, she can also muse on the freedom of weightlessness, fear of drowning and suffocation. Water is life, but also death, and her work concerns both.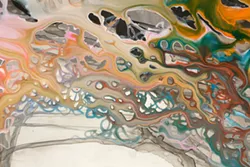 "I think if I hadn't done art I probably would have been a biologist," she admitted. "When I was a little girl, I liked watching my dad filet fish, kind of a weird thing for a little girl. I like dissecting frogs. I think there's a kind of weird beauty to it."
Instead of copying from scientific drawings, Goelz allows her work to inhabit a more organic sphere. She pulls content from her own introspective world, and concedes to the will and flow of the ink. Her canvas is not at all absorbent, floating the ink. She never knows what she might find when she returns to a canvas, graceful patterns not of her own making, or a muddy puddle. In terms of progressing through the next layer, sometimes a muddy puddle is easier to negotiate because she's not afraid of destroying it. She continues building layers, subtracting here and there with Windex, until she is satisfied. But she never has complete control over a piece, and prefers it that way. With paint, the artist becomes too exacting. Goelz starts each piece with a basic shape in mind, and a sense of where the piece's negative space will fall—otherwise the process would be too messy, she insists—but she relinquishes much of her control to the ink.
Stumbling upon the process of pouring ink was a series of happy accidents, according to Goelz. While still a student, Goelz purchased a piece of Mylar. She had no specific intention for the material, but brought it into an art class. The professor, Michael Miller, showed her an art book filled with ink pourings and she was enraptured.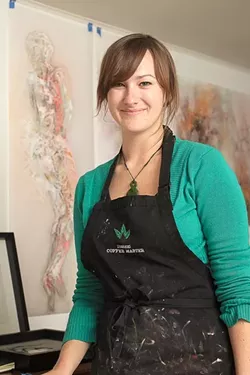 "I had some India ink so I just started playing with ink on Mylar," she explained. The happy accidents just kept coming from there. When she couldn't remove the ink with water, Goelz employed Windex, the trademark liquid that has been cleaning glass and hard surfaces in the United States since 1933. The Windex served its function, but it did something unexpected as well, and Goelz learned that Windex gave the ink different properties. Goelz was well on her way to discovering the formula that would carry her through her senior show, as well as her first year as a professional, non-student artist. Her first big ink pour was a heart, most likely because she had just dissected a sheep's heart in biology class.
If Goelz has one artistic stumbling block, it might be color. Or rather, branching into unexplored corners of the color spectrum. She leans towards warmer colors, and the question of her use of color came up during her portfolio review in college.
"I am kind of a go-with-the-flow artist. The heart ink flow that I did, I thought about using pinks and red. During the critiques someone said, 'Why not try something unexpected? Why not try yellow?'" She took the criticism to heart, and in a recent drawing took up green, which proved a challenge. She also turned her focus to a new subject, though one with the same general aesthetic concerns. She began examining succulents. They have the same visceral, fleshy appeal as the human body, and should inspire Goelz to pour new fields of color.
If, like the Tin Man, you're in search of a heart, Top Dog Café may be a good place to find one. And if you already have one—along with some spare change rattling about in your piggy bank—shock your friends, neighbors, and accountant by buying original art from a talented local artist.
Arts Editor Ashley Schwellenbach pours coffee, tea, and sometimes chocolate milk. Send colorful tumblers to aschwellenbach@newtimesslo.com.