Musical activist Michael Franti loves to make people dance. And think. And connect with each other. What better choice could there be to headline the first-ever Green Music Festival on the lawn at the Pozo Saloon?
PHOTO COURTESY OF MICHAEL FRANTI AND SPEARHEAD
PEACEFUL WARRIOR : Protest and pacifism combine with a powerful pulse in the music of Michael Franti and Spearhead, headlining the Green Music Festival at the Pozo Saloon on Saturday, Sept. 20.
The powerful reggae-soaked rhythms on his newly released recording All Rebel Rockers are infused with conscious lyrics reflecting political, social, and environmental themes. But this is no dry polemic, it's irresistible "riddim," as it's known in Jamaica where Franti and Spearhead headed to record their latest disc with legendary producers and rhythm masters, drummer Sly Dunbar and bassist Robbie Shakespeare. The result is a fiery and seductive mix that's impossible to sit still to.
Taking the politics of war head-on, Franti traveled with his acoustic guitar to the war-torn Middle East to film an award-winning documentary, I Know I'm Not Alone (which screened outdoors on a wall near Garden Street in downtown SLO a few years ago). As Franti sings, "We can bomb the world to pieces but we can't bomb the world to peace."
His subsequent recording, Yell Fire!, combines protest and pacifism with a pulsing hip-hop-funk-rock-reggae rhythm that's become his trademark.
In the mid-1980s Franti fronted the Beatnigs, a politically charged duo, before moving on to his next group, the cleverly named Disposable Heroes of Hiphoprisy.
At Pozo, Michael Franti and Spearhead will be joined by Kingston, Jamaica-based soulstress Cherine Anderson, who also sings on some tunes on All Rebel Rockers. Anderson finally obtained a visa to tour with Franti in the U.S., where the group performs in San Diego the day before their Pozo show and at the Hollywood Bowl the day after.
The 1st Annual Pozo Green Music Festival on Saturday, Sept. 20 is co-presented by Grateful Family, whose founder Kevin Costigliolo has been planning such an event for years. It will feature a solar-powered side stage with local musical performers Still Time, Mind's Eye, Anthony Roselli, and Shannon Moore. Biodiesel generators will power the main stage. Vegetarian and even vegan fare will be on sale, alone with the famous Pozo barbecue.
Music starts at 2 p.m. with Mind's Eye at 2:30 p.m., Still Time goes on at 4:50 p.m., and Franti and the gang are expected to take over the main stage at 8 p.m., just in time for an incredible light show to go with the performance.
Tickets are $33.50, available in advance at Cheap Thrills, Aardvark Music, and pozosaloon.com, or at the show.
As the towering, barefoot Franti exhorts his always-moving audience, "We don't stop!"
Get down and dance with the blues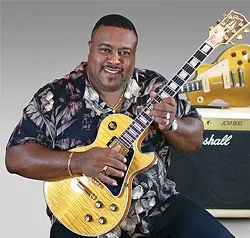 PHOTO COURTESY OF LARRY MCCRAY
TRADITIONAL BUT MODERN : Award-winning blues guitarist and singer Larry McCray brings his band to the SLO Vets Hall for a SLO Blues Society dance concert on Saturday, Sept. 20.
SLO County is lucky to have one of the longest-running blues societies in the U.S., giving us a perfect opportunity to enjoy some of the nation's best blues performers right here in our own backyard.
This great nonprofit, all-volunteer organization is getting ready for another one of its fun dance concerts at the SLO Veterans Hall, and you're invited! You can even learn to swing dance while you're there, with a free lesson starting at 7:30 p.m. Or you can just bop around the dance floor, free-form. Or just sit there and enjoy the show!
Get ready for the uptempo blues of guitarist Larry McCray, who combines traditional blues with modern influences. Listen up for that syncopated New Orleans rhythm, along with funk and soul sounds for your dancing pleasure. His smooth, soul-infused singing is a counterpoint to a brawny guitar sound that's more reminiscent of Freddie King than B.B. King.
McCray, who's based in Michigan, had a day job on General Motors' assembly line when he recorded his first release, Ambition, in 1991. His talent earned him a tour with Albert Collins, and recognition in 2000 as the Orville Gibson Male Blues Guitarist of the Year.
The Larry McCray Band plays Saturday, Sept. 20 at the SLO Veterans Hall on Grand Avenue. Opening the 8 p.m. show is Code Blues, bringing a West Coast blues sound to the stage. Tickets for this 21-and-older show cost $20 at the door, $17 for Blues Society members. You can volunteer to help out at the show by calling 541-7930.
Sensitive and soulful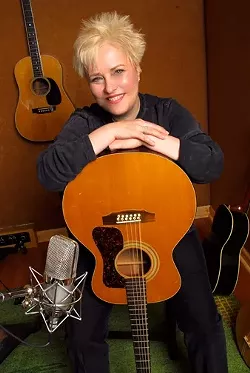 PHOTO COURTESY OF LINDSAY TOMASIC
DEEP BUT LIGHTHEARTED : Singer and songwriter Lindsay Tomasic, known for her storytelling and her soothing vocal style, comes to the Steynberg Gallery on Saturday, Sept. 20.
Singer/songwriter Lindsay Tomasic has developed quite a following on the Central Coast, with her lighthearted but deep songs, her wonderful storytelling ability, and a soothing and earthy voice reminiscent of Norah Jones and Bonnie Raitt. There's even a YouTube video of her live performance in the studio at Public Radio KCBX-FM 90.1 in San Luis Obispo.
Tomasic's lyrical themes cover all sorts of subjects, including relationships and family, animals, global warming, and politics. She's also an accomplished acoustic guitarist, with an in-the-pocket rhythm technique that always gets toes tapping.
The L.A.-based musician has also caught the attention of Hollywood, where she's penned music for a diverse range of films and TV shows including The L Word, Queer Eye for the Straight Guy, Desperate Housewives, and Malcolm in the Middle.
Lindsay Tomasic performs at the Steynberg Gallery (1531 Monterey St.) in SLO on Saturday, Sept. 20 at 7:30 p.m. Opening the show is Rob Kimball, known for his acoustic Americana with a folk-country-blues feel inspired by the Byrds. Kimball will play some original tunes on his 6-string and 12-string guitars.
Tickets for this all-ages show cost $12 at the door.
More music
Don't miss your chance to dance to your heart's content to the hip-hop beat of Digable Planets, a New York City-based trio that incorporates elements of jazz, funk, samba, and psychedelia into their musical mix. Venomous Voices and DJ extraordinaire Malik Miko are part of the mix as well, on Thursday, Sept. 18 at Downtown Brew in SLO.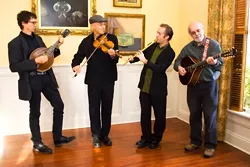 PHOTO COURTESY OF MOLLY'S REVENGE
THE WESTERN SHORE : California band Molly's Revenge pumps out energetic Irish and Scottish music at the Red Barn in Los Osos on Friday, Sept. 19.
Just who is Molly and why does she want revenge? Ponder this and other deep questions at the Red Barn in Los Osos at the next installment of the bayside town's great community music series. The passionate Irish music practitioners who make up Molly's Revenge are celebrating the release of their seventh recording, The Western Shore, produced by John Doyle—a founding member of Irish supergroup Solas—and partly financed through an online fan fundraising campaign. The enthusiastic lads have expanded their range a bit, spicing up their trademark highland pipes, fiddle, bouzouki, and mandola with even more energy. See if you can sit still on Friday, Sept. 19, starting at 7:30 p.m. at the Red Barn, 2180 Palisades Ave. A $10 donation is requested, and as usual, an optional 6 p.m. potluck rounds out the evening.
Imagine if you'd grown up reading this music column. You'd be inspired, right? Well, folks, that's just what happened to former Los Osos residents Dylan Travis and Tyler Corelitz, childhood friends who moved north and formed an indie-rock band, Man/Miracle. As Travis puts it, "The guitar-based 4-piece treads the fine line between pop and noise, gorgeous melody and abrasive, aggressive walls of sound." My, he has been reading this column! They're on a West Coast tour to celebrate the release of their new 7-inch single, "Pushing and Shoving/You've Got a Hold on Me," and they're coming to the Steynberg Gallery in SLO on Friday, Sept. 19. This all-ages, 7p.m. show also features Threes and Nines, Caleb Nichols, and Mariee Sioux. Tickets cost $8 at the door. Man/Miracle is also scheduled for an in-store performance at Boo Boo's on Sept. 25.
Ever wandered around downtown Atascadero? The city is definitely going in the right direction, with not one but two great local music ensembles to keep you company while you stroll around the former utopian colony. David Lynch & Friends offer up an inspiring new musical genre named by Lynch himself: "California blue-grusion." The Los Osos singer/songwriter/guitarist has spent a lifetime immersed in our lovely state's surf and beach culture, and his unique perspective on life is aptly reflected in his upbeat music. Also performing outdoors in downtown Atascadero will be the ever-popular Mighty Croon Dogs, always a tail-waggin' treat. Both shows run from 11 a.m. to 3 p.m. on Saturday, Sept. 20.
PHOTO COURTESY OF EDDIE MONEY
MYTHICAL MUSIC MAN : Longtime rocker Eddie Money wows the crowds at Downtown Brew with his 60s-style singing on Saturday, Sept. 20.
Longtime local sideman and session player Wally Barnick has just finished his first solo album, View from Lafler Canyon, a 10-track collection set for release on his own label, Coast Ridge Records. Barnick, bass player and vocalist for the Cache Valley Drifters for more than three decades, also plays his rhythm acoustic guitar on this recording. His daughters, Grace and Hannah, sing and several of his longtime pals lend their talents, too. The official release date is Saturday, Sept. 20, when Barnick will present a free in-store performance at Boo Boo Records from 2:30 to 4 p.m.
The visionary former music director at Unity, Mark Welch, returns to San Luis Obispo along with his former wife, Erin Cross, and their 17-year-old daughter, Gabriela, for a one-time family reunion concert. This show promises joyful, heart-centered music to stir the soul. Joining the trio will be their longtime friend Wally Barnick (fresh from his Boo Boo's gig) on bass and keyboardist Stephen Tosh. Catch the spirit on Saturday, Sept. 20 at 7:30 p.m. at Unity Church on Johnson and Southwood in SLO. Tickets cost $20, available by calling 543-4250.
The legendary Eddie Money has been singing memorable tunes since the golden days of the '60s, and he's still going strong. This rock icon is known for "Take Me Home Tonight" and "Two Tickets to Paradise", among many other tunes recorded throughout his long career. His latest recording, Wanna Go Back, pays homage to the rock of the '60s. Money's teenage daughter, Jesse, joins him on some tracks, and she also adds her enthusiasm to his live shows. Eddie Money performs at Downtown Brew in SLO on Saturday, Sept. 20 at 9 p.m. Tickets cost $10 at the door.
Linnaea's Cafe is offering another fine free show (where your tips help fund the musicians), this time featuring L.A.-based Deep 6 Holiday on Saturday, Sept. 20 at 7:30 p.m. According to a media release, "The band's lyrical honesty, coupled with passionate performances, are meant to relate the idea that we are all going through the same types of struggles, and, in that way, we are all constantly connected." From dark harmonies to messages of hope, Deep 6 Holiday takes you on a musical journey, right from your comfortable seat in the cafe;.
What do Ireland and Appalachia have in common? Music, that's what! Exploring the musical connection between these two places are fiddler John Weed and guitarist Stuart Mason, both members of Molly's Revenge. It's not often we have the chance to hear these two in a duo performance, but Monteleone's Rock (near Firestone Brewery in Paso Robles) is giving us that opportunity on Saturday, Sept. 20 at 8:45 p.m., for free! You'll hear "oldternative" songs rooted in mountain and Irish traditions, and what could be better than that?
PHOTO COURTESY OF WALLY BARNICK
SIDEMAN NO MORE : Local musician Wally Barnick has more than four decades of performances under his belt, and now he's produced his first solo recording, which he'll celebrate with an in-store performance at Boo Boo's on Saturday, Sept. 20.
Is summer really coming to an end? The finale of the Arroyo Grande Village Summer Concert Series has been put together by the SLO County Jazz Federation, and features fine music by the Pat Cormick Group and SLO Mambo. Cormick and his ensemble specialize in playing great jazz standards and ballads, while SLO Mambo pumps out Latin jazz and salsa with an Afro-Cuban beat. The free concert starts at 1 p.m. on Sunday, Sept. 21 at the Village Green, across the swinging bridge from the Village. Bring a picnic and lawn chair!
If you'd rather see the ocean than the trees, check out the Cliffs in Pismo Beach for an afternoon of free Big Chill music on Sunday, Sept. 21. Rock 'n roll from the '60s comes to life when Oasis plays at 2 p.m. and Unfinished Business fires up at 4 p.m. U2 keyboardist Terry Lawless is back home on the Central Coast, and he'll join Unfinished Business on keyboards, saxophone, and flute, along with vocals. And if you're thinking about the Cliffs, don't forget their Friday afternoon happy hour, with live music on the deck outside.
Renowned guitarist Bruce Forman is the next performer at the famous jazz artist series at the Hamlet in Cambria on Sunday, Sept. 21. Forman is considered one of the world's premier jazz guitarists, and is also credited as the composer for the Clint Eastwood film, Million Dollar Baby. He'll be joined by bassist Darek Oles, drummer Colin Bailey, and series co-producers Charlie and Sandi Shoemake (on vibraphone and vocals, respectively). The first show is at 4 p.m., with a $15 admission; the second show is at 7:15 p.m. for $12; or both shows for $20. For tickets and reservations, call 927-0567.
Watch those fingers fly! Two-time Grammy nominee Tommy Emmanuel uses all ten digits on his guitar, occasionally evoking sounds reminiscent of the Australian outback. A household name in his native Australia, this pioneer of contemporary fingerstyle guitar has performed with luminaries including Chet Atkins, Les Paul, and Eric Clapton, in a career spanning four decades. Now it's our turn to feel his magic when Tommy Emmanuel performs on Monday, Sept. 22 at 7 p.m. at Stacked Stone Cellars (1525 Peachy Canyon Rd., just west of Paso Robles). The $38 tickets are going fast; get yours at Matt's Music or by calling 237-0054. A $12 dinner is available from 6 to 7 p.m.
South Paso Robles now has its own weekly singer/songwriter showcase! Host Steve Key is gathering some of the nation's finest at Monteleone's Rock on Monday evenings. First up is Craig Louis Dingman, an award-winning songwriter from Atascadero, on Monday, Sept. 22 at 7:30 p.m., along with Morgan Enos, Jack Casey, Dustin Schmidt, Redzuan, and the trio Honeyguide. No cover charge, but tips are always appreciated!
Roaming blues poet Ray Bonneville is making a stop in SLO Town to dish out his raw, gutsy music at the Steynberg Gallery. He's lived all over the U.S., but considers New Orleans' characteristic take-your-time attitude to be his biggest influence. This one-man blues band uses a highly percussive guitar style to back up his weathered vocals, with some dramatic harmonica lines thrown in. His latest Red House Records release, Goin' By Feel, features his syncopated guitar riffs and poetic lyrics on 12 tracks of gritty Americana/blues. The Hoot Road Show kicks off its 12th season with Ray Bonneville on Wednesday, Sept. 24 at 7:30 p.m. Tickets cost $15, on sale now at the Steynberg Gallery, or at the door.
PHOTO COURTESY OF BRUCE FORMAN
STRINGS THAT SING : Acclaimed jazz guitarist Bruce Forman performs at the Hamlet in Cambria on Sunday, Sept. 21.
An upbeat quintet from West Palm Beach known as Hey Monday—fronted by 18-year-old Cassadee Pope—takes the stage at SLO's Downtown Brew on Wednesday, Sept. 24, along with We The Kings and The Cab, all part of the Why So Serious Tour. Pope and lead guitarist Mike Gentile co-wrote the songs on the group's upcoming debut, Hold On Tight, a joint venture with Columbia Records and Fallout Boy bassist Pete Wentz's Decaydance Records.
Mark your calendar for Thursday, Sept. 25, when Danish rock group HorrorPops struts their stuff at Downtown Brew in SLO. Fresh from a main stage slot on the Warped Tour, this trio—fronted by explosive upright bassist Patricia Day—creates a unique international sound that puts rock, new wave, surf, and rockabilly into the melting pot.
With so much live music going on all around, you'd have to be crazy—or lazy!—to stay home.
---
Contributing writer Kathy Johnston isn't crazy or lazy. Invite her to one of these shows at kjohnston@newtimesslo.com. Glen Starkey will return from his staycation in time for the next issue, along with CD reviewer Malik Miko Thorne.