Back in the day, students seeking an academic advantage chose stimulants like coffee, energy drinks and caffeine pills to help them stay up late and cram for final examinations.
Now, more and more college students have started turning to prescription amphetamine stimulants such as Adderall in an effort to help increase their ability to focus more clearly for a longer amount of time.
Call it a symptom of America's increasingly pharmaceutical-centric culture, or call it an extension of the urge to respond to pressures by cheating through chemicals, a trend that has already firmly rooted itself in professional and amateur sports.
Whatever the cause, while the drug's boosters praise its mind-concentrating effects, doctors, addiction specialists and former abusers note that it can cause serious health problems or death, can quickly lead to dependency, and some say can make you crazy. Oh, and it's illegal. And on the rise in SLO.
'It's used for all-nighters'
"When finals week comes around, people go crazy looking for it," said "Betty," a fifth-year Cal Poly student who requested that her real name not be used. "I take it because I become more focused, more attentive and my thoughts are more clear."
"It's used for all-nighters, honestly," said Dana Nelson, a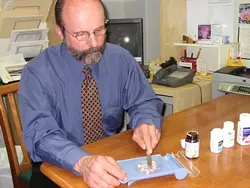 PHOTO BY KAI BEECH
A PHARMACIST IN THE HOUSE : Pharmacist Dana Nelsonprescribes Adderall for attention deficit disorders, but recognizes that the drug is sometimes misused in the community.
# pharmacist at Health Plus Pharmacy who has worked in San Luis Obispo for the last 25 years. "It's an upper. It's a combination of a couple of different types of amphetamines with immediate and long lasting effects to the central nervous system."
According to Nelson, Adderall is a stimulant comprised of a combination of amphetamines that is mainly used legitimately to treat attention-deficit hyperactivity disorder.
Adderall is like pharmaceutical bologna: It's a gnarly mixture of four different amphetamine salts and works by blocking dopamine and norepinephrine from entering one part of the brain and increasing their release into another section. The increased flow of these neurotransmitters into different parts of the brain enables users to experience a deeper level of concentration, which ultimately increases their ability to focus for extended periods of time and obtain a heightened interest in completing focus-based tasks. The average duration of the effect of Adderall, depending on the dosage, is five to 10 hours.
But just because Adderall can help people study for longer periods of time doesn't mean the information studied is being properly stored.
Nelson said a person who studies while under the influence of Adderall can recall information more effectively, but the information that is studied doesn't get incorporated into their long-term memory and they can develop a state of dependent learning. He said some students could develop a psychological dependency that causes them to lose confidence in their own ability to perform well scholastically without the drug.
According to the National Institute of Drug Abuse, the non-prescription use of Adderall is on the rise nationally. While local numbers aren't available, one area pharmacist feels the same way.
"People seem to be using it more commonly now to experience a more intense level of concentration," said a pharmacist at one of SLO's most visited pharmacies, who requested to remain anonymous. "I used to work in San Francisco and Boston and I didn't see so much there. But when I came here, I noticed it used a lot more in the college setting as a study aid."
A study aid that provides extra awareness and extended concentration for extensive periods has obvious benefits to cramming students. But Adderall, like all drugs, has its negative side effects as deceptive as they might seem. And because licensed physicians prescribe Adderall, many that take the drug mistakenly assume it is safe.
"People think it's a horrible drug. It's a good drug," said the Cal Poly fifth-year. "They put kids on 40 milligrams a day, so it can't be that bad."
Nelson believes that, like this student, many people have a misconception about the health risks of these prescription pills.
"People don't know, but all sorts of problems can pop up," he said. "It's an addicting kind of stimulant. It may cause physiological damage and alter one's psyche."
Other negative side effects include increased heart rate and blood pressure, seizures, and an extremely dry mouth.
"I see it in all levels," Nelson said of the demographic of people who abuse Adderall. "But most are from the age of 15 to 22 in terms of misusing. Amphetamines are a young person's drug. You don't see a lot of old speed freaks."
The abuse of Adderall is only one facet of a much larger societal trend involving the recreational use of prescription medications. Abuse of the prescription painkiller OxyContin is so widespread like Adderall, users crush the drug and sometimes snort it to circumvent its time-release capacities and feel the impact all at once that its manufacturer has become the target of class-action lawsuits.
John's story
"John," a recent Cal Poly graduate who asked that his real name not be used, started taking Ritalin as an elementary school student his parents were attempting to mitigate his wild behavior.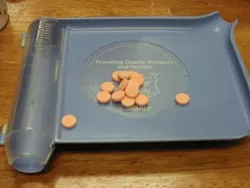 PHOTO BY KAI BEECH
THINK PINKS : Pink Adderalls are manufactured without time-release properties.
# "It was a thing of the '80s my parents hopped on," he said.
But when he started to participate in more physical activities and his attitude became more relaxed his parents felt they no longer needed to refill his prescription.
So he went seven years without taking the drug and it wasn't until he moved to the Central Coast that he saw it again when a roommate offered him a Ritalin pill while studying for final examinations at Cuesta College. It worked. Later, he found that a similar drug, Adderall, worked even better.
"My motive was to use the drug as a tool. I was goal-driven," he said.
He later transferred to Cal Poly and selected nutrition as his major. He recalls studying about the human body's physiological effects while under the influence of the stimulants.
"I was fully aware of what I was doing to my body," he said. "But I did legitimate things using such drugs."
In an effort to help handle his final quarter of college in which he was taking 22 units, working 20 hours a week and competing for a collegiate athletic team he turned to Adderall.
Looking for a steady source, he reported fake symptoms to a Cal Poly physician and was prescribed Adderall. He took the university's recommendation to a local Rite Aid and got a bottle full of pills.
"That last quarter I went through limits that weren't human," he said. "I'm not an advocate for drug use but, damn, it works."
While his use of Adderall started as a way to help handle multiple responsibilities, it ultimately evolved into a full-blown addiction.
"I definitely had moments of abuse. I even smoked, snorted and sold it," he said.
Now, almost exactly a year removed from his final Cal Poly cram session, John said he still uses the drug on nights of heavy boozing, in an effort to remain alert and active.
"It's for a wide-awake drunk," Nelson said of the way some abuse it. "It doesn't counter the effects of alcohol, though one can probably drink more. [Users] can get to a toxic level without knowing it."
John's vigorous binge-drinking experiences provide validity to Nelson's theory. John said he sometimes prefers to hit the town on Adderall because he feels like he's "above the game" while under the influence.
"When the group is on their sixth beer I feel like I'm on my third," he said. "It's a reality extender. A night on alcohol ends at 2 a.m. A night on Adderall ends at 6 a.m. It makes me feel great when I'm drinking and I don't get a hangover but I know it's drying up my liver like a raisin."
John said it's difficult to estimate if more people are experimenting with Adderall.
"It's hard to tell because no one talks about it and they do it behind closed doors like cocaine on the party scene."
Criminal consequences
According to the U.S. Drug Enforcement Administration, Adderall is a Schedule II controlled substance and getting caught with just a single pill without a prescription is considered a misdemeanor health and safety code violation that could result in up to six months in jail and costly fines. And since Adderall is considered a controlled substance, buying or selling of the drug is deemed a serious crime.
"Just selling one pill to a roommate is considered a felony," said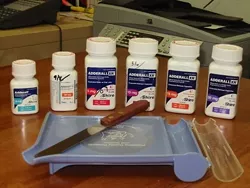 PHOTO BY KAI BEECH
AMPHETAMINE ARSENAL : Adderall is prescribed in a number of different varieties and strengths.
# Sgt. Brian Hascall of the Sheriff's Department. "When you talk felony, you're talking potential state prison time."
So far, SLO hasn't seen any Adderall-related arrests, but Hascall has "experienced a couple of cases" concerning the abuse of Adderall's sister drug Ritalin in the last year.
According to Hascall, prescription pill-popping problems have always been present in this county, with the most commonly abused drugs being painkillers like Vicodin and Darvocet.
Though selling, taking or possessing Adderall without a prescription is considered a crime, it doesn't seem to be stopping students from seeking out the substance.
"The biggest problem is getting it," said Betty, the Cal Poly fifth-year. "Everyone wants it because you can study anything and be completely interested."
Betty said Adderall is relatively inexpensive, largely because it's prescribed.
"If you have insurance that covers Adderall, it's pretty cheap," she said. "If your insurance doesn't cover it, prescriptions can cost up to $140 for 30 20-milligram, time-release capsules. On the street, the common 10-milligram blue pills sell for $3 to $5 a pop."
Because of the appetite-suppressing effects associated with Adderall, it is desired by some who are trying to lose weight.
"I just forget to eat when I take Adderall," said the nutrition graduate who reported a 20-pound weight loss after a six-month Adderall bender.
Cal Poly low in study
Though Martin Bragg, Cal Poly's director of health and counseling services, has never spoken to a student who admitted misusing Adderall he realizes there are some who have.
"We know it happens. We hear it anecdotally in the community" Bragg said of the university's knowledge of the exploitation of Adderall. "Many students are looking for any source of energy enhancement to make up for their crazy lifestyle in terms of staying up late."
He said members of the medical community understand that Adderall is a drug of potential abuse and because of that they have put together what they feel are reasonable polices and procedures to help ensure the pills don't fall into the wrong hands.
"The campus word of mouth is that it's difficult to get those medications through the health center," Bragg said.
According to Bragg, the Prevention Research Center and the National Institute on Alcohol Abuse and Alcoholism recently conducted a study concerning student drug use at all 10 University of California colleges and six California State Universities, which included Cal Poly.
Bragg said the results, which have yet to be published, revealed that Cal Poly had the lowest reported use of amphetamines with less than one percent of students admitting to having tried similar drugs.
"Our small town nature makes the availability [of Adderall] harder to get than in urban settings," Bragg said. "The biggest challenge [for users] is finding it."
Despite the statistics presented from the questionnaire, Bragg believes the desire for drugs like Adderall is increasing.
"My guess is that the demand for any kind of stimulant goes up during midterms and finals," he said. "My presumption is that the use is increasing in adults and college age students."
---
Contact Staff Writer Kai Beech at kbeech@newtimesslo.com.