Audience members shook their heads, spoke with muffled voices, and occasionally snickered as the Pismo Beach Planning Commission discussed the Price Canyon planning area at its Oct. 9 meeting. Many community members expressed hesitation about moving forward with the project, but the commission voted 3-2 to put it on the City Council's plate and recommend approval.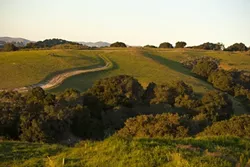 FILE PHOTO BY STEVE E. MILLER
IS BIGGER BETTER? : If approved, the Price Canyon planning area would increase the square mileage of Pismo Beach by about 50 percent. Many residents worry doing so would burden services, resources, and infrastructure.
The Price Canyon planning area consists of 1,264 acres; developments would include a hotel, senior community, a nine-hole golf course, expansion of Price Historic Park, and more. General and Specific Plan updates intended to address concerns over traffic, water, noise, and environmental impacts were discussed.
An element added to the original general plan involved a minimal loss of oak trees. Though no specific number of anticipated trees lost was given, the update stated that for every four oaks removed, one would be planted.
Concerning traffic, Vice Chairman David Jewell questioned how emergency evacuations and schools in the area would be impacted by the increased demand on infrastructure.
"Where things stand now, we would all be lucky to get out of here," Jewell said in regard to a potential emergency at Diablo Canyon.
Community Development Director Jon Biggs said that the city would be able to evacuate properly—even with the changes—if an emergency were to occur.
Many community members expressed concerns and negative feelings toward the Price Canyon Plan, but Noreen Martin—of Martin Resorts—saw things differently.
"I feel strongly about this project and how it will push tourism in this city," she said. "We need to capture these tourists and keep them here."
Though the plan earned commission approval, Commissioner Kate Shurson joined Vice Chairman Jewell in voting against it.
"I don't think the city or people of Pismo Beach want or need this project," Shurson said.