GALA's Proud To Be art show celebrates the LGBTQ community, patriotism
They weren't supposed to be friends.
She was a lesbian. He was a transgender man from Texas. Within the LGBTQ community, the first group often sees the second as well, traitors.
Photo By Jayson Mellom
PATRIOTIC A photo that Lynn Schmidt took of artist RawfeyL Gene Burge, inspired him to paint a self-portrait that tackles themes of patriotism and diversity.
"Because I ditched the team," RawfeyL Gene Burge (the transgender man) explained.
But after many conversations about art and health insurance, Lynn Schmidt (the lesbian) and RawfeyL are decidedly friends. She's now his ally, spending countless phone calls talking to insurance reps to make sure RawfeyL's upcoming phalloplasty surgery (aka "bottom surgery") will be covered. But she's also kind of his artistic muse.
Image Courtesy Of RawfeyL
RawfeyL's self-portrait, pictured here in progress.
During a recent art class at Cuesta College, Schmidt, who is the gallery coordinator for the Gay and Lesbian Alliance of the Central Coast (GALA), took a stunning black and white photo of RawfeyL draped in the American flag using a medium format camera (think those old-timey giant box cameras with the cord and the button). This, in turn, inspired RawfeyL to paint a self-portrait on a recycled canvas, with the flag once more draped around his body, featuring Morro Rock (he lives in nearby Los Osos) and the ocean in the background with black and white stripes around the border, as an homage to the original photo. And, of course, a phallic shape outlines RawfeyL's body on the painting. Most of his work centers on penises as he's in the process of fully physically transitioning. Before he had top surgery to remove his breasts, RawfeyL did a series of bras made from glass and wire, one of which Ellen DeGeneres owns. He also acted as an extra on Amazon's original show, Transparent.
Both RawfeyL's and Schmidt's pieces are currently on display at GALA's gallery in San Luis Obispo as part of the Proud To Be art show.
Both artists felt inspired by the 2016 presidential election.
"I was outraged by the election of him [President Donald Trump] and the way he chooses to speak and represent Americans," Schmidt said. "This was my attempt to go, 'Hey, we're just like everyone else, we're normal people.'"
The photograph Schmidt took of RawfeyL is part of a series, We The People Photos, featuring all black and white photos of diverse Americans draped in the flag that Schmidt has slowly begun to post on Instagram. RawfeyL's self portrait in turn is part of his own personal journey and is made all the more poignant by the Department of Justice's June decision to roll back protections for the Affordable Care Act, which means that starting in 2019, health insurance companies don't have to necessarily pay for things such as phalloplasty surgeries for transgender people like RawfeyL.
Luckily RawfeyL received his approval from his insurance in June and is currently waiting for his surgeon in San Francisco to put him on the schedule.
"So I'm in a big hurry to get a dick," RawfeyL said. "Each piece is recycled like me. Think about that, I'm recycling my body. Because of this I've been driven to get into politics. You have to fight this from the inside, and I look like a big old white guy with a funny accent. I could totally sneak in there and fuck with them."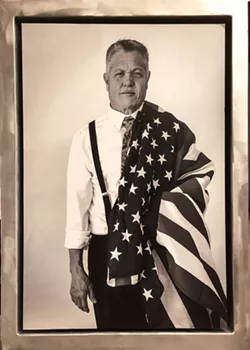 Photo Courtesy Of Lynn Schmidt
Photo by Lynn Schmidt, part of her series We The People Photos.
RawfeyL's struggle, in turn, inspired Schmidt to chronicle his journey. She's currently working on a still untitled documentary about his quest to feel physically whole. If all goes according to plan, RawfeyL said he'll be the first person on the Central Coast to have a phalloplasty paid for by insurance.
"It's about him going through the phalloplasty, but it's also about me becoming friends with him and my take on it," Schmidt said. "They [transgender people] really are the lowest ones on the totem pole and everyone craps on them, and the story is that we met and became friends and I am his advocate now."
RawfeyL hopes that both pieces will make people reconsider what it means to be an American.
"I'm hoping that people start to think about patriotism and who is a patriot. Transgender Americans of the LGBTQ alphabet are the most discriminated against and by the government," RawfeyL said. "You can't serve in the military. You don't have to treat a transgender person's broken arm. I didn't have insurance until ACA. Everything I did I paid cash, I couldn't get insurance. All we can do is push for the vote and just get people out there and stop it. The best way is to pack both houses with Democrats—or anybody else." ∆
Arts Editor Ryah Cooley can't keep her eyes open in a photo to save her life. Contact her at rcooley@newtimesslo.com.