Paul Thorn's got quite a pedigree. Born in the Midwest in Kenosha, Wisc., he moved to Tupelo, Miss., while still a toddler, landing smack dab in the heart of Southern blues and gospel territory. His dad was a Pentecostal preacher, and his first singing experiences were in church.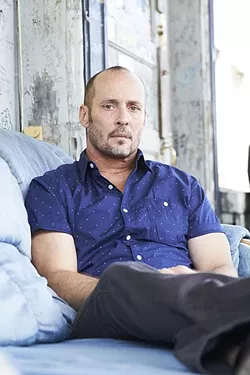 PHOTO COURTESY OF PAUL THORN
POET & PUGILIST : Former boxer turned singer-songwriter Paul Thorn plays Tooth & Nail Winery on Aug. 1.
He worked in a furniture factory, as a skydiver, and as a professional boxer—his claim to fame being a nationally televised bout against five-time champ Roberto Duran. Yes, he lost. The ref stopped the fight in the sixth round because Thorn was bleeding profusely from a cut in his mouth—a technical knockout. That's OK—they both got their licks in. Thorn opened up a pretty serious gash over Duran's eye thanks to an accidental head butt. Thorn's record as a welterweight was pretty decent: 10 wins (five by knockout), three losses (all by knockout), and one draw. Nothing to sneeze at!
Thorn was performing in a Tupelo pizzeria when he was discovered by Miles Copeland (brother of The Police drummer Stewart), and signed to A&M Records where he recorded his debut album, Hammer & Nails (1997). He's recorded six more since, my favorite being Pimps and Preachers (2010), a very autobiographical album. His most recent record is Too Blessed to be Stressed (2014), of which he said, "In the past, I've told stories that were mostly inspired by my own life. This time, I've written 10 songs that express more universal truths, and I've done it with a purpose: to make people feel good."
He's got a knack for great narrative songs, and his voice has a comfortable well-worn quality. If you listen to K-PIG, he's in regular rotation. A natural-born storyteller, his live shows are filled with humor, poignancy, and life lessons.
See Paul Thorn on Saturday, Aug. 1 (6:30 p.m.; $25; Boo Boo Records and Ticketfly), at Tooth & Nail Winery in a Good Medicine Presents concert. Food and wine will be available for purchase.
Other Good Medicine Presents shows this week include a free pop-up concert by feel-good folky Robi Duganne on Friday, July 31 (5 to 9 p.m.), at Tooth & Nail.
"I've lived on the Central Coast for over 15 years until four years ago when I moved to the Long Beach area where my music took off," Duganne said. "Shortly thereafter I opened for Crosby, Nash, and Jackson Browne in Maui in 2012, and I've been recording in Moscow with a popular group there that picked up one of my songs and recorded it on their latest release. Recently I have moved back to the Central Coast and have been performing at Shale Oak, Broken Earth, and other wineries in the area."
Good Medicine also hosts R&B icon Tommy Castro & The Pain Killers on Sunday, Aug. 2 (5:30 p.m.; $25; Boo Boo Records and Ticketfly), at Tooth & Nail Winery.
"I'm always moving forward, going outside of my wheelhouse, listening to new music, and incorporating new ideas," said Tommy Castro, an award-winning guitarist/vocalist/songwriter, in press materials. "The contemporary blues scene is full of fresh, new sounds. It's an exciting time."
His newest Alligator Records release is The Devil You Know, a ripping and soulful blues-rock collection.
"For the new album, I challenged myself to add different sounds and new rhythms to my style while remaining true to my roots. I wrote using ideas for songs and ideas for sounds together in a way I'd never done before," Castro explained, "using drum rhythms to drive the lyrics."
This is a great live band that will elevate your mood.
"A lot of folks are having hard times these days," Castro said, "and they need something to lift them up and make them smile. Our music kills the pain."
And at SLO Brew, Good Medicine Presents Kool John and P-Lo—The Movie Tour on Wednesday, Aug. 5 (8 p.m.; all ages; $12 presale or $14 at the door). "San Francisco Bay Area born rapper/producer P-Lo is cultivating the sound of the Bay Area on a national level," according to press material.
Life's a beach
It's summertime, and the summeriest summer concert of the year hits Avila Beach Golf Resort this Sunday, Aug. 2, when Otter Productions hosts Rootfire at the Beach, a massive all-day, multi-band extravaganza that includes Tribal Seeds, Stephen "Ragga" Marley, Collie Buddz, Shwayze & The Movements, and DJ sets by The Expanders Sound System (all ages; doors at noon; live music at 1 p.m.;
$35 presale or $40 at the door; visit rootfire.net).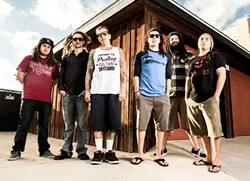 PHOTO COURTESY OF TRIBAL SEEDS
SUMMERTIME FUN: Tribal Seeds is one of several reggae acts playing the daylong Rootfire at the Beach show on Aug. 2 at Avila Beach Golf Resort.
"Ever since I started Rootfire, I've thought about what it would be like to channel the energy we've cultivated in our online community into a happening, an event that would gather members of the progressive reggae tribe in one place to celebrate the music that binds us together," said Rootfire founder Seth Herman. "We've chosen one of California's most beautiful and intimate venues to make this dream a reality."
In addition to a bunch of great music, the event also promotes a great cause: "A portion of Rootfire at the Beach's proceeds will be donated to the Rossi Foundation, a nonprofit based in San Luis Obispo that provides funding to a wide variety of local programs from the SLO Children's Museum to Central Coast Salmon Enhancement."
If you want to get into the spirit a day early, The Expanders kick off the event with a pre-party on Saturday, Aug. 1, at Mr. Rick's in Avila Beach.
More Fair fare
Lots of good feedback from the California Mid-State Fair shows last week … except for Mötley Crüe! The show was supposed to start at 7:30 p.m., but word was the band had "travel problems" so opener Alice Cooper (who put on a killer show, I heard) didn't go on until after 10 p.m., and Mötley Crüe went on around 11 p.m. and was sort of terrible (No pyrotechnics? Sad face!). Scuttlebutt intimated that band members were actually spotted at Lido getting drunk as early as 6:30 p.m., but that's unconfirmed, and if it's true, well, that's rock 'n' roll, baby! Some ticket holders chose to get refunds before the music started. If anyone's got any proof of the truth, keep it to yourself. Some things are best left as lore!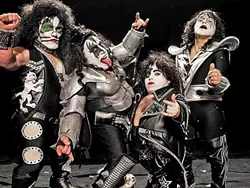 PHOTO COURTESY OF MINI KISS
SMALL BUT MIGHTY: Mini KISS, a KISS tribute band comprised of little people, plays July 30 at the Mid-State Fair.
This week at the fair, guitar icon Robert Cray and rock icon Stephen Stills play the Grandstand on Thursday, July 30 (7 p.m.; $26 to $46), during An Evening of Brews & Blues.
On Friday, July 31, see An Evening of Music & Wine featuring Boston and Zzah (7 p.m.; $31 to $61) on the Grandstand. Boston has a new album—10 years in the making! In addition to their many hits, expect new songs from Life, Love, and Hope.
After that it's rodeo Aug. 1 and monster trucks Aug. 2. On the free Fort Frontier Stage, you may want to catch Mini KISS featuring a band of little people performing KISS songs on Thursday, July 30.
Grammy Award-winners The Mavericks also play for free on Friday, July 31, to promote their new album Mono. In press materials, frontman Raul Malo said the band's excited to hit the road on their multi-city tour: "We're playing some beautiful venues that should make for some special nights. Also, the [fans] have already had the record for a little bit, so they'll be ready for some new music."
Swinging Big Bad Voodoo Daddy brings their jump blues to the free stage on Saturday, Aug. 1. Plus there's funnel cake and carnival rides!
Stirring Stirling
Have you seen the video for electronica violinist Lindsey Stirling's "Roundtable Revival?" Set in the Old West, it becomes a showdown between a guitar-slinging bandit and Stirling's violin-wielding barmaid. We're talking full costumes, choreographed dance moves, all amongst an Old West town.
PHOTO COURTESY OF LINDSEY STIRLING
SPRITE: YouTube sensation and electronica violinist Lindsey Stirling brings her amazing stage show to Vina Robles Amphitheatre on Aug. 6.
In her video for "Masters of Tides," she wears a three-corner hat and dances in a fountain with a cadre of pirates and sea nymphs. "Shatter Me" finds the sprightly violinist as a ballerina spinning in a snow globe.
Basically, the YouTube sensation has found a way to make electronic violin as cool and compelling as Kate Bush's voice. Her sophomore album, Shatter Me, was the best selling electronic album of 2014 and landed Stirling TV appearances on everything from Good Morning America to The Today Show to The View. She was also recently honored with YouTube's prestigious "Music Award," which recognizes the site's 50 biggest artists and musical acts.
Next Thursday, Aug. 6, Lindsey Stirling brings her stage show to Vina Robles Amphitheatre (7 p.m.; $35 to $41; tickets available at vinaroblesamphitheatre.com).
"Fans can expect to hear Lindsey perform some of her biggest hits to date, including her breakthrough track 'Crystallize' and the very personal 'Shatter Me' in an all new revamped production from her last U.S. tour, which is currently being shown on public television," according to her press materials.
With infectious energy and a stirring mix of Celtic folk music, modern classical, and electronica, Stirling delivers an incredible show, and this gal can dance up a storm as she plays. It's pretty amazing.
More music …
PHOTO COURTESY OF DUSTBOWL REVIVAL
GET DUSTY : "American Roots Orchestra" The Dustbowl Revival plays the Red Barn Community Music Series on Aug. 1.
The Red Barn Community Music Series has two great shows cooked up this week starting on Thursday, July 30, with New Orleans style jazz artist Tuba Skinny. On Saturday, Aug. 1, the series continues with "American Roots Orchestra" The Dustbowl Revival. Both shows are all-ages, with a 5 p.m. potluck, 6 p.m. show, and cost $15 at the door.
SLOfolks is hosting the return of Blame Sally, the Bay Area all-female super group whose vocal harmonies, lush melodies, and booty-shaking rhythms have garnered them a huge local fan base. They play Castoro Cellars Winery this Friday, July 31 (all ages; 7 p.m.; $24 at the venue or Boo Boo Records; or online at castorocellars.com/events). Some seating is provided, but attendees are welcome to bring blankets and low-back chairs for lawn seating. Food and beverages are available.
PHOTO COURTESY OF GUY BUDD AND INGA SWEARINGEN
TWO FOR THE ROAD: Guy Budd and Inga Swearingen join forces on Aug. 2 for a show at the Arroyo Grande Rotary Bandstand.
Contemporary acoustic fingerstyle guitarist Martin Paris is pretty darn gifted. He seems to mostly play wineries, where his gorgeous sound mirrors the beautiful rural setting, but he's coming out of the North County for his debut show at Linnaea's Café this Friday, July 31, from 8 to 10 p.m. This one's all ages and free!
The Nipomo Men's Club BBQ will be doing their thing at the DANA Cultural Center's upcoming Dave Stamey concert this Saturday, Aug. 1 (gates open at 2:30 p.m.; concert at 4 p.m.; $50; 929-5679). The afternoon will feature a performance by Stamey—a nationally acclaimed cowboy entertainer—plus music by the Daily Special Bluegrass band, a delicious barbecue dinner, a silent auction, a raffle, and a no-host whiskey, beer, and wine bar. Best of all, it supports the DANA Cultural Center!
Guy Budd is a kick-ass guitarist and cool vocalist. Inga Swearingen is a kick-ass vocalist and cool guitarist. Both are solid songwriters, and when they team up, as they will this Sunday, Aug. 2, at 1 p.m. in Arroyo Grande's Rotary Bandstand for a free concern, magic happens! It's gonna be a jazz-blues-apocalypse!
We picked; now tell us your favorites!
The judges have spoken for the seventh annual New Times Music Awards, but we want to know your favorite. Visit newtimesslo.com, listen to the finalists, and vote for the Readers' Choice Award. Voting ends Monday, Aug. 10. Be sure to mark your calendars for the big event, where finalists will receive their awards and the top genre winners will compete for Best Live Band, on Friday, Sept. 25, at 7 p.m. in the big Fremont Theater!
Keep up with Glen Starkey via twitter at twitter.com/glenstarkey, friend him at facebook.com/glenstarkey, or contact him at gstarkey@newtimesslo.com.