German artisans have worked for many centuries to perfect brewing beer, an endeavor that has deeply impressed Douglas Martin, a Chicago native who spent nearly two decades in their home country studying the results. Martin owns SLO-based Einhorn Beer Company, a new microbrewery that makes beer in the German tradition. "Germans really believe they make the best beer in the world," he said. "Americans brew good beer, too," Martin granted, "but it's an entirely different style."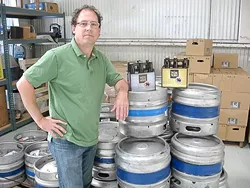 PHOTO BY PATRICK R. BARBIERI
A TASTE OF GERMANY : Local brewer Doug Martin hopes to spark the enjoyment of freshly brewed, authentic German beer right here on the Central Coast
After working for a mineral water distributor in Germany, Martin attended Doemens Beverage Academy in Munich, one of three German colleges specializing in all aspects of the wine, mineral water, juice, and especially the beer industries. After graduating from Doemens, Martin went to work for Scottish & Newcastle, one of the top-ten macro-breweries in the world, responsible for such famous cold-ones as Fosters, Newcastle, Strong Bow, and Baltika.
Upon returning to the states with an extensive education and experience in the beer business, Martin decided it was time to share his passion for great German beer with his stateside friends and neighbors. Martin created his own recipes for two distinct German styles to be brewed according to the German Purity Law of 1516, using the same commitment for quality followed by the Germans for centuries.
"There is something very special, almost mystical about beer that is hard to describe," said Martin. "The fact that so many different styles of beer can be made using the four same ingredients is almost magical."
Importing grains, yeast, and hops directly from Germany, Martin brews his beer domestically using only authentic German ingredients, except for water. This results in a virtual German beer with a freshness characteristic of California micro-brews.
"The two factors working against beer during the transportation process are temperature change and prolonged storage," Martin said. "Being able to brew beer close by and deliver it to customers fresh makes a big difference."
So why did the brew master choose San Luis Obispo as the base for his dream brewery? Like so many tourists, Martin frequently visited the Central Coast while vacationing in California, and eventually decided to make the area his permanent home.
The two styles currently available from Einhorn are a Bavarian Hefeweizen and a North German Spezial Pilsner. Martin hopes to add a seasonal style, and perhaps an Altbier or Schwartz bier style to round out the spectrum. Einhorn Beer can be purchased at local grocery and liquor stores, and Martin plans to soon distribute his beer to local restaurants and bars as well.
Visit einhornbeer.com for a weekly updated list of nearby vendors that offer Einhorn Beer.
---
Intern Patrick R. Barbieri compiled this week's Strokes and Plugs. Send your business news to strokes@newtimesslo.com.