Fog gathers along the horizon, billowing above SLO County's peaks like cotton balls piled on top of one another. I'm watching the pile build from above—staring at its slow progression inland from the ocean as I walk West Cuesta Ridge Road on a Saturday afternoon.
PHOTO BY CAMILLIA LANHAM
RIDGELINE ROAD: West Cuesta Ridge Road, also known as TV Tower Road, also known as Forest Service Road 29S11, runs from the top of Highway 101's Cuesta Grade to the Cuesta Ridge Botanical Area.
It's been almost a year since I stepped foot on this once pothole-paved Forest Service road that leads from Highway 101 to Tassajara Peak's radio towers and beyond to the Cuesta Ridge Botanical Special Interest Area. In that year, the Forest Service has smoothed out the potholes, removed most of the crumbling pavement, graded the dirt, and unlocked the gate that blocked vehicle access during the road repairs.
October rains have soaked into the ground and the hills are coming alive, seemingly turning greener with each passing minute as I climb above the Cuesta Grade and Highway 101. It's warm and sunny, but the ocean view is barricaded in white—still, miles of SLO County country is visible to the north and south, rotating as I walk in front and behind hill summits toward the radio towers.
My pit bull is bounding (yes, like a bunny) between sides, digging up rocks to carry like pacifiers as he searches for critters to chase and animal scents to decipher. Mountain bikers huff slowly up and zoom down, as do several vehicles. If you have a dog that's not great with voice commands, I would suggest keeping them on leash simply for safety because there are plenty of blind corners where you can't see traffic coming.
PHOTO BY CAMILLIA LANHAM
YELLOW MEANS PROTECTED: The 1,300 acres of protected Sargent cypress trees along Cuesta Ridge is the largest grove between San Francisco and Santa Barbara—and is easiest to access by car.
Other than a few encounters with hikers, bikers, and drivers, it feels like we've got the ridgeline to ourselves as we approach the botanical area, about 3 miles in and 950 feet higher than the parking lot where we started (at the top of the Cuesta Grade). As the yellow sign announcing the Cuesta Ridge Botanical Special Interest Area comes into view, so do the dark green branches that signify a change from the chaparral (read: beautiful red/purple manzanita) we've passed the whole way up here. Dark branches stretch shade between protected Sargent cypress trees that can grow as tall as 50 feet. The cypress is a fire-adapted conifer that grows only in scattered groves along the coastal mountains, and according to the U.S. Forest Service, this botanical area provides the best access to a Sargent cypress grove.
You can tuck under the branches and pretend for a moment that you're enveloped in a forest farther up the coast, but watch out for broken glass—because, unfortunately, there is plenty of it littering the ground in certain spots. The road continues, winding its way through some of the special interest area's 1,300 acres, so you can wander in the largest grove of Sargent cypress between Santa Barbara and San Francisco.
As we turn back, traffic gets a little heavier on the road. The fog threatens to come closer but holds off as we meander down toward the grade. Within a mile of the car, my dog finally finds that thing he's been sniffing for and rolls around in it before taking a few nibbles.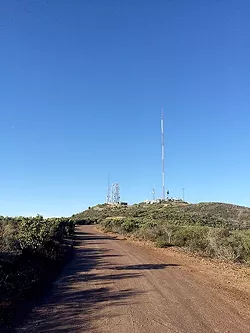 PHOTO BY CAMILLIA LANHAM
RADIO FOR YOU: The towers looming from Tassajara Peak bring residents what they need, and you can trek up there and back from the road if you feel like adding another 0.4 miles to your hike.
Gross.
I guess no trip into the forest would be complete without it.
Take a walk
Hiking West Cuesta Ridge Road is a cinch. Park in the lot on the Cuesta Grade along the southbound side of Highway 101. Head up the hill toward the Forest Service gate.
Editor Camillia Lanham knows dogs are disgusting, but still thinks they're cute at clanham@newtimesslo.com.