Some bands just seem to exude happiness, as if they know they have the best job in the world and they're not rubbing your nose in it; they just want to share the joy with you.
That's the case with Próxima Parada, the local blue-eyed soul band whose members are getting ready to quit their day jobs, pile in their tour van, and hit the road. Before they blow this popsicle stand we call SLO Town, they're going out with a bang this Friday, March 22, at the SLO Brew Rock Event Center (7 p.m.; 18-and-older; $10 at slobrew.com or Boo Boo Records; standing room only).
Photo Courtesy Of Próxima Parada
ONE FOR THE ROAD Blue-eyed soul band Próxima Parada plays a March 22 show at the SLO Brew Rock Event Center before heading out on their summer national tour.
"The show will be our major SLO concert before we head off on our U.S. tour this summer," frontman Nick Larson explained. "We're in the process of recording our next album, and we'll have a record label supporting us in the release and distribution. And we'll all be full-time Próxima Parada by June!"
It's been a long, strange trip for this "group of four with wild fantasies of promoting joy, human connection, and making introspection sexy again," according to their bio, which also notes influences such as "Vulfpeck and Lake Street Dive, classic artists like Ray Charles and Bob Dylan, as well as jazz, gospel, and the music of West and South Africa."
In addition to Larson (vocals, keys, guitar), the band includes Kevin Middlekauff (bass), Josh Collins (guitar), and Aaron Kroeger (drums). Since they formed in 2012, they've been through a few personnel changes, with Larson and Middlekauff remaining as the core founding members. What have these changes meant for the band's sound?
"Yes, we've seen lots of change and growth since we started this band our senior year of college at Cal Poly," Larson said. "As Próxima Parada has slowly transitioned from a hobby to a full-time profession, we've had members leave the band to pursue other work, and we've been fortunate enough to bring in Kroeger on drums and Collins on guitar. They're both incredibly talented and dedicated musicians who are such great team players.
"Our sound has developed significantly because of their unique perspectives," Larson continued. "For example, all of us arrange the songs together, and we always want our parts to serve the song and not just be a demonstration of skill. And we don't just focus on our own parts, we all help write each other's parts, so it feels like we are all playing everyone's instrument. This has helped ensure that we're all personally connecting to all parts of the song. To get to this level has required lots and lots of open discussion and vulnerability. It's really hard to do, but it's the way we prefer to arrange the songs. This will be evident on our new album that we're releasing this year."
Neal Losey, KCBX's Morning Cup DJ, is clearly a big fan and plays the band's music often. Their songs are also popular on streaming services.
"We're so grateful for all of the support that we get from local radio stations like KCBX and the Krush," Larson said. "It's so cool for us because they're stations that we genuinely love listening to. The bulk of our listeners outside of SLO come from Spotify. We've been amazed to see over 1.3 million unique listeners from 65 different countries and over 6.24 million total streams. It's crazy to think that there are people all around the world listening to songs that we wrote here in San Luis Obispo."
Their song "Time In A Circle" alone has been streamed more than 1 million times on Spotify.
"When Nick wrote 'Time In A Circle,' he was intimidated to share it with people because it felt really vulnerable and personal, so to see it get over 1.5 million plays on Spotify means a lot to us," Middlekauff said. "It means that people resonate with vulnerability and sharing our true selves. So many people have approached us and told us that they feel like 'Time In A Circle' was written about them. One man in Germany even recorded himself on YouTube performing his own version of the song. It's gorgeous. Nick definitely cried when he heard it for the first time."
While the band's getting ready to drop their next album, they've been recording music together for more than five years.
"We've recorded one EP and three full-length albums since 2013," Middlekauff said. "We've finished recording our next album and now are in the mixing stage. Our close friend, Vince Cimo (Cimo Brothers/Mannequins By Day), is going to be mixing and helping produce it, and our friend, Bryant Bayhan (.paperman), is helping us with some of the soundscaping/production."
Their upcoming U.S. tour will crisscross the country, with Larson calling it "our biggest undertaking yet."
"We're extremely excited about our summer tour," he said. "This tour is going to take us through Chicago, across to Boston/New York/DC, down through Nashville and Atlanta, and finally back home to San Luis Obispo. All in all, it will be 26 different cities. We've been fortunate enough to be working with a booking agent who is putting in a lot of hard work getting us these shows. We'll be traveling in our trusty Ford E-350, affectionately known as 'Jean-Claude Band-Van.' He's one hell of a Belgian-American."
Joshua Tree-based act Gene Evaro Jr. will open the SLO Brew Rock show.
"They're locked so tight into the ever-present groove, even James Brown would approve," Larson said about Evaro Jr. "This will be our last show in town until at least fall. We'll also be at Lightning In A Bottle music festival this year."
Próxima Parada released their last album, Big Seven, in 2017. Their single, "Time In A Circle," won a New Times Music Award for Best R&B/Blues song. Catch their fun fever!
The royal treatment
Dave Stamey—eight-time winner of the Western Music Association (WMA) Entertainer of the Year and WMA Hall of Fame inductee—plays the Fountain Pavilion in the Santa Maria Fairpark on Saturday, March 23, in a fundraiser for Royal Family KIDS, an all-volunteer nonprofit that serves foster children (6 to 10 p.m.; all ages; $480 for a table for eight at my805tix.com).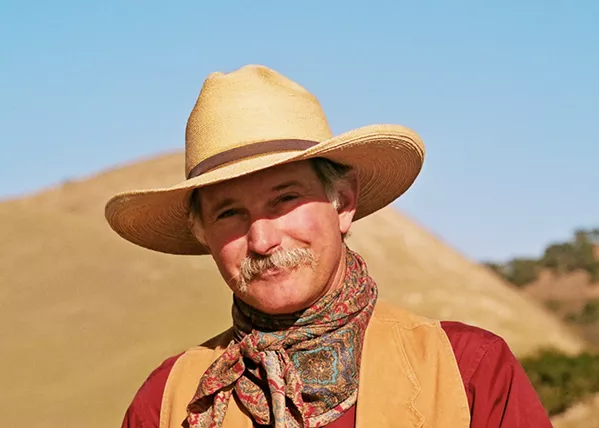 Photo Courtesy Of Dave Stamey
TRUE WEST Songwriter and poet Dave Stamey plays the Fountain Pavilion in the Santa Maria Fairpark on March 23, in a fundraiser for Royal Family KIDS, an all-volunteer nonprofit that serves foster children.
"Royal Family KIDS invites you to come experience a benefit dinner like never before," organizers said. "You'll be treated royally; it's the Royal Family Way."
The pavilion will be decorated Western style, with auction items displayed in the "Western General Store." A Western barbecue with all the fixings will be served, and auctioneer Jim Glines will run the show, which ends with an intimate concert with Dave Stamey, a Western poet and songwriter.
More music ...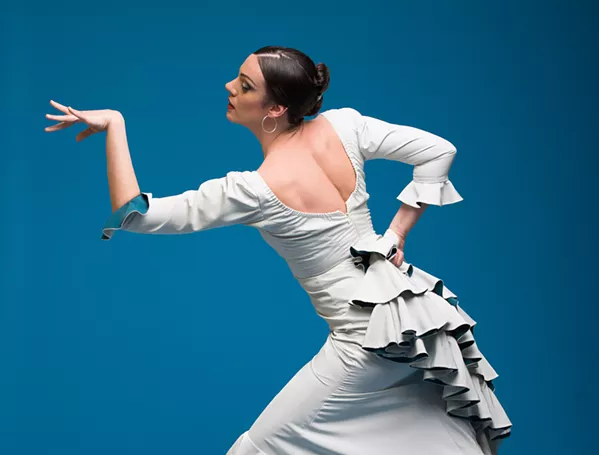 Photo Courtesy Of Stephen Rusk
DANCE See Luz, an evening of flamenco, on March 22 at 4 Cats Cafe and Gallery, with dancer Savannah Fuentes.
Luz, an evening of flamenco, is scheduled for Friday, March 22, at 4 Cats Cafe and Gallery (7:30 p.m.; all ages; $11.34 child, $16.52 student, $24.80 adult, $37.22 VIP reserved seating at brownpapertickets.com). Enjoy Spanish flamenco music and dance featuring dancer Savannah Fuentes, guitarist Pedro Cortes, and singer-percussionist Jose Moreno.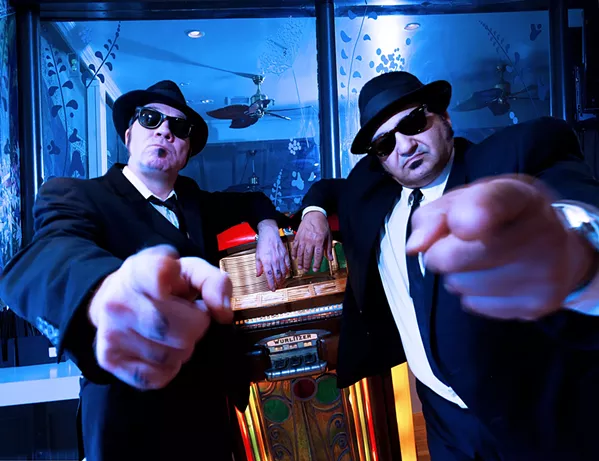 Photo Courtesy Of The Blues Brothers Revue
'RUBBER BISCUIT' The Blues Brother Revue, with Keiron Laffery as Elwood (left) and Wayne Catania as Jake, plays the Clark Center on March 22.
Blues Brothers Revue—the only "duo in North America sanctioned by Dan Aykroyd and Judith Belushi to don the official hat and sunglasses and walk in the legendary footsteps of Jake and Elwood Blues"—plays the Clark Center on Friday, March 22 (7:30 p.m.; all ages; $40 to $50 at (805) 489-9444 or clarkcenter.org). "Under the musical direction of Paul Schaffer, The Official Blues Brothers Revue pays homage to Chicago's rich history of blues, soul music, and gospel in the true spirit of the original Blues Brothers," according to press materials. Hear "Soul Man," "Sweet Home Chicago," "Rubber Biscuit," and more.
Damon Castillo's soul-jazz-super-group, 41K, plays D'Anbino's in Paso on Friday, March 22 (7:30 p.m.; 21-and-older; $20 at (805) 227-6800).
"We hang out in the soulful, funky side of jazz," Castillo said. "Think George Benson, Bob Reynolds, Brother Jack McDuff, Eddie Jefferson, Eddie Harris, John Scofield. The band is killin'!"
Photo Courtesy Of Vanessa Silberman
ROCKER LA-based musician and producer Vanessa Silberman plays the Frog and Peach on March 27.
LA-based rocker Vanessa Silberman and Boston touring artist Carissa Johnson are rolling through SLO Town on their Bigger & Better Tour with a stop in Frog and Peach on Wednesday, March 27 (10 p.m.; 21-and-older; free). Audiofemme.com named Silberman one of the hardest working bands of 2017 and 2018 after she played more than 200 shows in 2017 alone. She has a similar punk-inflected sound as Liz Phair.
Music Con!
The fourth annual Central Coast Music Con comes to the SLO Brew Rock Event Center on Sunday, March 24 (noon; all ages; free but register to attend at bigbigslo.com/music-con).
Photo Courtesy Of Mannequins By Day
AFTER-PARTY The fourth annual Central Coast Music Con runs from noon to 6 p.m. on March 24 at the SLO Brew Rock Event Center, followed by a three-band after-party, including Mannequins by Day.
The annual music industry conference, brought to you by Vince Cimo, Saucepot Studios, and Big Big SLO!, features tons of networking chances for anyone in the local music biz, plus there will be jamming opportunities and a $10 after-party with live performances by Mannequins by Day, Upside Ska, and Wordsauce. Check the website for the complete list of workshops.
This is the place to be for venues, promoters, bands, musicians, event planners, music businesses, and anyone else looking to connect with the local music industry.
This year's keynote speaker is Red Light Management honcho Bruce Flohr (Foo Fighters, Dave Matthews).
Wessel strikes again!
Longtime local musician and multi-instrumentalist John Wessel, perhaps our most venerated bar band warrior, has released yet another album of original material, Angel in my Eyes, a collection of songs that is immediately accessible.
He's been at the music game for so long that he seems to take in by osmosis the rock cover songs he often plays, exhaling them into originals that fit right into classic genres his bands Shameless and Sweet Leaf play. His new album is available at Rhombus Records (rhombus-records.com) or at one of his many upcoming gigs: See Sweet Leaf at Cambria Pines Lodge on Sunday, March 24 (8 p.m.), or Shameless at Cambria Pines Lodge on Saturday, March 30 (9 p.m.). Δ
Keep up with New Times Senior Staff Writer Glen Starkey via Twitter at twitter.com/glenstarkey, friend him at facebook.com/glenstarkey, or contact him at gstarkey@newtimesslo.com.