The moment I snapped open the lid on a jar of Paso Robles K'ulinary ratatouille, fresh aromas of red bell peppers, onions, eggplant, and zucchini wafted through my kitchen. I swear it smelled so good I could imagine the French chef who made it standing at my stove cooking. This delectable treat is one among a new line of gourmet canned foods created by chef Claude Chazalon and his wife Chrystel, who recently started selling their delicious specialties nationally, which include tapenades and fruit preserves. I tasted quality in each of their outstanding products.
Last year in "Cuisine," I complained about the lack of quality convenience foods in SLO County. I cried out for a great deli or gourmet shop in South County where I could buy high-quality meats, freshly made salad that's not buried in cheap mayo, or a juicy, natural chicken. I once bought Costco chicken but I couldn't stand the fact that they inject extra fat into it. If you don't believe that would be done, then try this: Buy the cooked chicken and put it in the frig to cool. When you cut the
PHOTO BY STEVE E. MILLER
HAPPY WITH GOOD REASON : Claude Chazalon and his wife Chrystel produce some of the most delectable treats to be found in jars.
bird into parts, it's easy to spot the congealed globs of fat, solidified by the cold air, that they injected into the breast. Convenient, yeah, but that's not good enough. Give me purity of flavors, without additives, preservatives, and who knows what else that's bad for my health.
My discovery of Paso Robles K'ulinary foods gave me everything I could have hoped for and more. It's a small but growing selection of products that are the most interesting foods I've ever tasted out of a jar. I used the ratatouille over whole-wheat penne pasta and tossed it with Laurel Chenel goat cheese from Sonoma. Talk about easy, it was delicious and satisfying. That's my idea of comfort food. I enjoyed the black-and-green-olive tapenade on La Brea whole-grain bread and tried it with goat cheese and then Cambozola; both were tasty. The tapenade worked beautifully in a vinaigrette for Greek salad, as it would with any mixed green salad. Not only are these foods convenient, they're reasonably priced, ranging from $6.50 to $13.
Foodies will remember the Chazalon's, who emigrated from France in October 2002, from their quaint bistro they named Paris Restaurant in Paso Robles. The name was chosen because Claude previously owned two restaurants in Paris. Despite the popularity of their version of Paris in Paso Robles the Chazalon's were forced to close in 2006 due to the exorbitant costs of seismic retrofitting after the San Simeon earthquake in 2003.
The Chazalons started a catering business they named Safran, the French word for saffron, but it hasn't been quite busy enough to provide them full-time work. Frankly I would think more wineries would keep the Chazalon's busy catering their events; this chef understands food and wine pairing. When I met with the Chazalon's and asked Claude what motivated him to create this new line of gourmet foods, the good-natured Frenchman quipped: "I need to eat."
"We need to educate Americans on good products. So many foods on the shelves are full of preservatives, even French foods," Chazalon bemoaned. "They (commercial manufacturers) use water and sugar as a syrup with pectin so there's less fruit in the pot." Chazalon, on the other hand, adds no chemicals or preservatives. Their pure fruit preserves are made the old fashioned way, a simple combination of 55 percent fruit and 45 percent sugar. And they're shelf stable just as canned foods were when they didn't have chemical additives: "I cook everything at the good temperature that makes its sterile. Then I sterilize the jars and create a vacuum with the heat," Claude explained. The ratatouille is shelf stable for one year, the tapenade for 15 months, and the preserves for 18 months.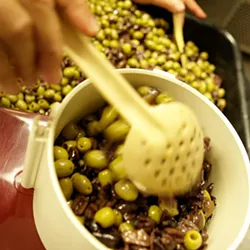 Chrystel noted that people who taste their preserves at local wine and food events always tell her, "It reminds me of my grandmother's." That's exactly how I related to their strawberry and apricot/lavender preserves when I tasted them. In fact, Chazalon doesn't use pectin, a carbohydrate of ripe fruit, such as apples or currants, that is added to commercial jams for its thickening and emulsifying properties. "Look at old cuisine books and preserves are only made of fruit and sugar. Commercial jams have water and flavor additives," chef Claude noted. "People say it's a lot of sugar but I use less than the commercial products. Sugar is a natural preservative so why put anything more in?"
Chrystel suggested pairing the ratatouille with eggs, rice, pasta, as a topping for pizza, or enjoying it cold with prosciutto. She recommended the olive tapenades in omelets, on crackers, and in dressings as I did with the Greek salad. Claude's also planning to add soups, which he said pointedly won't be like the typical American thick-style soups on grocery store shelves. Obviously, they've impressed many local food experts: you'll find Chazalon's canned foods at We Olive in Paso and SLO, Verena's Go Gourmet in Arroyo Grande, Monterey St. Wine Co. in SLO, and the various Spencer's Markets. You can also buy them online at safrancaterer.com, at such wineries as Baileyana, Eberle, Peachy Canyon, Pipestone, and others. With Paso Robles K'ulinary, I've found the answer to my wish for convenience foods of the highest quality.
[SIDEBAR] The Wineries of Hwy. 46 East Paso Robles
Celebrate September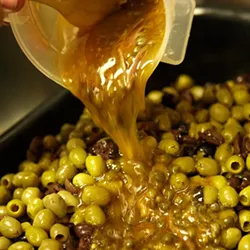 Join the fun on Saturday, Sept. 20, from 6 to 8 p.m. at the handsome River Oaks Golf Course Clubhouse, just off state Highway 46 East near state Highway 10, where ten popular Paso Robles' wineries will celebrate September, which Governor Schwarzenegger has decreed is "California Wine Month." Each of the ten will be pouring samples of their signature wines, paired with artisan cheeses and tastes from such locals as Dining with Andre , Miss Oddette's Barbecue, and Hermann's Chocolate Lab. The wineries include: Bianchi, Chumeia, Clautiere, Eberle, EOS, Firestone, Martin & Weyrich, Meridian, Sylvester, and Tobin James. Buy tickets in advance and they're only $30 each at www.brownpapertickets.com or call 800-838-3006; tickets will be available at the clubhouse the evening of the event for $35 per person.
---
You can reach New Times' Cuisine columnist at khardesty@newtimesslo.com