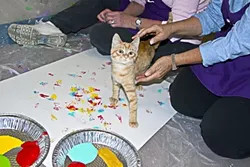 PHOTO BY MIMI DITCHIE
A FELINE PICASSO : One of the Woods Humane Society wards participates in a painting session.
Just when you thought cats couldn't get any cuter, the Special Feline Team at the Woods Humane Shelter conspired to simultaneously
melt people's hearts and generate funds for the shelter's spay and neuter program. Two volunteers—Linda Beatson and Sharyn Sugarman—appropriate a get-acquainted room at Woods and unleash an army of feline painters on the space. They're cuddlier than Kinkade, and classier too.
Beatson came up with the idea last summer, while the Special Feline team was brainstorming ideas for
a fundraiser.
"I think everyone laughed at me when I brought this up," Beatson recalled. But Sugarman was on board with the idea. Through trial and error the two came up with a process for creating affordable tug-at-your-heartstring heart.
The paint is non-toxic Crayola acrylics, the exact brand that preschool teachers pass out to their students. They mix a couple of colors into an aluminum pie tin and cover every inch of the getting acquainted room—up to about four feet high, at least—in plastic. The duo started with basic colors but, now that they're a dozen or so painting sessions into the effort, have graduated to more sophisticated color pairings. From there, the painting session is equal parts performance art and circus.
Selecting an artist is always a delicate process. The feline must be in the right mood, and preferably have black feet (white feet are much more difficult to clean, Beatson and Sugarman have discovered from experience).
"First we started with adult cats and it didn't go so well because they fought," said Beatson. "Then we tried kittens, and they were adorable."
When they bring in Rosalie, a longhaired black cat that looks, and acts, older than her four months, it's difficult to assess her potential as an artist. She seems shy. Gently, they dip her front feet into a single color of paint, pressing firmly down to make sure it takes. Then, she's on her own, making her way across the canvas, leaving a blue trail of footprints in her wake. At the opposite end of the paper Beatson pets her and turns her back around. After a few turns across her canvas, punctuated by a brief period of mid-session petting, Rosalie is returned to the aluminum palette for a second round of color.
BRING FLUFFY, AND FIDO TOO: The Woods Humane Society's Annual Holiday Open House takes place Dec. 5 between 10 a.m. and 1 p.m. The event will include pet portraits with Santa, pet first aid workshops, and a shelter tour. Also, the cat paintings will be on sale, $40 for an 8" x 10", $25 for a 5" x 7", $15 for a 4" x 6", and $8 for a miniature painting. Proceeds benefit Woods Humane Society's feline spay and neuter program. Anyone who has a venue—restaurant, café, gallery—where the paintings can be displayed can contact Linda Beatson at lbeatson2003@yahoo.com.
Beatson and Sugarman encourage Rosalie across the paper, clapping and calling her a good girl. The cat looks confused, but purrs incessantly. After an application of butter cream paint she gives her paw a shake, and the canvas now has splatters and spots as well as recognizable paw prints. Rosalie is nonchalant about her art, but Beatson and Sugarman are particularly enthralled with the feline's splattering technique.
Rosalie is far from the lone artist. Tulip, Simon, Lee, and Trixie—some of whom are still available
for adoption—all contributed their talent, patience, and paws for the effort.
After the painting session is concluded, Rosalie's paws and tail (an accidental casualty) are thoroughly washed and she is returned to her comrades. But Beatson and Sugarman are far from done. They must choose a section of paper to mat and frame. With materials purchased at a reduced cost from Michael's the duo give the images a polished, elegant edge. Frames are white, mahogany, black, and brown and matting options are no less vibrant.
"We take a frame and we really take our time and try to figure out a fun composition," said Sugarman. "It's a first for us, so we want to see what appeals to people."
The pieces cost between $8 for a small painting and $40 for an 8" x 10." The cost of a large image is roughly equivalent to the cost to spay or neuter a cat, and that's what the money generated from painting sales will be used for. The artwork will debut at the Woods Humane Society's open house on Dec. 5, between 10 a.m. and 1 p.m. Anyone interested in purchasing a painting can do so then, and at any point after that date. Plus, some of the cats will be showcasing their skills for feline and art lovers who want to see how it's done. Beatson and Sugarman are also on the hunt for venues that might be interested in exhibiting the paintings—galleries, restaurants, cafes.
As adorable and, perhaps, frivolous as this may sound, there's a very great need driving this effort. One hundred percent of the animals released from the Woods Humane Society have been spayed or neutered, but the shelter is consistently at full capacity for felines (full capacity being between 60 and 65 cats, not counting kittens).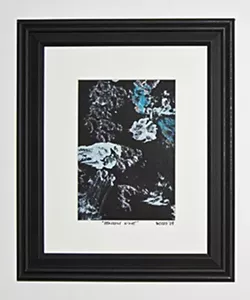 PHOTO BY MIMI DITCHIE
THE FINISHED PRODUCT : A cat painting of this size sells for $40, with proceeds going to Woods Humane Society's feline spay and neuter program.
"The number one issue is felines," said Steve Kragenbrink, Community Programs Director at Woods Humane Society. "There's too many cats. There's not enough homes. One of the hot button issues is euthanasia. If you want to affect euthanasia rates, spay and neuter your pets."
Kragenbrink has statistics about how much damage a single unspayed female and un-neutered male might do. Assuming the pair produces two litters each year (and that their kittens also go into the kitten-making business), and 2.8 of those kittens survive, within a single year they can produce 16 cats. Within two years that increases to 128, and the figures skyrocket from there. Within six years that lone pair can be responsible for 67,000 cats.
So buy a painting—they're perfectly sized for stocking stuffers—and, if you haven't already, make an appointment with your cat's vet. Yes, Fluffy may be an indoor cat who never has access to other felines, but if you think Fluffy can't sneak through an open door and outrun you through the backyard, you're seriously underestimating her wiliness. And while she's cute and you love her to death, four miniature versions of her howling for food and attention might just send you over the edge.
Arts Editor Ashley Schwellenbach has been driven over the edge by pets. Call her Ace Ventura at aschwellenbach@newtimesslo.com.