The recent SLO County economic forecast had some penetrating observations about the area's overall quality of life (a "luxury good" in the report's dry economic terminology).
ALWAYS REMEMBER : In a joint effort with Santa Barbara's hospice organization, Hospice of SLO organized the creation of the "Central Coast of California Suicide Survivor's" quilt, made up of squares memorializing loved ones who took their own lives. It will be on display at the organization's headquarters for about another month.
# The authors, for example, pondered over the lack of a political voice for poor people in the county, and they noted how SLO County, like California as a whole, has been generating lots of very-low-wage jobs and a fair number of high-wage jobs, but very few middle-income jobs. All interesting stuff.
But the authors focused most of their quality-of-life attention on one stunning, anomalistic statistic: In a place that boasts near-perfect weather, clean air, low crime, lots to do, great wine, and far better-than-average health statistics, more people than average kill themselves.
In fact, the report notes that SLO County residents die at lower rates--and often much lower rates--than Americans and Californians as a whole for nearly every cause of death that gets reported, with this one notable exception.
"That's a striking statistic," the authors noted. "Virtually everyone loves living in San Luis Obispo County, and all quality-of-life indicators indicate excellence. So, why are people committing suicide at a high rate?"


Particularly in light of some recent high-profile suicides--ranging from the murder-suicide perpetrated by local psychiatrist John Rivard against his wife and daughter, to a recent cluster of suicides in the small town of Cambria--it seems an important question. The report, though, doesn't hazard an answer. Instead, it notes that the authors first need to know exactly who is committing suicide. It ends with a hope that next year, they'll know more.
New Times, meanwhile, tried to get some answers right away.
Why?
Bearded and clad in plaid, Mike Bossenberry, program director of 211 SLO Hotline, is someone who's pondered fairly deeply the reasons behind the county's higher suicide rates.
Among the candidates he's come up with:
There aren't enough mental health amenities.
"If you talk to anyone who is in the mental health field," he said, "we do not have enough resources to help people."
People with private insurance, he noted, may have a tough time getting in to see a therapist and an even harder time finding an appointment with a psychiatrist. There aren't enough of them, in large part because the state and federal government reimburse physicians at a rate far lower here than in urban areas, and private insurance companies tie their payments to the government rates.
# This is one problem that shouldn't dissuade people from trying to get help, he emphasizes. For those in need, the county's mental health crisis teams are available to supply help.
We have more white people.

It's a demographic fact: White people kill themselves at rates statistically higher than blacks or Hispanics. To the degree that there are more white people in SLO County than in other California counties, there are likely to be more suicides.
SLO County has large areas that are rural and isolated. Isolation is a risk factor for suicide. So is access to guns, which tend to be more available in rural areas.
Sometimes, it's just a long way to drive for help.
"Accessibility of resources is sometimes a problem, when you have great distances to drive and they may not know where to go for help," Bossenberry said. "That's a factor, too."
Another reason: Is it too nice here?
Tucked away in the middle of a Laguna Lake neighborhood, the reception room for SLO County's Vicente Intensive School Program consists of a taupe cluster of those temporary-turned-permanent buildings that only seem to be tolerated for county buildings and public schools.
Amid all of the self-help posters and social services brochures that cover the canvas-paneled walls of the room, someone has taken a highlighter to a single word, making it pop off the wall, sort of like a single shot of color in a black-and-white movie.
The poster is on the prevention of suicide and the highlighted word is "hope." The person who highlighted it is Dave Mayfield, a fair-haired workaholic, guitar-picking therapist who is the county's de-facto expert on suicide.
"Hope is in the house!" is one of Mayfield's favored expressions in his interactions with the school's students, who come because they have a range of issues--from bipolar disorders to emotional problems--that prevent them from being able to get their education in a traditional school setting.
Hope is a big deal to Mayfield. Most suicidal people, he stresses, do not want to die. They want to be rescued. They're looking for someone to help them take control of their problems.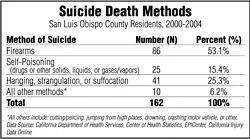 # He has good reason to believe in the power of hope: In 30 years with the school, dealing with an extremely at-risk group, he knows of only one student who has committed suicide.
So, as one of the experts--he organizes the county's annual Suicide Prevention Forum, which was held in September--why does he believe the county has a higher rate? This is his theory:
"They call it cognitive dissonance," he said. "People say, 'I live in a beautiful place. Everybody seems happy and I'm not. There must be something wrong with me.'"
The county is known for its abundance of festivals, he noted, but many of them cost a fair amount of money or mainly serve to highlight the kind of goods marketed toward the moneyed set.
"I've heard from so many people I work with who say, 'You know, everything just costs a lot . We have a lot of affluent [people] in our county and a lot of people who are just barely able to make it. Those folks can have a sense of being disconnected from their community."
And feeling disconnected, he notes, is one of those factors that puts people at risk for suicide.
He doesn't have data to back up his theory, but, as a coordinator for the county's Emergency Response team, he has plenty of experience with suicide and its victims.
And he isn't alone in his theory.
"My thought about it is we live in this incredibly beautiful area with unbelievably stunning homes and great weather," said Mary Kunz, a bright-eyed, Birkenstock-wearing bereavement counselor at Hospice of San Luis Obispo, when asked why she thinks the county has a high suicide rate.
When people find themselves unable to tap in to the apparent happiness they think they see all around them, it can deepen their own depression, she said.
"You can feel so alone with your own pain," she said. "You ask, 'Why can't I feel the beauty too?'"
That's just a theory, of course, but it's based on decades of work with suicidal people and those who survive them--and it's one voiced by many of the experts contacted for this story, including Bossenberry.
To explain, he quoted the line from the T.S. Elliot poem "The Wasteland": "April is the cruelest month."
It applies to his field, Bossenberry said, because people in general often seem happier in the spring, eager to be out enjoying the longer days and better weather.
"But if you're severely depressed and you're not feeling any better," he said, "you feel worse by comparison."
Suicides, he notes, increase in the spring.
For her part, Kunz isn't so much concerned with why people in SLO might commit suicide at higher rates. She's concerned with what we're going to do about it.
"If we have more suicides here, then we have a responsibility to know more about it," she said.
To her, that means everybody.
"It's like the Heimlich maneuver," she said. "You should know what to do, even if you hope you never have to use it."
By that, she means people should know the warning signs, which include someone talking about suicide or inexplicably giving things of value away or, sometimes, even seeming to have come out of a funk after a long depression--that can be a sign that they've come to a decision.
After spotting the signs, action is crucial, Mayfield said.
"We need to be as ready to walk across the street and say 'How are you doing?' to our elderly neighbor as we are to call 911 when we see a house on fire," Mayfield said.
The statistics
One of the most striking things about the suicide statistics in SLO County, at least as they're gathered by the state, is how little they change from year to year. If the past five years are an indicator, next year, pretty close to 250 people in the county will try to commit suicide, and 30 will succeed.
Of those who succeed, more than half will use guns and another seven or so will hang or suffocate themselves. Of the 220 who attempt suicide but live, the vast majority--180 or so--will try to poison themselves. Most of the rest will cut themselves. Of those who do kill themselves, the overwhelming majority--nearly four out of five--will be men or boys.
Only a few of those who succeed in killing themselves will be younger than 21, but young people, and especially young women, will make up far higher numbers of those who try. In general, success rates increase with age, to the point that national statistics suggest that fewer than one in 100 suicide attempts are successful for teens while one in every three or four are successful for those over 65. And men older than 65 succeed most of the time they try.
All of the statistics cited have been adjusted by age to allow comparisons from one county to the next if they weren't, SLO County's rate would be even higher.
This isn't a new phenomenon. SLO County's suicide rate has been consistently higher than the state's for at least the last 15 years. From 2002 to 2004--the dates used in the most recent state-compiled health status profile--the county's suicide rate was 11.4 per 100,000 residents, as compared to 9.4 statewide and 10.8 nationally. For the three-year period before that, SLO County's rate was even higher, 13.4 per 100,000 residents compared to 9.5 statewide, a 41 percent difference.
Like national trends, the recent numbers represent a gradual decline in the county's overall suicide rate, but nonetheless spell a consistent trend of SLO being above the averages. From 1990 to 1992, for example, 14.6 residents per 100,000 killed themselves, compared with 11.3 for the state.
The statistics come from the most recent Health Status Profile, an annual county-by-county state report that examines causes of death and other health data, such as low birthweight in infants and the rates of venereal diseases.
As troubling as the numbers may be, things could be worse. The counties with the worst rates, many of them sparsely populated and rural, have rates more than double local averages. Broadly speaking, there seems to be a connection between how far apart people live from each other and how likely they are to commit suicide: the farther away, the worse for suicide.
Among states, consider that Alaska has the highest rate, with 24 per 100,000 people, while the rate is lowest in New York state, with six per 100,000.
If we don't know exactly what's driving the SLO County statistics, we do know what isn't.
The county's rate isn't a factor of having Atascadero State Hospital in the region, at least not for the most recent data. During the years in question, ASH didn't have any successful suicides, a spokeswoman said. (In more recent years, however, it has seen three successful suicides.)
And it's unlikely that the California Men's Colony would have much of an impact either, according to Deputy Coroner Steve Crawford, who sees all of the death certificates issued in the county.
"It's not like you'd think," he said. "Their impact on the statistics would be minimal. It's not that often that any of the institutions have a suicide."
A CMC spokesman said the institution averaged two per year from 2002 to 2004.
What to do?
From its squeaking floor boards to the quilts that adorn seemingly every wall, the 1911 Victorian that houses Hospice of SLO County seems designed for comfort.
The organization is a volunteer hospice organization, as opposed to a medical facility. People don't come to the facility to die, they come to cope with death and dying.
Dick Robb is one of the people who helps them cope. Formally untrained an unpaid, he's been doing work at hospice organizations for 30 years. For the past several years, he's been leading a support group for those who have lost loved ones and struggle to understand why.
One of the ways some have coped is through the creation of a "Central Coast of California Suicide Survivor's" quilt. In a joint effort with the Santa Barbara hospice organization, people have created a 10-by-10-foot quilt built with squares that remember loved ones who took their own lives.
It's been put to use at government meetings and, for the next month or so, hangs in the hospice's "music meditation room," where it sits surrounded by touchstones and remembrances. Although it will eventually head back to Santa Barbara, Robb said so many people have found comfort in it, that the local group is in the process of constructing another.
"A lot of people, they really spend a lot of time looking at it," he said. "It just kind of gives everybody this feeling that, 'Hey, they were human beings. They look perfectly normal.' It just gives you this feeling and understanding."
Costs
While the greatest costs of suicide are undoubtedly personal, there are financial costs as well. According to a county report, the estimated annual cost of suicides to the county, counting both medical and productivity losses, is nearly $22 million.
Here as elsewhere, all of the costs have been slowly going down for decades, but the experts have seen some troubling signs more recently. For example, in a report released in September, the U.S. Center for Disease Control found that from 1990 to 2003, the suicide rate among people younger than 24 declined 28 percent. But in 2004, the latest year for which data is available, there was a sharp increase, especially among girls 19 and younger.
Mayfield, for one, is concerned because the trend seemingly mirrors a decline in use of anti-depression medication that arose following reports that, for a handful of teens, anti-depressants may actually increase suicidal thoughts.
As for the ultimate reason that SLO has more suicides than elsewhere, New Times posited the question to County Epidemiologist Ann McDowell, who tracks all of the public health indicators.
After discussing the data and what goes into it and talking about the area's population, she answered this question:
Do county health professionals know why more people in SLO kill themselves than statewide?
"No," she said. "We really just don't know."
What to know
Potential warning signs include someone giving away prized possessions, saying goodbye, making final arrangements, increased recklessness, increased substance abuse and self-harming behaviors, and a withdrawal from friends and social activities.
Most people do not want to die and do want to be rescued.
Risk factors include depression, a family history of suicide, recent stressors or triggers, and a means to commit suicide, such as access to firearms or drugs.
What to do
Be direct. Talk openly and matter-of-factly about suicide.
Be willing to listen.
Take action. Remove the means to commit suicide if possible.
Offer hope that alternatives are available, but do not offer empty promises or glib reassurance that everything will be fine.
Call professional help, such as the suicide hotlines or County Mental Mobile Crisis Team.
Be willing to go with the person to an appointment or treatment.
In an acute crisis: Don't leave them alone until professional help arrives.
Who to call
Emergency: 911
211 SLO Hotline: 211 or (from cell phones) 549-8989
Area Agency on Aging SLO: 541-0384
County Mental Health/Mobile Crisis: 781-4700
Community Care Counseling Center: 543-7969
Hospice of SLO: 544-2266
National Suicide Hotline: 1-800 SUICIDE (784-2433)
National Suicide Prevention Lifeline: 1-800-273-TALK (8255)
---
Managing Editor Patrick Howe can be reached at phowe@newtimesslo.com.