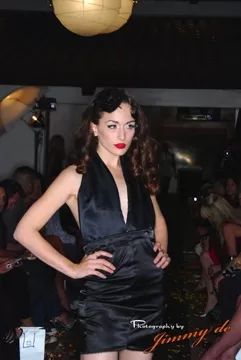 PHOTO BY JIMMY DE PHOTOGRAPHY
LET'S PLAY DRESS UP!: This Friday, May 14, at 9:30 p.m. in Native Lounge, SLO Town's going to feel like Milan or Paris or New York when Central Coast Fashion Week continues as it hosts local designers, boutiques, and salons for haute couture shows. Tickets are $10 each; entry to optimal VIP seating along the runway is $17. Buy tickets at Native Lounge from 5 to 9 p.m., Tuesdays through Saturdays, or online: centralcoastfashionweek.com. You must be 21 or older to attend.
I
'm a real fashionisto, a clotheshorse. I must have, like, five different pairs of 501 Levis in varying states of degradation, 30 assorted black rock'n'roll or car-culture themed T-shirts, and four pairs of boots to choose from. Clearly, I'm eminently qualified to comment on haute couture
, which I'm pretty sure is yogurt made from camel's milk.
Last Friday at Native Lounge, the first in a series of fashion shows took place, and they're going to continue through June. That first show featured local powerhouse designers Melanie Renee and Nancy Westerfield.
Melanie Renee was born and raised in SLO Town, and her modern line is "inspired by classic mid-century designs." These re-invented styles are "ready to wear," or prêt-à-porter as they call it in Robert Altman films (Man, I sure know a lot about fashion … or movies … or Altman).
Nancy Westerfield is like the Woods Humane Society of clothes: "Two tons of unsold clothing are sent out of state every year to be redistributed and recycled every month from the GoodWill Outlets in San Luis Obispo. Nancy has rescued gently loved clothing and vintage garb from the outlets to create a couture line that's inspired by the rich and romantic aspects of vintage fashions."
This Friday, May. 14, the second in this six-part series hits the runway at 9:30 p.m., and I'm going to be there in jeans, a black T-shirt, and boots. Heck, everybody who's anybody is going to be there, though unless they're wearing a coat of mud, they'll clearly be better dressed.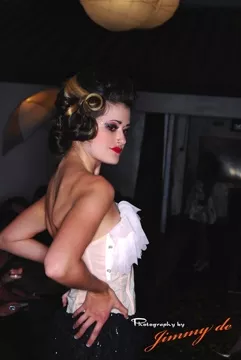 PHOTO BY JIMMY DE PHOTOGRAPHY
PHOTO BY JIMMY DE PHOTOGRAPHY
This six-week-long event is being billed as Central Coast Fashion Week, even though I'm pretty sure six weeks is, like, a month and a half. Designers are mysterious, see? They don't even adhere to the Gregorian calendar!
So this week I'll be viewing the collections of Francisco Castro, who "draws inspiration from a combination of structural lines and ethereal moods, making sure to employ a timeless psychology into every piece created."
Of course I know what that means! You don't? Sheesh!
"Each look plays a vital role in the unfolding story of the collection; on the runway, expect intricately pieced and draped evening gowns with clusters of embroidery from blooming pearls to glass beads that direct or subtly accentuate the looks. Trompe l'oeil tailoring, layering of sheer fabrics to create massive volume in feather-weight silhouettes."
Trompe l'oeil tailoring? Okay, wait a freakin' minute!
"Such opulence is only appropriately matched by a sobering of subdued silks in black and heather grays lined in rose-tinted taffeta for a captivating ultra chic appearance fit only for the determined. Refreshing cool colors and sought after textures illustrate the mood he seeks to convey. To Francisco, fashion is meant to facilitate a lifestyle and not create it. Likewise, his creations are a physical embodiment of thoughts in dreams, feelings, and a need to express a peace of mind."
PHOTO BY JIMMY DE PHOTOGRAPHY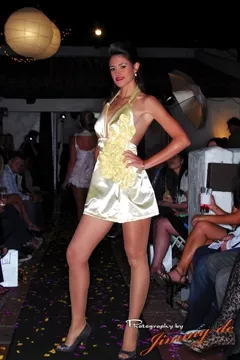 PHOTO BY JIMMY DE PHOTOGRAPHY
I wonder if that goes with jeans and black T-shirts?
In addition to Francisco's clothing for the "determined," local clothing store Bloke Menswear is showing some of its wares. Owned by Alissa Disalvo, Bloke "caters to the fashion forward men living on the Central Coast and carries lines such as French Connection, Penguin, William Rast, Converse Varvatos, Lacoste, and True Religion."
Bladerunner Salon and Day Spa, owned by Todd Lemay and Stephen Patrick, was voted "Best Salon" and runner up for "Best Day Spa" in this year's New Times Best Of SLO Awards, the sixth year in a row they've won for being awesome. If I thought I could get away with a Brazilian, that's where I'd go. They're very gentle, I hear. They'll be styling the models. I'll be doing my own hair. Just sayin'.
Glen Starkey takes a beating and keeps on bleating. Contact him at gstarkey@newtimesslo.com.