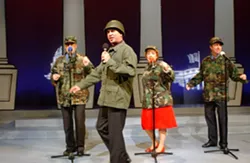 PHOTO COURTESY OF THE CAPITAL STEPS
DISARMING FORCES : Political satirists The Capital Steps will have you in stitches when they perform in the Performing Arts Center's Cohan Center on May 5.
T
he Capital Steps are equal-opportunity musical satirists, a group about which writer P.J. O'Rourke famously quipped, "The Capitol Steps are what Washington would be like if everyone were smarter and could sing."
Considering the state of Washington D.C., The Capital Steps have had no shortage of skewer-worthy topics, and skewer they will when they provide an evening of bi-partisan levity at the Performing Arts Center's Cohan Center on Wednesday, May 5, at 8 p.m. ($20 to $48; call 756-2787).
The show promises audience favorites and highlights from The Steps' most recent releases, Obama Mia! and Little Shop of Liberals. The group takes well-known melodies and reworks the lyrics into searingly funny political rants. Hear "Little Plumber Boy," "Strangers on this Flight," "Battle Hymn of the Tea Public," "In the Nude," "I Like Big Cuts and I Cannot Lie," and "I Wrecked My Heart with Spam and Crisco."
Most cast members have actually worked on The Hill—some for Democrats, some for Republicans, and others for politicians who firmly straddle the fence.
"Typically, the Republicans goof up and the Democrats party. Then the Democrats goof up and the Republicans party. That's what we call the two-party system," joked cast member Elaina Newport.
Formed more than a quarter of a century ago, what began as a group of Senate staffers satirizing the people and places that employed them has turned into a full-time job, leading most to eschew the old adage, "Don't quit your day job!"
Although not all of the current Steps members are former Capitol Hill staffers, taken together, these performers have worked in a total of 18 Congressional offices and represent 62 years of collective House and Senate staff experience.
Over the years, the various incarnations of the group have recorded more than 30 albums and been featured on NBC, CBS, ABC, and PBS, and perform four times a year on National Public Radio stations nationwide during their "Politics Takes a Holiday" radio specials.
If you've never seen them, go. Seriously, they're hilarious. Of course, with a target as big and deserving as Washington, it's hard not to miss.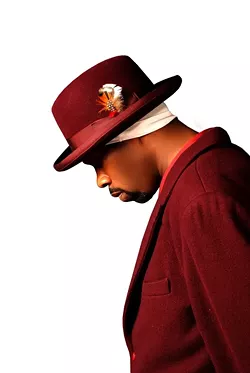 PHOTO COURTESY OF ANDRE NICKATINA
HE'S BACK, THIS TIME WITH POWER : A power outage cancelled Bay Area rapper Andre Nickatina's last Downtown Brew show, but he's back (and your old tickets are still good) on May 1.
Andre 2.0
If you were one of the hundreds who wanted to see rap star Andre Nickatina on April 11 but were turned away because of an unexpected power outage, this Saturday, May 1 your tickets will be honored when he plays a 7 p.m., all ages show ($25 presale or $28 at the door). See the San Francisco rapper deliver his smoothly aggressive rants at Downtown Brew. Hidden Library opens the show.
Other DTB shows of note include alt-rock act Nothing Ever Stays, which kicks off the week on Thursday, April 29 (7 p.m., all ages, $8 presale or $10 at the door). The locally grown band released a few recordings on some small indie labels, but now they're on their own: "We are now completely independent and looking to take on the music industry ourselves," said the band on their website. "As you can imagine, recording a legit record can cost a band a ton and we are working as hard as we can to get there. If you like what you hear, download our stuff through iTunes or buy a copy through our merch store. Our newest release is now up for pre-order as well!" Hazel and Vine, Lybecker, and From Indian Lakes will open.
On Monday, May 3, check out alt-rockers Need to Breathe (7 p.m.; all ages; $15). "We're from a small town in South Carolina called Possum Kingdom," frontman Bear Rinehart explained. "Trust me—there was absolutely no music scene there." Rinehart and his brother Bo changed all that. Stephen Kellogg & The Sixers will open the show.
Progressive hip-hop act Flobots return to the club on Tuesday, May 4 with opening act Trouble Andrews (7:30 p.m.; all ages; $15 presale or $16 at the door). Flobots features two awesome MCs who are backed by a live band, including trumpet, making them an unusual hip-hp act to say the least.
The New Rock 103.7FM Battle of the Band continues when Nada Rasta faces off against The Action League on Wednesday, May 5 (8 p.m.; all ages; 21-and-older free; under 21 costs $5). It's a fight to the death, people! A musical steel cage death match! Hairpulling and eye-gouging encouraged!
PHOTO COURTESY OF RUDOLF BUDGINAS
THE OPPOSITE OF UPTIGHT : Rudolf Budginas turns the stereotype of the uptight concert pianist on its respective ear. Check him out May 14 during a fundraising concert in the new Cayucos School Auditorium to benefit the school's music and art programs.
The Victor Borges of the Central Coast!
Like the inimitable Victor Borge, internationally renowned pianist Rudolf Budginas turns the stereotype of the uptight concert pianist on its respective ear.
Next Friday, May 14, in a fundraising concert in the new Cayucos School Auditorium to benefit the school's music and art programs as well as celebrate the new venue, Budginas will perform music with a humorous touch as he offers contemporary interpretations of long-ago composers while showcasing his classical music training (call 756-2787 for rows 5 to 16 ($35); call Susan Lyn at 995-1787 for preferred seating in rows 2 to 4 ($50)).
Hosted by the Cayucos Educational Foundation, the concert will provide a stage for Budginas to illustrate his view connecting the direct musical line from Liszt's "Hungarian Rhapsody" to Johnny Cash's "Walk the Line."
He creates his own arrangements for piano, bass, percussion, and guitar of classic and jazz hits such as "Claire de Lune," "Moonlight Sonata," and other pieces ranging from Chopin to Brubeck, using the music to connect and interact with his audiences.
Budginas, a Cuesta College music professor, clearly demonstrates that classical music can be a heck of a lot of fun.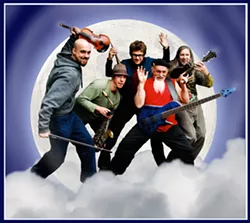 PHOTO COURTESY OF WORLD WIND
HOWL AT THE MOON! : World Wind will deliver two hours of world beat improv on April 29 at The Clubhouse.
More music…
"I've been doing some very cool music exclusively for ecstatic dance venues in other communities with a group I call World Wind," said Timo Beckwith. "It"s pure improv for two hours. We're going to do a free gig at the Club House in the back room on Thursday, April 29, following a 7 p.m. show by Alabaster Stone with Michele Kubacki and Ryan Johnson." World Wind mixes Timo's exotic trance vocals with African harp, shruti box, flutes, world percussion, Middle Eastern saz, Chinese cornet, guitar, bass, sax, midi keys, and electric and acoustic violin.
This Thursday, April 29, the Unplugged at Native Lounge series features roots and rockabilly act The Hydramatics from 7 to 10 p.m. (free; all ages). Grease your hair back, cuff your jeans, and roll up those sleeves to show off your tats.
Local musicians Judy Philbin and Adam Levine will play to benefit Hospice of SLO this Friday, April 30, at 7:30 p.m. at the Steynberg Gallery ($15 at the door). Expect to hear a variety of their own favorites with influences including folk, jazz, blues, and world music. Bill Wingfield (bass) and Dean Giles (percussion), with special guest Patty Dee (steel drum), will join them. "The evening will be full of surprises ranging from pure fun to thought-provoking," said Philbin. "It's an opportunity for us to perform some originals as well as the familiar and well-loved."
The Travel Connections & Social Club is teaming up with The Club House for a fundraiser on Friday, April 30 at 8 p.m. Maheyla & the Ritual performs during this $10 show, which benefits Habitat for Humanity.
"Split-Rail—Steve and me from Pennyjar acoustic—are fortunate enough to be opening for the Derailed Tour when it stops here in SLO on Friday, April 30 at 9 p.m. at Creekside Brewing," said Patrick Hayes. "The Derailed Tour is singer/songwriters from three badass alt-countryish bands doing the acoustic thing. Chad Price from Drag the River (he played with Joey Cape at DT Brew awhile back), Micah Schnabel from Two Cow Garage, and Michael Dean Damron from I Can Lick Any Son of a Bitch in the House. All three are really killer songwriters from great bands, and I was very stoked to be able to get them to stop here so I didn't have to drive to LA or SF to see the show. Best of all the show is free. Creekside is quickly becoming a great place for shows too. Fun little room off to the side leaves it open to more audience attentive shows with less competition from the bar. And you can get beer in a growler to take home at the end of the night. Truly we live in an age of wonders."
Billing themselves as a World Rock Fusion Revolution, Larisa Stow & Shakti Tribe return to perform live at the Circle of Spiritual Enlightenment on Saturday, May 1 at 7 p.m. ($15 presale; $20 at the door; call 541-1963). Mixing English and Sanskrit "with a little bit of rap and funk for spice, they seamlessly blend the ancient east with an undeniable rock groove from the west ... the result is a magic carpet ride for the soul."
Maestro Michael Nowak and the SLO Symphony concludes the concert season on Saturday, May 1 with an 8 p.m. in the Christopher Cohan Center, featuring pianist Edith Orloff and some of the most beautiful music ever written by two 19th century composers who were also very dear friends: Johannes Brahms and Robert Schumann. The concert also marks a new beginning for the organization with the arrival of new SLO Symphony Executive Director Brian Hermanson and a first look at some of the plans for the exciting 50th Anniversary Season in 2010-2011. Tickets range from $12.50 to $65 (756-2787).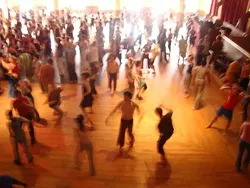 PHOTO COURTESY OF YUM SESSION
DANCE LIKE NOBODY'S WATCHING : Get down with your bad self on May 2 when jazz vocalist Inga Swearingen provides sounds at the next Yum Session.
The YUM Session
, an ecstatic dance happening open to any and all, continues on Sunday, May 2
with music by jazz vocalist Inga Swearingen
with Dylan Johnson
(bass) and Sean Sullivan
(drums / percussion). It starts at 10:44 a.m. and runs for two hours, in The Monday Club.
PHOTO COURTESY OF RED SKUNK JIPZEE SWING BAND
SASS TO BURN : Sassy Molly Reeves will lead her awesome Gypsy jazz band the Red Skunk Jipzee Swing Band during a fundraising concert at The Biddle House on May 2.
I've had the pleasure of attending a wedding at The Biddle House, and it's an amazing location. It feels like you're transported back in time. This Sunday, May 2
, from 2 to 5 p.m., The Biddle House hosts a fundraiser for God's Havens for Children (which helps foster families and mentors youths), with a live and silent auction and live music by the Red Skunk Jipzee Swing Band
, an amazing Django Reinhardt-style Gypsy jazz act ($30 donation suggested; get tickets online at GHFCI.org).
Harmonica fans, prepare to be blown away (pun, sadly, intended). The Blowdown Hoedown takes play this Sunday, May 2 from 4 to 7 p.m. at The Clubhouse, when a bevy of harp blowers offers a birthday tribute to the late great Little Walter. Hear Little Jimmy, Lenny Blue, Joey "Five & Dime" Krank, Jeff Priolo, Rick Muñoz, Ray Wells, Jim Clark, Kevin McCracken, Chuck Rorabaugh, Bruce Krupnik, Ed Fraley, Screamin' Jimmy, and more, all performing songs from the Little Walter songbook.
Nipomo High School's Drama Department host a cappella group Awaken for the fifth year in a row this Sunday, May 2 at Nipomo High School at 5 p.m. According to organizers, "Out of only 16 members in the group, three of them hail from the Central Coast and are former students or have participated in Nipomo High School's reputable drama program. Katie Boeck is graduating this year from UCLA. Katie performed in numerous shows at NHS, including Les Miserables twice, and alongside Zac Efron in You're a Good Man Charlie Brown. She has won UCLA's famed annual student concert, Spring Sing an amazing three times. She has just finished her second CD of original music. Joanna Jones is a sophomore at UCLA. She too is a graduate of Nipomo High School and performed in a number of musicals including Aida and Beauty and the Beast. She is currently 'work shopping' with Stephen Schwartz (Wicked) on a project. Jonathan Eidson, also a sophomore, graduated from San Luis Obispo High School but participated in the NHS program as well. He was Enjolras in Les Miz, and played a series of roles at the San Luis Obispo Little Theatre and Clark Center. Katie, Joanna and Jonathan are performing in the May/June production of Cabaret, UCLA's Theatre, Film and Television Program's annual show." Visit nhsdrama.org for details.
Fresh off a six-month tour of the Pacific Northwest, Ventura-based Champagne Sunday rolls through Frog and Peach on Sunday, May 2, beginning at 10 p.m. Their sound has been called "a marriage between Eddie Vedder and Bette Midler." "We like to say we're creating our own genre of music called 'Experience Rock!'" said lead-singer Jessi Reems-Terrell.
PHOTO COURTESY OF NATHAN HAMILITON
SEVEN-YEAR ITCH : After a seven-year hiatus from touring the Central Coast, Nathan Hamilton headlines the next Songwriters At Play showcase on May 4 at the Steynberg Gallery.
Nathan Hamilton
headlines the next Songwriters At Play showcase on Tuesday, May 4
at the Steynberg Gallery beginning at 6:30 p.m. ($5). Hamilton, native of Abilene, Texas, "draws on his rural roots to create vivid and sometimes startling images of small-town Americana." It has been seven years since the award-winning songwriter toured the Southwest and West Coast states. "It was not really intentional," Hamilton said. "I just got busy with raising kids, doing carpentry, making art, and touring overseas." Hamilton built quite a following in Holland and the UK, performing along with acts like John Hiatt and Lucinda Williams.

Music news…
After years of performing their rock/soul/pop music in front of large crowds up and down the Central Coast, the Damon Castillo Band will introduce its unique sound and story to the nation. On Saturday, May 1, at 2 p.m., an hour-long HD TV Special dedicated to the band called In Session with the Damon Castillo Band will air in more than 10.5 million households nationwide on the Wealth TV cable channel. The major systems carrying WealthTV in the Central Coast are Charter, AT&T U-verse, and Verizon FiOS among others.
Glen Starkey knows that everyone smiles in the same language. Of course, everyone fist fights in the same language, too. Throw him a left hook at gstarkey@newtimesslo.com.
CD Reviews
Merle Haggard—I Am What I Am
At 73, Merle Haggard stands as a country music icon, though he has never been stifled by its boundaries. He may have gained fame with his redneck, anti-hippie anthem "Okie From Muskogee," but he followed it with the interracial romance "Irma Jackson" that Capitol refused to release. A historian of style, he's as comfortable with Bob Willis Texas swing ("Texas Fiddle Song") as he is with sauntering Louis Armstrong blues ("The Road To My Heart"). I Am What I Am is a relaxed mix of country waltzes and tender folk ballads, each filled with a narrative of a life lived. "Oil Tanker Train" triggers a memory of his childhood home by the track, where the playful duet of "Live And Love Always" is string-laden country swing featuring his wife Theresa. Less harrowing than Johnny Cash's final releases, Haggard is still a testament to the Bakersfield country sound, a legacy radio often forgets.
Kris Kristofferson—Please Don't Tell Me How The Story Ends: The Demos 1968-72
Kris Kristofferson has had a renowned career in music and film. But at the start of 1965, before Janis Joplin covered his song "Me And Bobby McGee," Kristofferson was just a Rhodes scholar who'd become an Army pilot. But the songwriting itch he had at Oxford never died, and he eventually fled to Nashville to a vocation of writing material for other people. Kristofferson, influenced by Dylan (he janitored during the Blonde On Blonde sessions), injected a literary touch to his personal compositions, something missing from country's emotional songcraft. These demos were never meant for public consumption, but their appeal is astonishing. His stripped-down version of "Me And Bobby McGee" is accented with a church organ and haunted background chorus, with Kristofferson singing at just above a whisper. The ballad "Billy Dee" traces the decline and death of a junkie, as "Epitaph (Black And Blue)" memorializes Joplin with sympathy and pity.
—Malik Miko Thorne, of Boo Boo Records and mikovision.blogspot.com, where you'll find archived reviews and soundclips.