Rather than write an ordinary restaurant review (albeit one deserving high praise), I prefer telling the story of an uncommon chef. I often meet passionate young cooks who share with me their dream of attending one of our esteemed American culinary academies, which compels me to set them straight by explaining there are two ways to earn the title of chef: You can go to culinary school and learn a set curriculum with hands-on work in their supervised kitchens, as I did in San Francisco or you can earn your chefs toque by working for great chefs to whom youll have to prove you have the chutzpah and talent (or youll soon be asked to exit their kitchens). Chef Jeff Jackson, owner of The Range in Santa Margarita, falls into that latter category.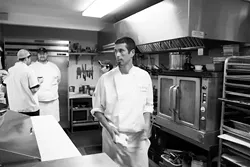 #I was attracted to Jacksons unpretentious dinner house after hearing from his peers it was a great new dining spot--though, admittedly, one most of us have to plan on driving out of our way for. Still I didnt sit down at my table with presumptions I maintained the critics haughty attitude. And from start to finish, my husband Dan and I found dining satisfaction at every level. The service was nothing less than genuinely friendly, courteous, and prompt despite the busy dinner hour. More importantly, I tasted quality in every delicious dish placed in front of me. The menu seemed old-school Americana, which I later learned was Jacksons plan for his restaurant.
"Our whole goal is Southern hospitality. This is dining like it wouldve been 40 years ago," Jackson explained when I called a few days afterward.
He also informed me that theres nothing modern about his business: no e-mail, no computers, and no reservations: "We keep it old fashioned as much as possible."
Although I lean toward modern restaurants for fine dining, now when Im asked my favorite restaurant I tell people I have several--and The Range rates among them.
Before revealing what turned me on about his cuisine, Ill explain why I admire this talented chef. When learning classic cooking techniques, either of the methods mentioned above is respectable, which is certainly proven by the fact that Jackson and I are both living our dreams. But culinary academies are no guarantee youll be the next Wolfgang Puck or Alice Waters. One graduate from my class in 1988 quit cooking to become an undertaker (no kidding), but plenty of graduates become professional chefs. The truth is that innate taste is far more important in telling whether or not youll realize your dream than any diploma in this vocation. That said, youd better be a savvy businessperson too.
Jackson, a native of San Diego, became a professional the hard way. He started cooking for the masses while in the Army. Skeptics shouldnt jump to conclusions--Jackson explained that they werent just serving "SOS" (shit on a shingle, the militarys reference to chipped beef on toast).
"What they say about military food is a lie. Only the coffee was bad," Jackson remembered. "We really cared about what we did: At Christmas, we had lobster. We always had really nice food."
After military duty, Jackson returned home and advanced his cooking skills by working for classically trained French chefs in San Diegos prestigious resorts, including Le Meridien and Hotel Del Coronado. Jackson moved to Morro Bay in the mid-90s and applied for work with local French chef Laurent Grangien, who was at the Inn at Morro Bay. Jackson recalled: "I discovered he had worked for my idol, chef Michel Guerard in France, and we immediately hit it off."
When Grangien moved to Paso Robles in 1996, Jackson followed him there to help open the new Bistro Laurent. Two years later, Jackson left to team up with his friend, chef Ron Stewart, to open Mare Blu restaurant in Los Osos. Most young chefs move around to gain all the experience they can. As Jackson once put it: "Its called doing your time." Grangien, whos followed his talented assistants career, holds him in high regard.
"I think hes very talented and hes a great guy," Grangien said. "I have only good things to say about him. If anyone deserves to succeed, its him."
When presented with an opportunity to buy his current restaurant in Santa Margarita, Jackson and his wife and partner Lindsay seized the moment. Their two daughters--Jade and Audrey--and son Cheyne help out at the family-run dinner house, which you wouldnt know was formerly a hamburger stand. Jackson proudly pointed out that Jade, a 15-year-old songster who often entertains the guests, has been described as a female Bob Dylan by music critics.
Ive enjoyed Jacksons foods since I discovered him at Mare Blu (now the wonderful Papillion restaurant with chef Jensen Lorenzen, who was Jacksons sous chef). But now that Jacksons at the helm of his own kitchen at The Range, his cuisine is better than ever. He can finally indulge in creating a menu devoted to the foods he loves: rustic American cuisine.
Dont be misled by the term "rustic." After working under the worlds most demanding chefs--the French--Jacksons experiences are expressed in his expertly prepared dishes offered on The Range menu. He seeks out the finest American products: free-range chicken from Petaluma, American shrimp, and local producers like Nick Ranch meats and Rinconada Dairy.
I enjoyed soulful, satisfying dishes like crawfish cakes with Tabasco butter and pickled okra, herb crusted wild King salmon, and Red Eye Coffee bean crusted New York steaks with a decadent potato goat cheese gratin. Every dish was unequalled in its originality. The food alone is enough to make any foodie (like me) rattle on deliriously. I havent tried his "pizzette" topped with locally produced Nick Ranch beef sausage, Rinconada Dairy cheeses, and house-made spicy marinara sauce. Kids love it, Jackson added.
Hardly unexpected, the wine list also offers amazing Central Coast wines at low markups for a restaurant of this caliber. Jackson said that his wife is responsible for their wine list, and she believes prices should be affordable for everyone.
"Lindsay says, Why should you pay so much for a decent bottle of wine?" Jackson explained. "You shouldnt need to take out a bank loan for wine."
Theres just one issue here that doesnt satisfy everyone: You cant pay with a credit card. I was pretty surprised myself the first time we dined here. In fact, I wasnt prepared. Fortunately, theres an ATM across the road. Listen, if you cant drop the attitude about credit cards, youre only depriving yourself. So grab some cash and treat yourself to an extraordinary dining experience.
INFOBOX: The skies are not cloudy all day
The Range is at 2317 G St. in Santa Margarita. Enjoy dinner only, Tuesday through Saturday. For more information, call 438-4500.
Contact New Times Cuisine columnist at khardesty@newtimesslo.com.