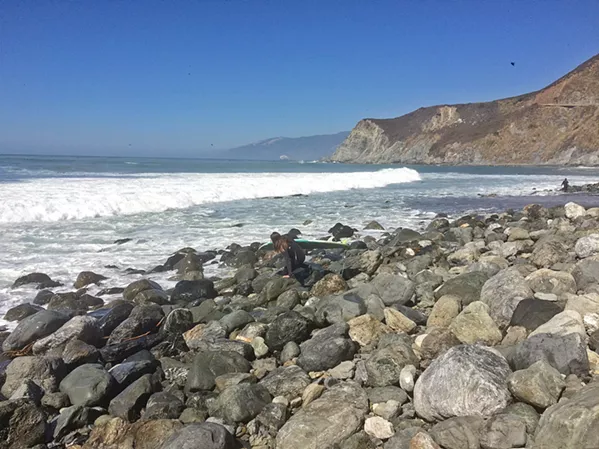 Photo By Ryah Cooley
HIGH TIDE Some impressive waves on Oct. 7 made for great surfing conditions in Big Sur.
My compact car is packed with way more stuff than two people need for an overnight camping trip as the morning sun beats down in the driveway on Saturday, Oct. 7.
Our plan is to drive up for the annual Big Sur Jade Festival, scope out some cool jade, and do some exploring. My boyfriend asks me to look up the start and end time for the festival, and that's when I see it, in big bold letters on the homepage: "The 25th Big Sur Jade Festival is canceled, aka postponed due to road closures. New dates to be announced soon." Bummer.
For a minute we're thrown. Now what? We consider changing plans and maybe heading to Figueroa Mountain, but the road to the nearby Big Caliente Hot Springs is still closed to cars. Ultimately, the pull of Big Sur is too strong to resist and we decide to stick with our original plan to head north and just switch up our itinerary a bit. We hit the road, stopping briefly in Paso Robles for gas, snacks, and the necessary camping booze before continuing on.
Since the Pfeiffer Canyon Bridge is still closed, we take Naciemento-Fergusson Road to get there, stopping to look at a gorgeous vista when it starts to really feel like Big Sur, with the rolling golden hills hugging the blue coastline. The scent of wild fennel hits me square in the face, and my cellphone has officially lost reception. I'm stoked.
First stop is at the Willow Creek picnic area and beach. It may be October, but the high tide and high temps have surfers with freshly waxed boards flocking to the water even though it's a rocky spot.
Since the Jade Festival is a bust, we decided to try our luck at spotting some jade along the beach. The tide is so high that most of the beach has all but disappeared, but we make our way, hopping from one rocky patch of sand to another. My back is turned toward the water for just a second, iPhone in hand, when a wave totally engulfs me and nearly knocks me over. After the roaring of the ocean stops, the first thing I hear is a peal of laughter. I'm soaking wet, but somehow my phone has survived. It and my long sleeved cover-up are placed strategically on a tall rock for safekeeping while we keep exploring further down the beach. Good thing too, since a few minutes later I'm briefly sitting on a rock, resting, feeling vaguely like the little mermaid, when the ocean decides to come back for round two. If any patch of me was dry before, that's certainly not the case now. I swear this isn't my first time in nature, guys.
By the time we make it back to the car, we've got a few pretty rocks to remember the day by, but no jade contenders. I happily throw on dry clothes and scarf down beef jerky and dried mango before we set our sights on the next adventures of the day: stopping by the New Camaldoli Hermitage to try their famous Holy Granola and taking a little meditation break before finding a campsite for the night.
Ryah Cooley is a fan of putting her phone on airplane mode while out in the nature. Comment at rcooley@newtimesslo.com.