Services for San Luis Obispo's rich and famous have just stepped up a notch, thanks to the Aviation Consultants Inc. (ACI) Jet Center that opened at San Luis Obispo County Airport on Jan. 27. The brand-new private terminal and flight lounge represents the culmination of an ambition that took flight in 1999.
After graduating from Embry-Riddle aviation school in Prescott, Ariz., Bill Borgsmiller and Tim Barnes came to San Luis Obispo and started their own private charter company. In those six years, Barnes and Borgsmiller have watched the company grow from a single twin-engine airplane to a small fleet of private passenger jets.
"We started here because we thought the area really needed a good charter service,� Borgmiller said. "Nobody really focused on quality enough that they could get the sort of clientele we have now.�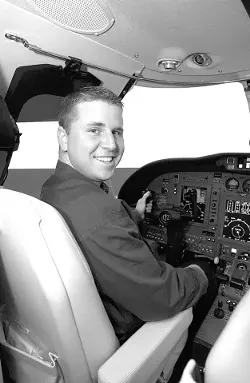 AVIATION CONSULTANTS INC.
PREPARE FOR TAKEOFF: Aviation Consultants Inc. president and co-founder Bill Borgsmiller has built his charter flight company from the sky up.
#Sitting right between L.A. and San Francisco, ACI can be very competitive in offering jet flights from both metropolitan areas, and we can still benefit from the business that those areas provide. "It's good for the airport here because we suck all that money out of L.A. and San Francisco and push it into this airport.�
And because their jets are so small and new, they meet the highest environmental standards, which means they can bring the revenues into this area without imposing too much on the community around the airport in terms of noise and pollution.
Today the company has eight airplanes, six of which are currently in service, and about 40 employees, including pilots, mechanics, accountants, and customer service staff. And the jobs created by ACI signify an important contribution to the local economy, as Borgsmiller explained. "Before, if you wanted to be a pilot in San Luis Obispo, you could try to get on with Sky West and fly one of their little turbo props, and you could be based out of San Luis Obispo, but you might get moved somewhere else, so there really were no solid, local pilot jobs.�
Rather than continue to grow the business in size, Borgsmiller at this point is more interested in concentrating on quality. What separates ACI from the competition is its emphasis on service and attention to detail.
With a level of service that hovers in the stratosphere, ACI delivers its clients from point A to point B with unparalleled convenience and efficiency. As their brochure proudly proclaims, "ACI [is] setting a new standard in aviation excellence.� For those who can afford it, the advantages over commercial aviation are countless. ACI's clientele primarily includes business executives and celebrities from across the country and around the world.
With a single phone call from the client, ACI will make arrangements for transportation to and from airports and meetings, as well as reservations for meals and hotels if necessary. And though they're based in central California, ACI will fly anywhere to pick up its clients and deliver them anywhere in the world — all for an hourly fee that's based on flight time and ranges from about $1,600 to $3,700 an hour depending on the choice of aircraft. The company's largest and fastest jet, the Citation X, seats up to nine passengers and cruises at 92 percent the speed of sound, which means they can fly to New York in under four hours.
"For every hour you spend in our system, you would have to spend about five hours in the commercial airline system,� Borgsmiller said.
It's not unusual for a client to leave California in the morning for a lunchtime meeting in Chicago, and get back to the office before 5 p.m. But the bulk of the time is saved by avoiding hassles like layovers, security checks, and baggage claims. Charter flights fly direct without layovers, and while commercial airlines service only a few hundred airports in the U.S., Borgmiller estimated, ACI's smaller jets have access to over 5,000 airports around the country, bringing their clients closer to their destination, and saving them time.
For some of their business executives, time is more valuable than money, Borgsmiller explained. They can make more money, but their time can never be replaced. And what's the point of making big money if there's no time to spend it?
ACI's roster of celebrity clients includes a host of athletes, like Todd Zeile, Robin Ventura, and Sean Green, as well as Heather Locklear and Richie Sambora. But you don't necessarily have to be in the elite to afford a trip on ACI, although it certainly helps.
Borgsmiller said that if eight people wanted to pitch in together for a flight from SLO to Las Vegas with an overnight stay in Sin City, they could probably do it for about $800 per person. It's not something you'd do every weekend, he said, but if you want to go big and feel like a rock star, it's the only way to fly. For more information, call 782-9722.
Staff Writer Jeff Hornaday flies low and avoids the radar. Contact him at jhornaday@newtimesslo.com.