Yep. Another year is over! And it's time to reflect on the big world of little SLO County and those newsy things that took up a lot of New Times space. There was a lot of fighting this year: arguments over development, Board of Supervisors' chairs, medical marijuana dispensing, policing, Phillips 66, and diversity issues on Cal Poly's campus. Like watching a pingpong ball travel back and forth over a net, residents listened to sides duke it out over some big freakin' deals.
Crime with some punishment
Homicides
The SLO County Sheriff's Office reported four homicides in 2015, two of which occurred just days apart from each other in November. In March, Thomas Nolan Yanaga shot and killed a man, Marshall Chandler Savoy, at his Paso Robles home. Yanaga was found guilty of Savoy's murder and sentenced to 40 years to life in state prison in October. In August, sheriff's deputies arrested 27-year-old Humberto Jacobo Chavez for the stabbing death of his wife, Patricia Jacobo, in Oceano. Chavez is currently in SLO County Jail awaiting trial. In November, SLO County experienced two homicides that occurred within three days of each other. The first of the two deaths was discovered on Nov. 14 during a standoff between sheriff's deputies and Nicole Honait Luxor, a 61-year-old self-professed clairvoyant, of Paso Robles. Members of the department's SWAT team entered the house, where they found the victim, later identified as 34-year-old Benjamin Derrel Terra, but had to retreat when Luxor reportedly shot at them. Luxor eventually surrendered and was arrested. Her case is ongoing. On Nov. 16, the SLO County Sheriff's Office received report of a suspicious death at a home in rural SLO. Investigators found the body of 54-year-old Walter Ernest Vallivero, who appeared to have died from blunt force trauma injuries. According to department officials, investigators believe that 40-year-old Charles Chad Giese, the victim's roommate, killed the man after an argument between the two on Nov. 15. Giese's case is also ongoing. Despite the high-profile homicides, sheriff's officials were quick to note that last year's rate of homicide was 0.16 per 10,000 residents, way below the national rate for non-metropolitan counties.
DUI pizza party for SLO cops
An embarrassing leaked email from February left the SLO Police Department fending off accusations that it had a de facto quota system for DUI arrests. The email revealed that some SLO police officers were rewarded with a pizza party for making DUI arrests for a specific night in February. The party was part of a "verbal challenge" issued by one SLOPD sergeant, according to emails obtained by New Times. The department said the pizza party wasn't part of any official policy or quota system, and no disciplinary action was taken against any officers.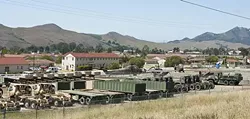 FILE PHOTO BY HENRY BRUINGTON
DISTURBING ALLEGATIONS: Three Los Angeles area police officers were charged with beating and abusing children at a disciplinary boot camp held at Camp SLO in May.
Camp SLO child-abuse scandal
Three Los Angeles-area police officers are facing criminal charges in SLO County after they allegedly brutalized children at a disciplinary boot camp. South Gate Police Department officers Edgar Yovany Gomez and Carlos Manuel Gomez-Marquez and Huntington Park Police Department officer Elizabeth Larios face multiple felony charges in connection with the abuse alleged to have occurred at Camp SLO in May. The three officers reportedly abused and injured 10 victims between the ages of 12 and 16 at the Leadership Empowerment and Discipline (LEAD) boot camp, including slamming kids against walls, stepping on their hands while they did pushups, and placing some of them inside a dark room where they were beaten. The three officers pleaded not guilty to all charges.
Kelly Gearhart sentenced
After what seemed like endless legal wrangling with no end in sight, disgraced land developer and former Atascadero Citizen of the Year Kelly Gearthart was finally sentenced for bilking local residents out of millions of dollars in a Ponzi scheme. Gearhart was sentenced to 14 years in prison in federal court in July, after pleading guilty to two counts of wire fraud and one count of money laundering. Gearhart admitted to knowingly and intentionally misrepresentating information about his Vista Del Hombre real estate project to get his victims to invest their money. Federal prosecutors said Gearhart also admitted to selling Vista Del Hombre lots that were already being used to secure loans from other victims and banks. Gearhart's lawyer vowed to appeal the sentence. James Hurst Miller Jr., who pleaded guilty to helping Gearhart with his fraud scheme, was sentenced to seven years in federal prison in October.
AJ Santana charged
A former SLO County District Attorney's Office investigator was officially charged with perjury in July and is still awaiting trial. The perjury charge was the latest development in the scandal that rocked the DA's office. The investigator, AJ Santana, is accused of providing a SLO County judge with a falsified affidavit in order to search the vehicle for drugs in 2014. The allegations surrounding Santana caused the DA's office to drop two cases. Santana's case in ongoing.
Medical cannabis is not welcome
Doobie disaster
Steven Gordon was one of 12 people—dubbed the Doobie Dozen—arrested during a controversial 2010 raid on local medical marijuana collectives. During his arrest, the now-defunct SLO County Narcotics Task Force seized about 5 pounds of marijuana, $12,000, documents, and about 100 patient recommendations, among other things, and froze his bank accounts. In January, a little more than four years later, Gordon got his stuff back, including well-cured, dried out marijuana buds.
Right back atcha
In June, another member of the Doobie Dozen, Richard Newton Jones, filed a lawsuit against local law enforcement agents. Jones was arrested during the "Operation Green Sweep" raid in late December 2010 but was later cleared of charges, as were the other 11 defendants. In response, Jones filed suit claiming that he was maliciously prosecuted and seeking damages for lost property and the impacts from the emotional and physical toll of the ordeal.
FILE PHOTO BY KAORI FUNAHASHI
REUNITED: Steven Gordon, one of the Doobie Dozen defendants who was arrested in 2010 after a local and state taskforce raided his medical marijuana operation, finally got his stuff back, including about 5 pounds of medical marijuana that had long since dried out.
Just say no to medicinal marijuana
Ethnobotanica Patients Cooperative, one of the largest providers of medical marijuana on the Central Coast, kicked off a long, hard year when they proposed a brick-and-mortar dispensary in Nipomo, seeking to be the only retail dispensary of its kind in SLO County. The proposal cleared the Planning Commission in July but succumbed to the Board of Supervisors in November. Before receiving a 3-2 denial, support from medical marijuana patients and their advocates was upstaged by long reports from District Attorney Dan Dow, Sheriff Ian Parkinson, and Santa Maria Police Chief Ralph Martin that illustrated harsh images of the crime that the dispensary would attract and the inability for law enforcement to be able to keep up with it.
Medical schmedical
California's state Legislature passed the landmark Medical Marijuana Regulation and Safety Act in the wee hours of their last day of session, setting an extensive regulatory and permitting scheme for the medical cannabis industry. The laws will require that state licenses be secured by 2018 for everything from cultivation, manufacturing, testing, distribution, and retail sale. Generally speaking, the laws are a step toward legitimizing the medical marijuana industry, but there's a catch: In order to secure a state license, operators must first get some sort of local approval like a permit, business license, or other type of formal authorization. That may be tricky in SLO County because every city has banned brick-and-mortar dispensaries, some have banned mobile delivery services, and localities are currently considering bans and strict regulation on cultivation.
Water and the drought
Undeterred
The Cambria Community Services District (CCSD) turned on their Emergency Water Supply project in January to make sure it worked, should they need it. Whether or not the community is facing a water emergency, and whether or not the project—which was rebranded as the Sustainable Water Facility—is the answer to their problems, is a very contentious issue. The district approved the project and took out a loan to build it in 2014 and shortly thereafter was sued by a local environmental watchdog group. In August, the CCSD was told that it couldn't yet have $4.38 million in state grants that were promised. Cambria panicked for a minute and said that would send the district into financial straights, blaming the lawsuit. Turns out, the district didn't meet the requirement of having a completed groundwater management plan, which the CCSD eventually completed. The district ceremoniously announced it got the grants in December.
Well wishers
The SLO County Board of Supervisors spent a good chunk of time throughout the year dealing with an ordinance intended to relieve some strain on the more parched areas of the county. The Countywide Water Conservation Program—which now requires that new and increased water use be offset in certain areas and conservation measures be implemented in others—originally stemmed as a continuation of the ongoing battle about management of the Paso Robles groundwater basin. In February, the board directed staff to work on it and come back with a recommendation. In July, the board decided it wanted the planning commission to take a crack at it. Eventually, a comprehensive program passed, but not before a "gap" between the old and new ordinances gave some thirsty North County property owners a chance to plant a bunch of alfalfa.
District dynamic
In other Paso Robles groundwater basin news, the supervisors agreed that the board would be the applicant for the Paso Robles Basin Water District, which voters will consider in March 2016. Voters will be asked three things: whether or not they want a district, whether or not they want to pay for management, and whom they want to be on the board, should a district be approved.
Rise up!
Local communities continued to significantly reduce their water use this year in response to escalating state-mandated water conservation requirements. The reduction in water use has meant a reduction in rate-generated revenue for municipalities, however, which brought about a "temporary" increase in water rates to cover costs. Several cities have gone along with this, but the tiny little town of Santa Margarita successfully turned in a majority protest to shoot down the first attempt at raising rates, largely thanks to a resident who pushed a petition around town. After all the commotion, SLO County Public Works went back to the drawing board and penciled out a new proposal, which passed with very little protest.
A modest proposal
The county started looking at options for using desalinated water from Diablo Canyon Nuclear Power Plant to help water supply challenges in South County.
Carbon conversations
Pipes, trains, people, and Phillips 66
If you flipped through the New Times opinion section at any point during the last year, chances are you saw at least one angry letter (per week!) commenting on a rail spur project proposed by Phillips 66 for its refinery in Nipomo. The oil company wants to broaden its oil delivery options to include trains, which it says will ensure a consistent supply in an area with dwindling oil resources. Currently, the refinery is pipeline fed. A fight that started as a very local issue in 2014 leaked into the rest of SLO County via City Council meetings and environmental rallying cries this year, with the loudest arguments against the project warning residents about oil-by-rail explosions that could decimate areas surrounding the county's railroad tracks. The final environmental impact report was released in December. A public hearing is scheduled for Feb. 4 and 5, 2016.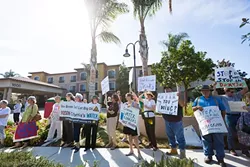 FILE PHOTO BY KAORI FUNAHASHI
RAILING ON: The debate over a proposed rail spur at the Santa Maria Refinery owned by Phillips 66 continues to drag on. The SLO County Planning and Building Department is holding a public hearing on the project and its final environmental impact report on Feb. 4 and 5, 2016.
Residents vs. oil expansion
Price Canyon residents are kicking up a petroleum fuss over all things Freeport McMoRan. In June, Freeport McMoRan started work on a 5.6-mile-long underground pipeline along Old Oak Park Road northeast of Arroyo Grande. Although the project was approved in August 2014, several residents said they'd never received notice and knew nothing about the pipeline installation. The oil spill that happened on Refugio Beach in May exacerbated concerns about what a potential pipeline rupture could do to the quality of life in the canyon. Those worries, especially about water quality in residential wells, wafted into the September and November SLO County Planning Commission hearings about a conditional use permit extension that would allow Freeport McMoRan to finish drilling the remaining wells on a project approved 10 years ago. Although the planning commission approved the project with some stringent water testing requirements, it was appealed to the Board of Supervisors. A hearing date is yet to be announced. One of the complaints residents have is that the oil company is "piecemealing" together a larger expansion plan, because the county is working with Freeport on a proposal to drill an additional 450 wells on the Price Canyon property.
Drilling in the aquifer loophole
In September, the Department of Oil, Gas, and Geothermal Resources (DOGGR) held a public hearing with the Central Coast Regional Water Quality Control Board in San Luis Obispo about Freeport McMoRan's application to extend the aquifer exemption for the Arroyo Grande Oil Field. An exemption means that injection of water for oil extraction purposes and re-injection of produced water leftover from drilling operations would be allowed in the aquifer. Local residents joined forces with activists from the Center for Biological Diversity to speak and protest at the meeting. Despite the protests, both DOGGR and the water board are recommending approval of the application. The U.S. Environmental Protection Agency has final say in the matter. In 2014, the California Department of Conservation, which oversees DOGGR, discovered that thousands of injection/re-injection wells it permitted were actually being drilled into "non-exempt" aquifers—aquifers covered under the Safe Drinking Water Act, basically water that's considered potable, drinkable, and usable by humans. Included on a list of 50,000 wells in California that needed to be reviewed were between 70 and 80 wells run by Freeport on the Arroyo Grande Oil Field, according to a list on the Department of Conservation's website.
Politicking and public servants
Hey, that's my chair!
The SLO County Board of Supervisors started yet another unharmonious year with a symbolic coup for the five-member board's chairmanship. Normally a routine rotation, the rightful order of who becomes chair and vice chair wasn't cool with 5th District Supervisor Debbie Arnold, newly elected 4th District Supervisor Lynn Compton, and their backers from the public and the Coalition of Labor, Agriculture, and Business (COLAB). The rotation was set to give the gavel to 1st District Supervisor Frank Mecham—who had recently fulfilled his destiny as the board's swing vote—and make 3rd District Supervisor Adam Hill—the object of fear and loathing from COLAB and the anti-government types—vice chair. After a few weeks of hearing cries of injustice, Mecham couldn't take it anymore, stepped down, and cleared the way for Arnold to become chair and Compton to become vice chair.
That's it, I quit!
In March, SLO County Supervisor Frank Mecham said that his work here is done and he would honor his 2008 campaign promise of serving two terms and then stepping down to make way for someone else. Four candidates are currently vying to fill the void, promising a scrappy election that could have lasting ramifications for the oft polarized five-member Board of Supervisors. Candidates are attorney Dale Guston, Paso Robles City Councilmember John Hamon, Paso Robles Mayor Steve Martin, and conservative political consultant John Peschong.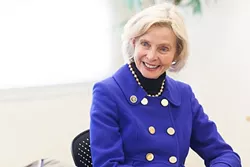 FILE PHOTO BY KAORI FUNAHASHI
SITTIN' PRETTY: After serving close to two decades in the United States House of Representatives, Congresswoman Lois Capps, 77, will retire at the completion of her term in 2016. A tough, and expensive, battle for the seat she'll leave open is already well underway.
Capps unlock
In April, longtime Congresswoman Lois Capps (D-Santa Barbara) announced that she would retire at the conclusion of her term in 2016. Following her husband Walter's sudden death of a heart attack in 1997, Capps won a 1998 special election and has represented the 24th Congressional District since. Now, three challengers from each side of the aisle are gearing up for what will be a hotly contested and very costly election that's likely to garner national attention. Those fighting for the top two spots in the June primary are Republican candidates 35th District State Assemblymember Katcho Achadjian; 27-year-old small businessman Justin Fareed; and financial advisor Matt Kokkonen, and Democratic candidates Santa Barbara County 1st District Supervisor Salud Carbajal; rancher, developer, and campaign finance reform activist William Ostrander; and Santa Barbara Mayor Helene Schneider.
Domino theory
Termed out and now gunning for a seat in the United States Congress, State Assemblymember Katcho Achadjian is also leaving a vacant seat, giving Central Coast voters yet another no-holds-barred, incumbentless race. In the running thus far is attorney Jordan Cunningham, a local boy who recently opened his own firm with his wife; and local businesswoman and former activist Dawn Legg, who currently is a public affairs consultant for the industrial-scale solar energy company First Solar.
Secretly severed
SLO Police Chief Steve Gesell was the subject of speculations after city officials placed him on administrative leave for an indeterminate amount of time. What exactly happened and—more importantly—who started it was never fully answered. Gesell, who had been known to butt heads with City Manager Katie Lichtig, left employment with the city in May with a $120,000 severance package. On his way out, Gesell contemplated a run against the divisive Maricopa County, Ariz., Sheriff Joe Arpaio, and later unsuccessfully applied for a job as chief of police in Fargo, N.D.
Audits R Us
In May, the South SLO County Sanitation District Board of Directors voted unanimously to audit itself. The audit is looking at finances from 2004 to 2013, a period in which the district was run by former General Manager John Wallace before he resigned in February 2013 amid questions about his management and conflict of interest accusations. Wallace was called out for awarding contracts to his firm the Wallace Group. The audit is now in the hands of the board, but it has yet to be released to the public.
Cash-handling concerns
In September, word got out that SLO County Veterans Services Officer Dana Cummings resigned. At first, neither Cummings nor county officials would confirm what the beef was about or agree to turn over documents that specify the details of Cummings' departure. Some indications of department mismanagement eventually trickled into the public sphere. Most notably, an internal audit found the Veterans Services Department to be severely out of compliance with county cash-handling policies designed to prevent the misappropriation of funds. County officials wouldn't say whether the audit played a role in Cummings' resignation or whether the resignation was part of a severance agreement.
Dethroned
Kathy Kivley, general manager of the Los Osos Community Services District, was placed on administrative leave in December following a fissure between her and the board centered on a financial audit. The audit attempted to sort through the district's disheveled financial accounting but came back without any conclusive recommendations on how that might happen. During the process, however, it was discovered that Kivley took six days more paid leave than she was supposed to, which landed her in hot water with the board of directors.
Cal Poly woes
Faculty pay gap
Stagnant wages and poor job growth were an ongoing theme in 2015 for Cal Poly faculty. In May, the Cal Poly academic senate passed a resolution that documented qualms with the lopsided growth of administrative versus faculty positions and salaries. In November, the California Faculty Association (CFA) voted to authorize a potential strike following stalled contract negotiations between the CSU system and the CFA. The conflict could escalate into a full-scale faculty strike in 2016 if negotiations continue to crumble.
FILE PHOTO BY KAORI FUNAHASHI
FARMLAND SAVED: The Cal Poly master plan, which addresses the anticipated physical needs of the campus over the next 20 years, was discussed and amended throughout 2015. Plans to develop on top of Cal Poly's beloved farmland were nixed this year after an outpouring of community protest.
Master plan negotiations
While faculty lamented inequitable wages and opportunities, the higher-ups at Cal Poly were busy this year drafting an updated master plan for the university. Last penned in 2001, the newest incarnation of the plan aims to address the anticipated physical needs of the campus over the next 20 years. Early schematics of the plan included developing on top of beloved Cal Poly farmland, which is embraced as a distinguishing element of the agriculture curriculum and emblematic of Poly's learn-by-doing philosophy. After protest from the community, Cal Poly abandoned that idea. The plan still includes the addition of more housing for Cal Poly's growing student population. Cal Poly hopes to bring a finalized master plan proposal to the CSU Board of Trustees for approval by the end of 2016.
KCPR shakeup
Cal Poly's radio station cut ties with its non-student community DJs in June, as the Cal Poly journalism department revamped its 48-year-old radio station, reintegrating it into the school's curriculum and designating the airwaves for students and students only. As a result, about a dozen non-student DJs—many of whom appeared ritualistically on 91.3 FM for more than a decade, creating a local medium for eclectic, quality music—were shown the door.
Frat troubles
It was not a sterling year for Cal Poly fraternities. The repeating cycle of fraternity misbehavior and university crackdowns was a theme in 2015, beginning with a minimum six-year suspension of Pi Kappa Alpha and a 10-month probation sentence for Alpha Gamma Rho, two frats that were associated with three sexual assault allegations in late 2014 and early 2015. Those incidents also spurred a campus-wide "social probation" that spanned between January and April. In May, Cal Poly levied a minimum five-year suspension against Delta Sigma Phi-Epsilon Rho for violating multiple university policies, including the alcohol and drug policy. In October, New Times reported that some of the fraternities that are on suspension and probation are being investigated for sidestepping their punishments by holding off-campus events and continuing to recruit new members.
Land-use battles
Hotels all the way down
The city of SLO has seen a boom of new and controversial hotels recently, including the 102-room, four-story hotel that was narrowly approved by the SLO City Council in February 2015. The project was strongly opposed by neighbors, who had concerns about the hotel's height, noise level, and traffic. The council ultimately decided to welcome the addition to SLO, with the condition that the applicant, Andrew Firestone, remove all balconies from south-facing rooms to avoid infringing on neighborhood privacy and enclose the hotel's 131-space parking lot. The Monterey Street hotel joins two other hotels in or near downtown SLO that are currently under construction.
Rock fight
A proposed rock quarry off Highway 58 near Santa Margarita drew fiery opposition from locals and was ultimately denied by the SLO County Board of Supervisors in May. The Supes' 3-2 denial marked the end of an exhaustive community battle that started in 2010. Both the SLO County Planning Commission and Board of Supervisors agreed that the project and its impacts, namely heavy truck traffic on Highway 58 and through town, would leave too large of a negative impact. The quarry's applicant, Las Pilitas Resources LLC, continued the saga by appealing to the state Mining and Geology Board in June, but the agency refused to hear the appeal.
FILE PHOTO BY KAORI FUNAHASHI
DRAWING THE LINE: Adelaida residents like Gianni Manucci (pictured), owner of Wild Coyote Estate Winery and Bed and Breakfast, want less development and event-hosting at the wineries in the region.
Beachwalk-ing in Pismo
The stage was set in pieces throughout 2015 for an intense community battle over the proposed BeachWalk Hotel, a 128-room, 94,000-square-foot hotel and resort on Pismo's scenic beachfront. Concerns about the project focused on the hotel's impact on the city's water supply. That was until late October, when an appeal of the project to the California Coastal Commission (CCC) and a lawsuit filed by a group of concerned residents were dropped. With those obstacles out of the way, the hotel can move forward. The development company behind the BeachWalk Hotel, Nexus Development, has ties to Richard Meaney, the developer who had an allegedly cozy relationship with Palm Springs mayor Steve Pougnet.
Avila looks to grow
Avila Beach had unusual levels of development buzz this year. Proposals in Wild Cherry Canyon, Avila Beach Golf Resort, and Avila Point drew support and criticism from the public. Stay tuned in 2016 to see how these projects progress through the political process. The Harbor Terrace project, a 32-acre camping and hotel development proposed by the Port San Luis Harbor District, also made progress this year, as the SLO County Supes denied an appeal against it in June.
FILE PHOTO BY DYLAN HONEA-BAUMANN
NO MORE OBSTACLES: Opposition to the BeachWalk Hotel, a 94,000-square-foot resort on Pismo Beach's scenic beachfront, gained momentum in 2015 until the contesting parties suddenly dropped their lawsuits and appeals in the fall. With approval from the planning commission and backing of the City Council, the BeachWalk Hotel is set to move forward.
Developer lawsuits
A nearly 20-year-old plan for a housing project off Oak Park Boulevard on the east side of Pismo Beach revived in 2015, with the Los Robles Del Mar (LRDM) developers filing a new lawsuit against the city in September to get the plans moving. The city struck back in November with a lawsuit of its own against LRDM, claiming the developer failed to pay annual costs related to the purchase of state water for the stalled housing project.
How much is too much?
Concerns about increasing winery expansions in Adelaida came to the forefront in 2015, as an influx of new buildings and event permitting in the region had some residents wondering when the line will be drawn. The SLO County Board of Supervisors have historically struggled to agree on ordinances that could regulate these issues, but this year the board recognized the level to which development has accelerated and impacted locals: "I think it's gotten to a point where we as a board need to take it on and start figuring out how are we going to deal with this," Supervisor Frank Mecham told New Times in October. "Because it can't go on unending like this."
Civil rights for all
The Cal Poly 'Shit-in'
The rights and challenges of the transgender community were a high-profile topic this year. One of the biggest battles was waged in an unexpected place: the bathroom. The issue hit home when students from Cal Poly's Queer Student Union and other clubs staged a "shit-in" on campus to protest the lack and inaccessibility of non-gendered bathrooms for the school's queer, trans, and gender-nonconforming students. The protests were arguably the beginnings of a bigger movement by students to get Cal Poly to address diversity and other social justice issues on campus.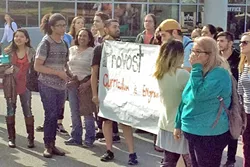 FILE PHOTO BY CHRIS MCGUINESS
FIGHTING FOR EQUALITY: Despite an online death threat against one of its organizers, the student activist group SLO Solidarity said it will continue to advocate for a more tolerant, diverse campus at Cal Poly.
Marriage equality
In July, the U.S. Supreme Court declared marriage a civil right, shooting down all state laws that prohibited same-sex marriage. Soon after the historic ruling, locals gathered at the SLO County Courthouse to celebrate. A crowd of about 100 people cheered and waved flags in celebration. While same-sex couples have been allowed to marry in California since 2013, 14 states still banned same-sex marriage, and there wasn't any continuity between states prior to the ruling.
LGBTQ students bullied
An analysis of survey data by the Central Coast Coalition for Inclusive Schools showed many teens who identified as LGBTQ face difficulties in SLO County schools, including bullying. According to the data, significant percentages of the self-identified LGBT youth who took the survey reported being harassed or bullied. In the wake of the report, many SLO County schools tried to address the problem with anti-bullying campaigns and hosting Gay-Straight Alliance student clubs on campus.
FILE PHOTO BY REBECCA LUCAS
UPS AND DOWNS: While SLO was ranked sixth in the number of female-owned businesses by NerdWallet, a report by another organization pointed to concerning trends among young women in the county.
Women's issues
This year brought a mixed bag for women in SLO County. In November, a study by NerdWallet declared SLO County to be the sixth best place in the country for female entrepreneurs and for women to open businesses. However in the same month, a report from the Women's Legacy Fund, an endowment fund of The Community Foundation of San Luis Obispo County, revealed disturbing trends for women in SLO County. The report stated that a significant number of teenage girls in the county experience chronic sadness; the rate of forcible rape perpetrated against females is almost twice as high as the statewide rate; and binge drinking among women is much higher than it is statewide.
SLO solidarity
In late 2015, a large group of Cal Poly students banded together to call for the university to address issues of diversity and tolerance. The group was called SLO Solidarity and began with protests over sexist and bigoted remarks left on a "free speech wall" on campus. The group later released a list of 41 demands to Cal Poly's administration and plans to continue to push for equality, despite an online death threat against one of the group's organizer's in early December.
Keeping things healthy, sort of
The vexing vaccine debate
More than 140 cases of measles stemming from a December 2014 "outbreak" that started at Disneyland prompted legislators to whip up a bill requiring all school-age children to be up to date on vaccinations, unless they have a viable health-related reason not to be. Senate Bill 277 passed in July despite emotional protests from mothers and children. The bill does away with California's longstanding opt-out option for religious and philosophical beliefs. The state will begin enforcing the new rule for the 2016-2017 school year.
Mental health and Templeton nimbys
In November 2014, the Templeton Area Advisory Group held a meeting discussing a plan for a proposed 96-bed behavioral mental health facility on a long-empty Las Tablas Road property; 300 people attended the hours-long meeting, and the conversation hasn't stopped since. Some Templeton residents say they don't want a place like that in their town because of the safety issues that could result from having mentally ill patients so close. In December 2015, the SLO County Planning Commission delayed a hearing on the proposal until January 2016.
AIDS on the rise?
In August, New Times discovered that more than a third of the Access Support Network's—SLO County's only HIV/AIDS service provider—in the last two years (22 out of 58) have been young men between the ages of 18 and 30 years old. That's a sharp change in the demographic of the clients historically served, who are generally in their 30s and 40s. SLO County Public Health Services is still compiling its data, but confirmed there has been a spike in cases involving young men. Both Access and SLO County Public Health Services offer HIV/AIDS testing.
End of life is an option
In October, Gov. Jerry Brown signed a bill known as the End of Life Option Act into law. The bill, coauthored by Central Coast state Sen. Bill Monning (D-Carmel), gives people with terminal illnesses an alternative to a slow agonizing, painful death. It was inspired by Oregon's Death with Dignity Act. The bill was passed during a special extended legislative session and will go into effect in 2016.
The great grocery debacle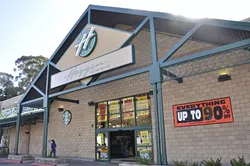 FILE PHOTO BY JONO KINKADE
WHOOPSY DAISY!: After purchasing 146 Albertsons/Vons stores—including several in SLO County—earlier in 2015, the Haggen grocery store chain based out of Washington state closed all its newly acquired California establishments, leaving behind empty buildings and out-of-work employees.
No more stores
Your neighborhood grocery store basically kicked the bucket this year—after meandering through a harrowing tale of changing ownership, an uncertain future, and finally giving in to the seeming inevitability of closure. Hundreds of people who once worked for Albertsons lost their jobs in SLO County after Haggen, a Washington-based grocery store chain, took over 146 Albertsons and Vons stores in California and Arizona this summer. Haggen closed its recently acquired California stores in November—after the chain filed a lawsuit against Albertsons, Albertsons filed a lawsuit against Haggen, and Haggen filed for bankruptcy. The whole deal started in January to settle anti-trust concerns with an Albertsons/Vons merger. The Federal Trade Commission only allowed the deal to go through once the duo agreed to sell some of its stores to another grocery store chain in order to keep the market competitive. Haggen, with 18 stores in Washington, grew into a grocery store empire pretty much overnight but had trouble keeping prices low, getting customers in the door, not laying off employees, and maintaining inventory.