I've attended the Cal Poly Wine Festival since its inception in 2003. The first year, I was joined by Dr. Keith Patterson and student John Behr, a member of the university's Vines to Wines Club, for lunch at Firestone Grill to discuss coverage of the inaugural event. Eight years later, this popular wine tasting attracts more than 1,000 wine lovers who return to enjoy a wealth of great local wines produced by Cal Poly alumni. And it's not just local wineries--they include great wineries from Napa and beyond, like Duckhorn Vineyards, Roessler Cellars, and ZD Wines.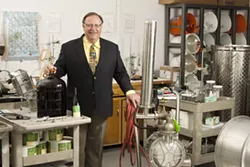 PHOTO BY STEVE E. MILLER
HIS CUP RUNNETH OVER : John C. Peterson is the Horticulture and Crop Science department director, and one of the people who helped organize the Cal Poly Wine Festival.
The main event takes place at the historic Santa Margarita Ranch. It seems as if Bacchus, the Roman god of wine and ecstasy (Dionysus in Greece), always manages to make it a gloriously sunny day out at the beautiful ranch. And who wouldn't appreciate roaming among the hills and mountains where Franciscan missionaries and Chumash Indians lived and worked in the 1770s? Live music at the fest gets everyone dancing in the open field, especially with Shival Experience playing this year. Of course, that's when everyone isn't too busy gobbling down the delicious treats brought in by many excellent local restaurants, caterers, and bakers. While the event features more than 65 wineries, there are only 16 food vendors, and they tend to run out of food early.
Getting there almost an hour late last year, I found little more than crumbs left on most tables. Not a single cupcake of the 1,000 made for the festival was left behind. I was bummed out, until I found the Crops Club barbecue stand, where they had really tasty tri-tip sandwiches smothered in sweet barbecue sauce. I was lucky enough to buy two of the last few hot sandwiches left. This year, with participating chefs like these, you can bank on them running out of food early: Apple Farm, Greenhouse Grill, Luna Red, Marisol at the Cliff's, Novo, SeaVenture, Splash Café, and several other food specialists.
You won't have to worry about getting enough during the lunch following the seminars, or at the barbecue dinner at the Leaning Tree Arboretum. Many of the local alumni winemakers attend the dinner to catch up with old friends who moved to regions like Napa and Sonoma. The great thing about this dinner is meeting the famous winemakers who will share their wines with alumni and guests at dinner.
Did you know that Cal Poly's Wine and Viticulture Program is the largest of its kind in the nation? It supports 280 majors, and those people will become our future winemakers and viticulturists. The Cal Poly Wine Festival not only funds the student's Vines to Wines Club, but the major education system at large. I'm a fan of anything that benefits Cal Poly, particularly this program, and hope many locals will join me in supporting this very worthy cause. The festival's theme this year is "Between the vines: sustainable from wine to glass." It's exactly what one would expect from this notable university. They've expanded it to a two-day event that includes educational symposia with two meals on Friday.
The ninth annual Cal Poly Wine Festival begins Friday morning, April 8, with educational seminars covering the latest topics in the wine industry discussed by panels made up of highly successful local vintners. The panelists will be led by two celebrity bloggers and the director of the Central Coast vineyard team. Video blogger Gary Vaynerchuk of the Daily Grape will interact with the panel of local experts via Skype. Blogger Leah Hennessy of Millennier, and local farm authority Kris O'Connor will be there in person. They'll lead panels of experts covering such topics as trends and terroir in wine today; trending millennials—understanding the interaction between media and the next generation of wine drinkers; and water, energy, and land—small changes, big impacts. The panelists include Mike Sinor of Ancient Peaks, Steve Lohr of J. Lohr Wines, John Ewan of Pacific Energy, and Justin Smith of Saxum. After the seminars, guests will enjoy lunch. That evening guests will return to Cal Poly's Leaning Pine Arboretum for a barbecue dinner and live auction.
On Saturday, the wine festival draws a huge, happy crowd. But the event is so well spread out beneath three gigantic tents it's not like some tastings where it's difficult to get to wineries, depending on how popular the winery is you're trying to reach. The festival includes a silent auction of collectible wines and lifestyle lots. There will be live music and wine-friendly foods from 16 restaurants and caterers. Although most of the food is included in your ticket price, the Crops Club fee for the sandwiches supports the group. The festival opens at noon for those with VIP tickets, and from 1 to 4 p.m. for general admission.
This annual event attracts many Cal Poly alumni, from faculty to wine industry experts of every field. It is entirely organized by students who volunteer their time, including the Vines to Wines Club. To organize this great event, a team of advisors meets with student volunteers weekly from December through April. Saturday's festival will feature demonstrations by Radoux Cooperage on the art of building and toasting French oak barrels, and Pacific Energy Company will provide a solar demonstration.
To attend the Friday seminars—with lunch and the Cal Poly barbecue dinner—and Saturday's wine festival, the weekend package admission is $160 for VIPs, $140 for general admission, and $100 for students. Please note, the seminars are only available in the weekend packages; you can buy a VIP ticket to the seminars and the festival for $120, a VIP ticket to the Friday night barbecue and the festival for $110. The general admission and student rates are lower. Admission to Saturday's Wine Festival alone is $65 for VIPs, $55 for general admission, $45 for students, and $15 for designated drivers (no alcoholic beverages allowed). Bus tickets cost $15 each from Cal Poly. For details and pricing for the seminars, barbecue, and festival, visit calpolywinefestival.com. For tickets, visit vallitix.com. All tickets are subject to service fees. Students attending must carry a valid Cal Poly ID at all times.
Contact New Times Cuisine columnist Kathy Marcks Hardesty at khardesty@newtimesslo.com.