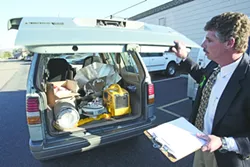 PHOTO BY RYAN MILLER
MAKING A LIST, CHECKING IT TWICE : Medical marijuana patient Richard Steenken checks to make sure all his property was returned from the sheriff.
Richard Steenken is the latest SLO County medical marijuana patient to have his confiscated marijuana returned by the local sheriff. Steenken arrived at the SLO County Sheriff's office on Jan. 15 to retrieve his property, which included 3 jars of marijuana, 2 grams of hashish, 2 grams of kief, and 43 dead marijuana plants. Steenken was also given back his growing equipment.

Despite his status as a medical patient, Steenken's home was raided after a landlord tipped off the Sheriff's Department. His patient status was not thoroughly checked by deputies at the time of his arrest or even after his arrest. Steenken failed to post bail and was held in custody for 21 days before the case against him was dropped by the District Attorney.

Steenken declined to make a statement when he picked up the property, but he and a friend both wore a green ribbon with an American flag pin, which he said, represents their support of cannabis reform and their continued support for Charles Lynch, the former Morro Bay medical marijuana dispensary owner who is now facing prison time.

A representative for the Sheriff's Department was unable to comment as of press time. As with past cases, Sheriff Pat Hedges declined to return the marijuana until he was presented with a court order.