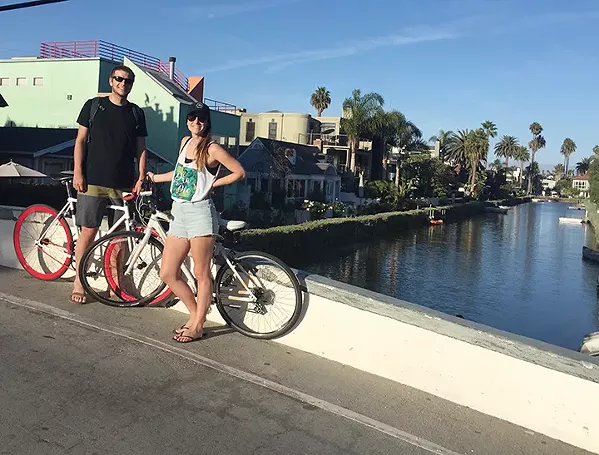 Photo Courtesy Of John Stein
BRO AND SIS My sister, Lisa, and I stop our bikes for a quick photo next to the Venice canals.
I'm cruising down Venice Boulevard on a bike in 80-degree weather with not a cloud in the sky. My sister, Lisa, is in front leading the way, and her boyfriend, John, is bringing up the rear.
We're heading west to Venice Beach, and pretty soon I can smell the salty air and hear the hustle and bustle of the boardwalk—the street musicians covering Bob Marley and Jimi Hendrix songs through small, muffled amplifiers; the shop venders selling colorful paintings, tapestries, T-shirts, and doodads that scream quintessential Los Angeles; and the thousands of beachgoers of all kinds, colors, and shapes traversing the strip.
Upon arrival, we jump onto the beachside bike path and maneuver our way to the beach area we want to go to, passing a skate park with dozens of gawking spectators surrounding it, playgrounds, basketball courts, you name it, and narrowly avoiding errant bikers and pedestrians along the way.
Photo By Peter Johnson
BEER O'CLOCK Lisa; her boyfriend, John; and I enjoyed a round of German beers at this Venice boardwalk restaurant, a local favorite of theirs.
In LA, it seems like it's always the journey that sticks with you. Getting anywhere is a legit endeavor, and you always see something interesting and unexpected. The process of embarking on an activity ends up dwarfing the activity itself in most cases. There are few places I know with a stronger sense of place than LA, if not for just how big of a place it is.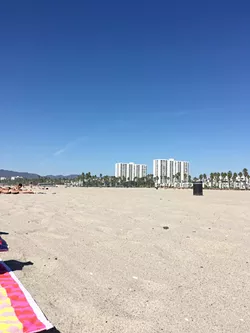 Photo By Peter Johnson
BEACH BUMS The weather on Venice Beach was unbeatable on Oct. 21: 80 degrees and not a cloud in the sky.
On this particular Oct. 21 trip, I'm simply here to spend a weekend with Lisa and John, who live together in Mar Vista, a neighborhood just east of Venice. Lisa is a social worker, and John is an assistant film director in Hollywood. It'd been a while since I visited, and I really needed a trip away from the SLO "snow globe" (as our editorial staff here sometimes lovingly refers to it).
My initial impressions of experiencing LA through my sister's eyes as a resident are always, "Wow, how could you ever feel a sense of community here?" But I quickly see how people find their place as small fish in the big sea. For instance, I learned all about this local effort to recall a Mar Vista representative on the LA City Council who pushed a controversial initiative to wipe out a lane of vehicle traffic on Venice Boulevard to make room for a protected bike path. It's caused terrible traffic bottlenecks, and people are pissed! So, at the end of the day, you engage with your neighborhood and local districts, like any other place, including little San Luis Obispo.
Photo By Peter Johnson
STUNNING My drive home from LA could not have been more gorgeous, with the sun dipping below the ocean horizon as I drove north through Ventura and Santa Barbara.
We had no big plans for the weekend—just to see where the vibe took us. For the most part, that was the beach, and we boogie-boarded, sunbathed, and enjoyed German beers at the On the Waterfront Café, a favorite of Lisa and John's, on the boardwalk that's sadly closing down and getting replaced with a spot that offers trendy vegetarian fare. We biked around Venice, people-watched, checked out the river canals, and stopped into the Baja Cantina patio to watch our beloved San Francisco 49ers get killed by the Dallas Cowboys.
But it wasn't all bikes and beaches. We grilled our own meats and s'mores at the Gyu-kaku Japanese BBQ and spent time catching up on just about anything you could think of.
Sure, driving six hours for 48 hours of family time isn't ideal. But I wasn't complaining while cruising back to SLO through Ventura and Santa Barbara on Sunday with the sun setting in a cloudless sky over the ocean horizon. I'll be back, Lisa.
Staff Writer Peter Johnson is planning his next weekend getaway at pjohnson@newtimesslo.com.