Because of their so-called subversive Rastafarian politics, when Steel Pulse formed in 1975 in the Handsworth area of Birmingham, England, they had a tough time finding live gigs. Many club owners and promoters feared their radical message, but Steel Pulse found a home with punk acts like the Stranglers and the Rock Against Racism organization.
PHOTO COURTESY OF STEEL PULSE
MESSENGERS: Lead singer, guitarist, and songwriter David "Dread" Hinds (left), keyboardist Selwyn "Bumbo" Brown (right), and their band Steel Pulse bring their socially conscious message to Fremont Theater on Feb.11.
Eventually concert promoters couldn't deny the band's popularity, and soon they were the biggest reggae act in the U.K. thanks to singles like "Kibudu, Mansetta and Abuku," "Nyah Luv," and "Ku Klux Klan." Their debut album, Handsworth Revolution, is still considered by many to be the finest U.K. reggae album of all time.
This Saturday, Feb. 11, Cali Roots and Otter Productions Inc. present the Grammy Award-winning reggae band's return to the Central Coast to play the Fremont Theater (8 p.m.; all ages; $27 plus handling fees presale at Boo Boo Records and ineffablemusic.com).
The band still includes founding member David Hind, the band's guitarist, lead vocalist, and chief songwriter, as well as keyboardist Selwyn Brown, who joined the band in 1976 before the band's 1978 debut album was released.
In press materials, Hind spoke of staying true to their roots: "Too many times we have been asked to be something else, someone else. But in the end, we are what have always been—a roots reggae band with a message of positivity for anyone who listens with their heart."
With a fierce sense of integrity, the band has continued to address injustice whenever they see it. Their most recent single, 2014's "Put Your Hoodies On (4 Trayvon)," addressed the killing of unarmed teenager Trayvon Martin by George Zimmerman, a neighborhood watch coordinator.
"We just can't ignore the politics, because every life and soul that's born on this earth is a political maneuver for someone, at some stage," Hinds explained. "From a spiritual aspect, it's really an upliftment through facing reality—what's out there. We deal with positive spirits. It means putting aside the guns, the drugs, and all of the things that are ailments of society—especially the black communities right now."
Their message has remained virtually unchanged from their inception.
PHOTO COURTESY OF TO WAKE YOU
LOVE SONGS: To Wake You, featuring husband and wife Mark Davis and Karoline Hausted, release their new EP at Steynberg Gallery on Feb. 11.
"Without love there is no justice, and without justice there is no peace," Hind continued. "At the core of our music is a deep sense of love for our African heritage, and a commitment to fight for justice for all people on this planet, even for our planet itself. Man is destroying creation in the name of progress. And along the way, we kill, rob, loot, and exploit our brothers and sisters—dividing people by tribe, color, class, religion, you name it. We stand against violence in all its forms. And poverty is a form of violence. It may sound like a cliché by now, but we believe in love and justice, living in harmony with one another and nature. Our mission is bring hope into the hearts of people—that things can get better if we unite to do the right thing. Despite the wickedness in the world, we believe in positivity. We want to see true democracy, not hypocrisy."
Added Brown, "We try to point out the mistakes we humans are making, either through ignorance or through evil intentions. We can't sit back and watch what's happening without trying to make a difference. That's what we felt like back in the day, as schoolmates in Handsworth, and that feeling hasn't changed to this day. Babylon has been making the rules for long enough. Our job is to show that Jah Kingdom must be here on Earth—in our hearts and minds—so we can respect one another."
That's a message we should all get behind!
Dreamscapes
To Wake You, a collaboration between husband-and-wife duo Mark Davis and Karoline Hausted (one half of Shadowlands with Bob and Wendy Liepman), begins their new six-song EP Beauty In The Smallest Things with "The Price of Love," a swirling, dreamy pop song featuring layers of sounds and Hausted's lilting vocals.
PHOTO COURTESY OF THE LEGENDARY SHAKERS
SOUTHERN FRIED: The Legendary Shakers bring their "blues, punk, rock, and country" sounds to SLO Brew on Feb. 15.
Hausted's Scandinavian roots meet Davis' American folk on "Something Fell," a rhythmic track that melds both singers' voices into a sensual love dance.
"What Is It" features Hausted's dreamy voice moving birdlike through the song—a little bit of Kate Bush, Enya, and Bjork gliding lightly through the impossibly sweet notes.
The couple trades the lead again on "Not Gonna Fall," with Davis forefront but both voices intertwining into a rapturous love song about saving one another.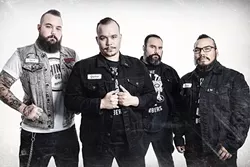 PHOTO COURTESY OF THE DELTA BOMBERS
ROCKABILLY RIOT: The Delta Bombers (pictured) will open for the Legendary Shakers at SLO Brew on Feb. 15.
The melodies of these songs take surprising turns, without question a result of the interplay between two musicians completely comfortable with one another and completely trusting of one another.
The couple will release their new EP during a special concert on Saturday, Feb. 11, at Steynberg Gallery (7:30 p.m.; all ages; $15 tickets; call 547-0278 for reservations). Harpist Chris O'Connell and bassist Dylan Johnson will join them.
"Whether one is migrating into a new love or a new land, taking the plunge into the unknown brings both excitement and fear; one can feel suddenly awake, emotions open up, nature sparkles and speaks, yet it isn't always a comfortable ride. To Wake You brings songs here that contain both these sides, but ultimately this music is an invitation to find beauty that wasn't noticed before. It's an offering from the romantics that we will be all right in doing so," they said in a press release.
Rockin' Brew
PHOTO COURTESY OF BOBBY JO VALENTINE
ALL ABOARD: Award-winning singer-songwriter Bobby Jo Valentine plays the Música Del Río house concert series on Feb. 11.
Over at SLO Brew, a couple of hard rockin' acts hit the stage on Wednesday, Feb. 15 (10 p.m.; 18-and-older; $15 at ticketweb.com).
Guitar legend Jeff Beck describes the Legendary Shack Shakers as "a cross between the Yardbirds and the Sex Pistols," and indeed they present a "hell-for-leather roadshow … infamous for its unique brand of Southern Gothic that is all-at-once irreverent, revisionist, soulful, dangerous, and fun," according to the band.
Led by rail-thin blues harpist Col. J.D. Wilkes, the quartet offers up "explosive interpretations of the blues, punk, rock, and country [that] have made fans, critics, and legions of potential converts into true believers."
I checked out a few videos online and the band will appeal to fans of Southern Culture on the Skids, C.W. Stoneking, The Devil Makes Three, and Tom Waits.
Wilkes' stage antics have been compared to those of Iggy Pop, David Byrne, and Jerry Lee Lewis. The band has toured with kindred spirit The Reverend Horton Heat, and Time Out New York magazine called the Legendary Shack Shakers one of the "Top Ten Live NYC acts of the year."
The Delta Bombers will open the show with their hybrid '50s roots rock, blues, and rockabilly. This show ought to be a hoot.
More music …
The Cuesta College music faculty presents their 13th annual concert this Friday, Feb. 10, in the CPAC on campus (7:30 p.m.; all ages; $15 general admission or $10 for students and seniors at cpactickets.cuesta.edu or at the door). Funds go to the Music Student Scholarship Fund, and performers include Inga Swearingen, Ron McCarley, Michael Walker, Jumi Kim, Marcy Irving, Ken Hustad, Jeff Miley, Jennifer Martin, Cassandra Tarantino, Chad Ruyle, Alexander Kato-Willis, Idona Cabrinha, Bob Bennett, and David Becker performing classical, jazz, and folk music.
How about some free music in a great venue? On Friday, Feb. 10, Cal Poly presents Night at the Mission, featuring performances by some of the university's finest student ensembles performing contemporary and traditional chamber music (8 p.m.; all ages; free), in the SLO Mission. Expect a brass quintet, clarinet and string quintet, string quintet, tuba and euphonium ensemble, woodwind quintet, brass ensembles, saxophone quartets, a large clarinet ensemble, and a brass choir.
PHOTO COURTESY OF ROB ICKES AND TREY HENSLEY
AMERICANA MASTERS: Rob Ickes and Trey Hensley play two SLOfolks shows this week, Feb. 10 at Coalesce Bookstore; and Feb. 11 at Castoro Cellars.
Americana duo Rob Ickes and Trey Hensley play two SLOfolks shows this Friday, Feb. 10 (7 p.m.; all ages; $20 tickets at 772-2880), in Coalesce Bookstore; and Saturday, Feb. 11 (7:30 p.m.; all ages; $20 tickets at 238-0725), at Castoro Cellars. Ickes has been Blue Highway's dobro player for nearly two decades and won Bluegrass Dobro Player of the Year 15 times. Hensley played the Grand Old Opry for the first time at age 11 and has shared the stage with the likes if Johnny Cash, Charlie Daniels, and Peter Frampton. "Now Rob and Trey have joined forces to create a sound that is steeped in tradition, yet manages to put a fresh spin on old standards," SLOfolks wrote. "It's not country; it's not blues; it's not bluegrass; it's 'Rob and Trey!'"
Award-winning singer-songwriter Bobby Jo Valentine comes to the Música Del Río house concert series in Atascadero this Saturday, Feb. 11 (7:30 p.m.; all ages; $20 donation; reservations at 466-6941). He's won Songwriter of the Year at West Coast Songwriters Association twice, in 2011 and 2015. "We first heard Bobby Jo in concert at least five years ago," concert organizers Fred and Sharon Munroe said. "Since then, we have listened to the refinement and growth of his music. We both decided it was time to share Bobby Jo with all of you."
All you swingers get ready for a wonderful romantic yet jumpin' evening as that legendary Central Coast swing-jazz combo The Viper Six plays a special Valentine's Day Swing Dance at D'Anbino Vinyards and Cellars, on Saturday, Feb. 11 (8 p.m.; 21-and-older; $10 admission; call 227-6800 for reservations). Featuring Emy Bruzzo on vocals, Ted "Catalina Eddy" Waterhouse on guitar, Robert Alberts on trumpet, Dr. Bob Brenman on saxes and clarinet, Travis Harms on upright bass, and Daryl Vandruff on drums, they promise to have you tearing up the dance floor!
PHOTO COURTESY OF DAVE BECKER AND RON MCCARLEY
SAX YOU UP: Dave Becker (left) and Ron McCarley play the SLO Jazz Fed's Saxophone Summit on Feb. 12 in Morro Bay's The Siren.
The SLO County Jazz Federation presents Saxophone Summit this Sunday, Feb. 12, in Morro Bay's newest venue, The Siren (4:30 p.m.; 21-and-older; $20 general admission, $15 for Jazz Fed members, or $10 for students). "Sax masters Dave Becker and Ron McCarley, along with local standout Scott Liddi, join forces with five other professional saxophonists in various formats from soloists to the entire sextet," according to press materials. "Stellar rhythm support will be provided by Marshall Otwell on keyboard, Ken Hustad on bass, and drummer Darrell Voss. In addition to Dave, Ron, and Scott, the saxophonists include Andrew Conrad, Anthony Donatelli, Sam Franklin, Jake Hammer, and Michael Mull.
Seattle's Happy Heartbreak, an indie rock quintet featuring a cello, plays Frog and Peach on Wednesday, Feb. 15 (10 p.m.; 21-and-older; free). They're touring from Seattle to San Diego and back for their two-week February Feels Tour. Feel some feels!
Keep up with New Times Senior Staff Writer Glen Starkey via Twitter at twitter.com/glenstarkey, friend him at facebook.com/glenstarkey, or contact him at gstarkey@newtimesslo.com.