For those of you attempting to keep track of the comings and goings of county arts administrators and spaces, 2007 has been a year of change.
At the beginning of 2007, Tim Anderson, who had been curator at the SLO Art Center for seven years, left the organization to become curator of the Cuesta College Art Gallery. In March, Amy Grimm took over the position of curator at the Art Center. She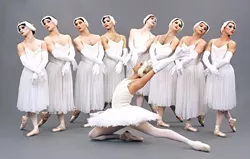 PHOTO BY SASCHA VAUGHN
LES BALLETS TROCKADERO DE MONTE CARLO: The Trocks, an all-male, cross-dressing, New York-based ballet troupe performed at Cal Poly's Performing Arts Center on Feb. 16. These dancing divas, whose talent as artists is rivaled only by their penchant for comedy, have challenged conventional notions of male dancers through more than 500 cities and 33 countries. Pictured above is the Trocks' rendition of Swan Lake.
# resigned in September, and the group recently announced that a new curator--Gordon Fuglie--has been selected. He'll begin work in January.
In February, the Clark Center hired Connie O'Henley as the new executive director. O'Henley's predecessor, Blythe Rainey-Cuyler, was hired in September of 2006, following a string of unexplained departures and resignations from past executive directors.
In May, bree valle directed Hair at Cuesta College, announcing that though she would still teach for the drama department, it would be her last performance. The dedicated instructor had directed nearly 20 performances over the course of her six years teaching at the school.
In March, Michael Ackerman, who had recently opened a gallery called Dwellinart, constructed a sheet metal faÁade for the front of his business without seeking the necessary permits from the city. In April, a city employee notified Ackerman that an anonymous city official had complained about the unauthorized faÁade and instructed him to submit necessary architectural review forms for the Garden Street gallery. Ackerman removed the faÁade in June, replaced it with a new and equally unauthorized faÁade made of papers in July, and then created the Funky FaÁade Fracas to help stir up public support. On Nov. 10, Ackerman hosted an "eviction party." The gallery that was born in 2007 would not live to see 2008.
On Nov. 18, Pacific Repertory Opera co-founder and general director Jill Anderson announced that she would be stepping down from her role in June of 2008. After 23 years with the opera, Anderson's role would be assumed by Robert Ashens.
After three years working as executive director of the SLO Little Theatre, dancing and singing her way through numerous Legends shows, Donna Sellars resigned from the Little Theatre at the end of summer. In October, Wendy-Marie Foerster became the new executive director.
Arts Editor Ashley Schwellenbach has a long list of people to kick before the year is over. Ask whether you should purchase shin guards at aschwellenbach@newtimesslo.com.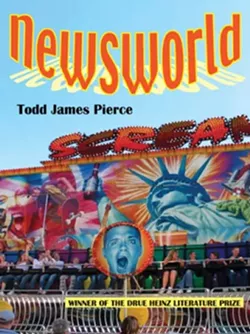 IMAGE COURTESY OF TODD JAMES PIERCE
NEWSWORLD : Cal Poly assistant professor Todd James Pierce released a book of short stories, titled Newsworld. Featuring a high school drama department that performs Columbine: The Musical, and a theme park where OJ Simpson's police chase becomes a thrill ride, this insightful collection of stories explores the collapse between reality and entertainment, particularly in the media.
#
IMAGE COURTESY OF FRANK SUFFERT
THE SAN LUIS OBISPO INTERNATIONAL FILM FESTIVAL : This year, the SLOIFF managed to cram more than 85 films into 11 days, kicking off the event on March 1 and concluding March 11. Film buffs had the opportunity to attend workshops, red carpet events featuring James Cromwell and Norman Jewison, and films created by amateurs, professionals, and students. Pictured is a scene from Frank Suffert's documentary Desert Dreamers.
#
PHOTO BY DAVID BAZEMORE
BRECHT IN THE SPRINGTIME : In March, two local theater companies--Pacific Conservatory of the Performing Arts and the Cal Poly Theatre Department--performed plays by Bertolt Brecht, an anti-Nazi playwright who didn't believe in allowing audiences to use theater for emotional escapism. PCPA performed The Caucasian Chalk Circle and the Cal Poly Theatre Department performed Round Heads and Pointed Heads. Pictured is Vanessa Ballam as Grusha in PCPA's production of The Caucasian Chalk Circle.
#
PHOTO BY BARRY GOYETTE
SIDEWALK STORIES : Choreographer Drew Silvaggio, creator of Civic Ballet of San Luis Obispo's Pink Floyd-inspired production of Alice in Wonderland, wrote a ballet based on Shel Silverstein's Where the Sidewalk Ends. The performance, Sidewalk Stories, debuted on March 30 and featured content from beloved childrens' poems like "Ourchestra," "Traffic Light," and "Me and My Giant." Pictured is Nellie Salisbury depicting the poem "Sister For Sale."
#
PHOTO BY JESSE ACOSTA
SOFT SERIES : Nebraskan Elizabeth Ingraham exhibited six women made from a variety of fabrics at the Art Center March 2 through April 29. Her velvet, neoprene, polyester, and canvas women were inspired by a poem she wrote about a woman needlepointing a woman. Ingraham's figures stood, somewhat menacingly, in the Spotlight Gallery representing envy, resistance, resilience, and several other qualities and emotions that play a role in the fabric of a woman's composition.
#
PHOTO BY ERIC DISTEL
FASCIST ART PARTY : San Luis Obispo's favorite hippie house, The Establishment, hosted a Fascist Art Party on May 19. The two-story co-ops' 19 residents, under the direction of fellow resident, student, and New Times journalist Kyle Mendonca, turned their house into a temporary gallery, mocking fascist aesthetics and principals and exposing the local art scene to something distinctive and fresh. Pictured is Banana in Bondage.
#
PHOTO BY KEITH MOSHER
JUXTAPOSED : Contemporary SLO-based dance troupe, Variable Velocity, hosted its annual dance show, Juxtaposed, at the Spanos Theatre June 7 through 9. Choreographers Diana Stanton and Jude Clark Warnisher led their troupe through an exploration of juxtapositions within today's world through experimental dance.
#
PHOTO COURTESY OF CHRIST THE KING CHOIR
CALIFORNIA INTERNATIONAL CHORAL FESTIVAL : The Vocal Arts Ensemble hosted the first-ever California International Choral Festival, welcoming seven choirs from five different countries to participate in the competition. Heavenly song resounded throughout San Luis Obispo County from June 28 to July 1. Pictured is the Christ the King Choir from Uganda.
#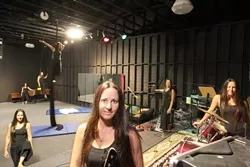 PHOTO BY STEVE E. MILLER
ECHO ARTSPACE : A new arts venue in Grover Beach, called ECHO Artspace, became available for use by public artists in mid-2007. The space's owner, Linda Camplese, allows interested artists to commandeer the space for workshops, exhibits, rehearsals, and performances. All that the artists have to pay in exchange is their utility bill. Pictured is Linda Camplese (many times over) in the dark, anything-goes space.
#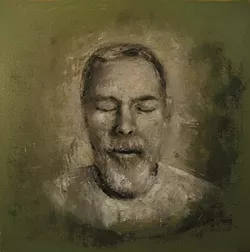 IMAGE BY SHANE YATES
EVOLUTION : Painter Shane Yates exhibited "Evolution" at the Steynberg Gallery Sept. 7 through 30. Quite fittingly, the show evolved from an exhibit of Yates' psychological portraiture into a display of multiple themes and styles of art.
#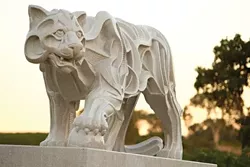 PHOTO BY STEVE E. MILLER
SCULPTERRA WINERY : Paso Robles wine country received an unprecedented new guest in the fall, when Sculpterra Winery opened its doors to the public. Winery owner Warren Frankel commissioned sculptor John Jagger to create one dozen winding, mammoth sculptures for the walkways outside the winery. Among the behemoths are fish, horses, a domestic cat, a puma, a mammoth, and a mermaid. Pictured is Puma.
#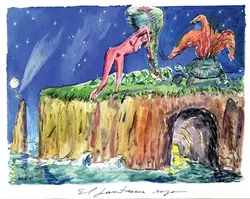 IMAGE BY HERNAN CASTELLANO GIRON
A FAREWELL EXHIBIT : Chilean artist and retired Cal Poly professor Hern·n Castellano GirÛn exhibited his paintings in a farewell sale at ARTS Space Obispo Oct. 29 through Nov. 2. After living in the United States for more than 20 years, Castellano GirÛn is returning to Chile after a nearly 35-year exile. His paintings illustrated the words and visions of several of his favorite poets. Pictured is The Red Ghost.
#