Thirst is a beautiful word, elegant, old-fashioned, and often used to express a quest for knowledge or achievement. Rarely is the word 'thirst' used in a context that implies desperation or dehydration. Marianne Orme—owner of Linnaea's Cafe—and photographers Kameron Ahler and Daniel Neal are hoping to alter that fact with a few photographs.
PHOTO BY KAMERON AHLER
THAILAND:
At the tail end of 2007, and during the first few months of 2008, Ahler and Neal—friends who studied psychology together at UCSC—embarked on an expedition that had them criss-crossing around the world, sometimes together, sometimes on divergent paths. Collectively, they visited New Zealand, Australia, Thailand, Cambodia, Italy, Spain, China, and Korea.
The original impetus to travel had been a post-graduation desire to escape the lives and paths they had always followed, to experience and see something different in the hopes that it would shape their futures.
"I had a lot of friends who had done a lot of traveling and it just feels like I wanted to see something different," explained Ahler. "I kind of wish I was still out there. For both of us it was a growing experience. We had just finished college and didn't have very much direction in life."
The pair documented their world-wanderings with photographs; both were amateurs but Ahler insists that under the influence of ever-changing and beautiful new scenery as well as increased application his skill level increased. So much so that he is now pursuing a career as a photographer.
Ahler made another important decision while traveling through Thailand, after witnessing the poverty in Cambodia, the decision that would link his work and interests with Orme's Garden Street cafe, an entire ocean and worlds away from impoverished Cambodia.
"I really don't like the idea of tramping on other people's places without being integrated," said Ahler. "If my images were coming from places like this I'd really like them to help those people."
PHOTO BY KAMERON AHLER
ON THE SUBJECT OF THIRST :
Despite the fact that he had trimmed and edited along the way, Ahler returned from his travels with something like 2,000 to 3,000 images, about a third of the number that he had taken. He approached Orme with a selection of photographs, hoping to exhibit them at Linnaea's.
"I always book the artists pretty much a year in advance but this year I kept one month open. I kept October open thinking that something I would really like would come along," said Orme.
When Ahler announced that he wanted all of the proceeds from the exhibit to be donated to a nonprofit, Orme—already dazzled by the photographs he had shown her—knew that the impulse to save October for something special had been rewarded.
Choosing a single worthy cause among an endless list of possibilities was difficult, but Orme, Ahler, and Neal eventually agreed upon Thirst-Aid. Operating out of Burma, Thirst-Aid is an organization that advocates safe water. It was particularly appealing to Ahler and Orme because Thirst-Aid provides assistance in a sustainable manner—educating the populace and providing them with the tools to produce their own clean water—and because a small sum of money can have a far-reaching effect. A mere $20 can purchase a filter for an entire family, $100 can supply a local school or monastery, $500 can support a hospital, and $1,000 can fund water for an entire village.
"We take clean water for granted," said Orme, who will place a donation bucket beside the water pitcher at Linnaea's during the month of the exhibit. "It would be glorious to be able to supply water to a village."
Narrowing thousands of images and months of travel into a handful of photographs was by no means a simple process. Ahler and Neal faced the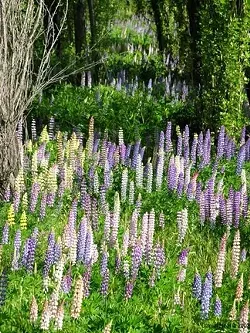 PHOTO BY DANIEL NEAL
WHAKATANE FLOWERS :
unenviable task of creating a portrait of the places they had seen—an eccentric melding of third and first world countries spanning three continents. And, in addition to an incentive to raise money for a laudable cause, this exhibit marks an important stage in Ahler's new career path as a photographer.
"I want my prints to be unique so I try to get images that I think people won't necessarily see otherwise and that's a little difficult because there are so many images in the world nowadays. Originally I was more focused on what I thought would sell but as I talk to people I realize people have really different tastes," he reflected. "If you try to appeal to the general public you fail. With sunsets and stuff like that—everybody's seen a sunset."
INFOBOX: Coffee for water
Photography by Kameron Ahler and Daniel Neal will be on display at Linnaea's Cafe during the month of October. Proceeds from the sale of their work will be donated to Thirst-Aid, an organization dedicated to providing Burma with safe drinking water. During Art After Dark on Oct. 3, from 6 to 9 p.m., all cafe sales will also be donated to Thirst-Aid.
---
Arts Editor Ashley Schwellenbach would quit sunsets cold turkey for one trip around the world. Send hot air balloons and gps to aschwellenbach@newtimesslo.com.