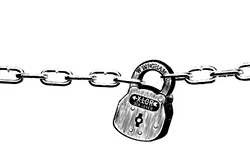 From San Diego's sandy shores to the towering redwoods in the northernmost areas of the state, California's 278 state parks represent our rich natural and cultural heritage. Incorporating more than 1.5 million acres and a wide diversity of environments, California's state parks were once considered the crowning jewel of state parks nationally. Unfortunately, the sparkle once associated with California's state parks has worn off.
If you visit a California state park today, it's possible that instead of being greeted by a park ranger, you'll be greeted by a padlock and a "closed" sign. For decades, California's state parks have been chronically under-funded. Roofs and sewage systems leak, restrooms are not cleaned regularly, bridges have collapsed, trails are washed out, campgrounds and visitor centers are shuttered, and buildings and other structures throughout the system are badly deteriorated.
Crime in the parks has soared, and vandalism of the parks themselves has greatly intensified.
Collectively, the state's parks have a $1.3 billion backlog in maintenance and repairs, turning the nation's best state park system into one of the country's most endangered, according to the National Trust for Historic Preservation. Twice in the past two years a majority of California's state parks and beaches faced total closure. Only last-minute budget reprieves—in response to the outcries of thousands of state residents—kept them open.
Nearly 150 state parks were padlocked for the winter or their days and hours of operation reduced because of last year's budget cuts. Without stable funding, California's parks will continue to deteriorate.
That's why our organization, the California State Parks Foundation, has joined a coalition of more than 450 organizations from the business, education, labor, environmental, conservation, seniors, public health, and safety communities in supporting Proposition 21. Those organizations include the Nature Conservancy, California Teachers Association, California Travel Industry Association, and the California State Lifeguard Association.
Put on the ballot by citizens who are fed up with the games politicians play with our state parks, Proposition 21 will provide state parks with the reliable and adequate funding needed to ensure they remain open and maintained. Under Proposition 21, California vehicles would receive free, year-round day-use admission to California's state parks and beaches, in exchange for a new $18 annual surcharge on most California vehicles. In comparison, many state parks and beaches outside California charge as much as $15 for a single day-use pass or $125 for an annual pass.
All of the money from the surcharge would be deposited into a trust fund, where, by law, it could only be spent on state parks and wildlife conservation—politicians couldn't touch it. The funds would be subject to an annual audit and review by a citizens' oversight committee to ensure funds are invested properly.
Proposition 21 is part of solving our state's budget crisis. Not only would our state parks no longer be forced to ride the state's never-ending budget rollercoaster, but there would one less issue for politicians to squabble over during budget negotiations.
California's state parks help drive our economy, educate our children, improve public health, and connect families. California's parks attract more than 80 million visits annually. Visitors are the lifeblood for local economies and businesses, spending $4.32 billion annually for park-related purchases.
More than 500,000 students enjoy learning and participating in outdoor education programs in California state parks every year. These outdoor education programs bring classroom concepts to life and encourage lifelong academic engagement.
California's state parks help improve public health by offering low-cost recreational opportunities. With one-third of the state's children and half of all California adults either overweight or obese, state parks provide rich opportunities for outdoor recreation and exercise, which can improve public health, lower mortality rates, and help reduce public spending on health care.
Proposition 21 is the only tangible solution to stop the vicious cycle of chronic under-funding by politicians that is starving our state parks. California's state parks are priceless public assets and a legacy for future generations that deserve support. On Nov. 2, please vote yes for Proposition 21. For more information, visit YesForStateParks.com.
Elizabeth Goldstein is president of the California State Parks Foundation, a statewide, independent nonprofit organization with 115,000 members, dedicated to protecting, enhancing, and advocating for California's magnificent state parks. Send comments via the opinion editor at econnolly@newtimesslo.com.