Triassic Period (230 million years ago or, for New Times purposes, January to April)
Santa Margarita Adventures zipped right into the mouth of a bureaucratic monster when the eco-tourism business built an unpermitted zipline over scenic wine country. From January to March, the San Luis Obispo County Planning Commission, Board of Supervisors, and staffers met to authorize changes to the county's pre-historic Land Use Ordinance, which didn't address new structures like ziplines, giant swings, and bungee jumping platforms. They agreed not to eat the zipline after all.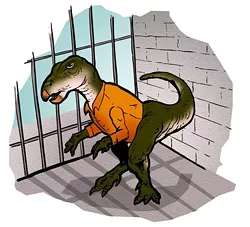 In February, New Times introduced a fearsome beast from behind bars, but it turned out that our new columnist, Roman Navarro, was a lot like every other beast in the jungle, despite his sharp tongue and frequent brushes with the law. As an inmate, Navarro let the community take a closer, personal look at the tar pits of SLO County Jail.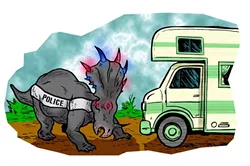 Also in February, San Luis Obispo police began a coordinated crackdown on people sleeping overnight in vehicles throughout the city, leading many in the community—including a Superior Court judge—to accuse the city of criminalizing homelessness. That same judge later ordered the cops to stop, and the city scrambled to reword the law to allow them to continue enforcement—but it came with one hell of a price tag to taxpayers.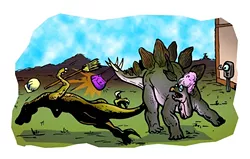 Tired of being pushed around by the sharp-toothed, powerful utility company that is PG&E, paranoid energy-eaters petitioned the California Public Utilities Commission until they created a plan that would allow consumers to opt out of installing smart meters in their homes. Of course, opting out cost an extra 75 bones up front and $10 per month after that.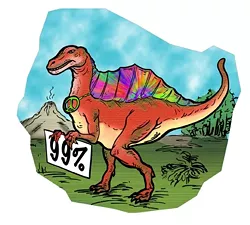 After six months of public protest outside the SLO Courthouse, the Occupy movement seemed to go extinct on March 4, when the canopy vanished without leaving a fossil behind. The spirit of the movement continued to live online, however.
Jurassic Period (200 million years ago, or, for New Times purposes, May to August)
In May,
a New Times
archaeologist unearthed the remnants of a veritable graveyard for aquatic animals. Dubbed "Seal Guantanamo," the Morro Bay Aquarium was cited for 22 violations of the Animal Welfare Act between April 2009 and August 2010. Fun fact: Harbor seals in captivity generally live to be 25 years old, but the seals that died at Morro Bay Aquarium averaged just 6.73 years!
Savvy readers once again voted to choose the best SLO County businesses, people, places, and activities in several dozen categories in our

"Best Of" contest. The results were announced in May, illustrated with elaborate, video game-inspired photographs. Yoshi is a video game character
and
a dinosaur. Boom! How's that for a thematic tie-in?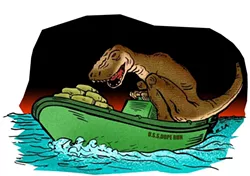 S
LO County got its first taste of Mexican panga smugglers washing up on shore in June, following a steady increase in similar incidents in Southern California. It wouldn't be the last such encounter; authorities would discover three more drug smuggling skiffs in the same location over the next five months.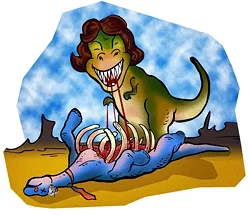 In June, a mild-mannered leaf lover was devoured by his ferocious opponent in the race for a seat on San Luis Obispo County Board of Supervisors. Incumbent Jim Patterson lost the race to Debbie Arnold, whose business-friendly policies are expected to tilt the board majority so that developments pass through more easily.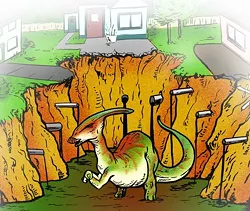 In June, the Central Coast Water Board levied a $1.38-million fine against the South San Luis Obispo County Sanitation District for a sewage spill that occurred in December of 2010. The sanitation district disputed the penalty in September, but it stuck. In October, John Wallace stepped down as the Oceano Community Sevices District's engineer the day after an interview with
New Times
.
Flying creatures caught a break in the June election when California voters approved a ban on foie gras, the delicacy made from force-fed goose livers.
New Times
took a look at how the dish is prepared and what effects the law will have on restaurants, ranchers, the public, and the birds.
Rejoice, Atascadero! You've approved another classy retailer for your city! What's that? Some Scrooges have stymied what could be the biggest draw to your city with a lawsuit? Don't worry: if it doesn't work out, Wally World's always a mere 10-minute drive to the north. Spend money, live better!
The Doobie Dozen run free! A proclivity for a certain illegal plant got 12 smoke-osaurus rexes in trouble with the law in 2010 for distributing a plant that's decriminalized for medical purposes but illegal under federal law. In January 2012, cases were dismissed against six defendants, and by August, all the charges were dropped—though the District Attorney's Office is appealing to a higher court.
Ever the hard-headed curmudgeon, Dan De Vaul continued to battle like an angry ankylosaur with SLO County in 2012 over conditions at his sober living facility and farm. A fee waiver for permits to improve the place was denied in January. Cal Poly students volunteered to help clean up in April, but the effort wasn't enough. Judge Charles Crandall ordered that everyone evacuate in August, as if a volcano were about to erupt.
Cretaceous Period (65.5 million years ago, or, for New Times purposes, September to December)
In September, the long-awaited trial of SLO firefighter John Ryan Mason finally got underway and played out like a bad
Days of Our Lives
episode, complete with dirty little secrets, plenty of finger-pointing, and icy stare-downs from the defendant to those not sitting on his family's side in the audience. Mason ultimately came out on top over the District Attorney, but was promptly fired without explanation anyway. Where there's smoke … .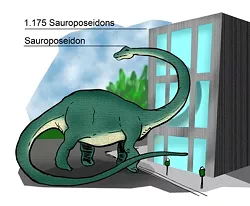 The average height of a Sauroposeidon is 40 feet. The Carissa Building—SLO Brew's new home, come 2015—would eclipse our dino chum by some seven feet. Where are you, Save Our Downtown?! The group lost its challenge and the SLO City Council approved the Great SLO Brew relocation. Maybe try to save something smaller next time. Our writers' bank accounts, for example.
Even as the long-overdue Los Osos sewer project was finally getting underway, the "sewer nuts"—poised and effluent as always—kept up their relentless criticism before the exhausted board of supervisors. Later in the year, the same group turned to project supporter Bruce Gibson's extramarital affair as some sort of vindication and called for his resignation, presumably in favor of having a project critic elected to the board.
Ongoing
Our prehistoric ancestors typically stayed in one area until the water source dried up, then moved on in search of another. Here's looking at you, Cambria, Paso Robles, Nipomo, Oceano, Arroyo Grande, Templeton, Santa Margarita, and San Luis Obispo.
It was a year of many retirements, a few resignations, and two elections, where some politicians and public servants came, some went, and some stayed. Sam Blakeslee, Tim Olivos, Dan Gilman, Lisa Solomon, Jim Patterson, Bill Yates, Warren Jensen, and Jerry Clay: We'll miss you. And a warm welcome to Debbie Arnold, Jamie Irons, Christine Johnson, Amy Christey, and Manny Guaderrama. Sorry in advance for the Shredder.
Observe the evolution of Jan Marx from a green-eating, progressive, hipster-courter to cold-hearted carnivorous politico. Some say it was that late-night offensives upon the Carsleepasaurus that earned Marx her mean teeth. Others say it was her hunting and gathering with developers. (cough) Copelands! (cough)

Did we miss something? Send comments to Managing Editor Ashley Schwellenbach at aschwellenbach@newtimesslo.com.