PHOTO COURTESY OF CUESTA COLLEGE
EXCHANGING ONE RELIGION FOR ANOTHER : A 1970 photograph of the military chapel at the beginning phase of its transformation into Cuesta College's Interact Theater.
For a building situated somewhat sleepily on the outskirts of San Luis Obispo, the Interact Theatre is a space that has lived. In fact, the venue manages to reside at the periphery of Cuesta College, an institution that shares a lonely stretch of Highway 1 with the California Men's Colony, Camp San Luis, and Woods Humane Society. It's an unlikely setting for such names as Bertolt Brecht, Steven Dietz, Anton Chekhov, and Eugène Ionesco.

The Interact Theatre began its eccentric existence as a humble World War II-era military chapel at Camp San Luis, which the Cuesta College Board of Trustees decided to appropriate as a theater in April of 1970. The existing theater, The Play Box, could seat a mere 30 theater patrons, whereas the chapel contained space for 150. The Interact Theatre began its new glamorous existence in March of 1971 with Brecht's The Good Woman of Setzuan. And on May 10 it will bid an absurd adieu with its closing performance of Ionesco's Rhinoceros, to be replaced by the college's new Theater Arts Building, which will open in the fall and has a maximum seating capacity of 450.

Cuesta College has had its sights on a new performing arts venue for more than a decade, but it was only in the last three years that the state allocated funding for the project. What began as a budget of $12.7 million eventually became $17 million, and—after former interim president Ed Maduli lobbied for additional financing—the $24.5 million necessary to begin construction. The new space is equipped with a primary theater that seats 450 (400 if the orchestra pit is in use), a 100-seat experimental theater, and a green room that can be utilized for recitals.

The space cannot properly be called a performing arts center, as it will not be available for community use, at least during the first few years of its existence. According to Stephen Gunsaulus, director of marketing and communications advancement, it's nigh impossible to make a profit in a theater with fewer than 1,100 seats—which would require that any big-name performers or acts that were invited to the theater would have to be subsidized. Plus, the college wants to ensure that the building's foremost beneficiaries are the students. Toward that end, faculty members, designers, and administrators collaborated in designing the space.

The primary theater boasts a catwalk, a trap door to enable mysterious comings and goings, and all the necessary rigging for performers to transcend earthly bonds à la Peter Pan. The 28,000-square-foot facility features a costume construction room equipped with sewing machines and laundry facilities, a costume storage room, a theatrical lighting storage space, and a scene shop brimming with lathes and saws and sundry other construction indispensables.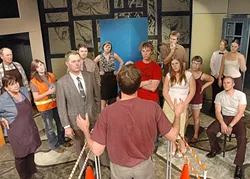 PHOTO BY JAY THOMPSON
BEFORE THE LATEX MASKS : The cast of Rhinoceros.
And it's an all-inclusive space; dancers, musicians, and actors will breathe the same creative air after spending years in isolated and far-flung regions of the campus. The music department has been hosting its near-weekly performances at the student center, where the acoustics are contemptible and students have to set up their own microphones and risers. Dance classes have been hosted in the physical education department and Gunsaulus can't recall seeing a single dance recital in his seven-and-a-half-year tenure at Cuesta. Several years ago the art gallery played host to a performance artist, but the acoustics were like those of an echo chamber and the experiment was never repeated.
That's where the performing arts have been situated until now, fractured and mired in artistic squalor. The new theater is not on scale with the PAC, not as intimate as the SLO Little Theatre, or as quirky as the Pewter Plough Playhouse, but it's no shabby place to call home.
"I've never seen a curtain call at the Interact Theatre," joked Gunsaulus. "There is no curtain. They've been very creative with set design—remarkably creative. But this is a much more traditional space."
For the drama department, which has developed a tradition of creating do-it-yourself solutions to the challenges posed by their found theater space, the move to the larger, better equipped theater represents new possibilities, but also an end to rogue operations. In preparation for their performance of Rhinoceros, for example, students drilled a circular hole into the floor—you'll have to attend the show to determine the purpose of this endeavor. While burrowing through the stage, the crew peeled away an unexpected slab of the theater's history, layers of paint that had congealed into a solid mass several inches thick. Jackson is distributing the scraps among theater-lovers.
While they can't structurally alter the space, drama instructors and students have rappelled from the ceiling, thrown saw blades into walls, and generally conducted themselves in a manner befitting creative people with a minimal budget and limited authoritarian interference.
LAST CHANCE: Cuesta College Performing Arts presents Rhinoceros April 30, May 1, May 2, and May 7 at 7 p.m., May 3 at 2 p.m., and May 8 and 9 at 2 and 7 p.m. Tickets cost $10 for students and $12 for general admission and can be purchased by calling 546-3195.
Rampaging rhinos seemed like an appropriate farewell, according to Richard Jackson, a stagecraft and technical theater instructor who has the honor of directing the theater's final performance while customary director bree valle concludes her yearlong sabbatical. Jackson selected Ionesco's 1959 play—a member in good standing of the Theatre of the Absurd—for its rich history, challenging material, and its non-specificity. An unhappy, and questionably alcoholic, Frenchman—Bérenger, played by Rob Cowell—is stirred to action when his fellow townspeople begin inexplicably transforming into rhinoceroses in a sequence of events that many interpret as a criticism of mass acceptance of fascism, communism, and Nazism. But Jackson takes the play on a different route altogether.
"The thing I like about this play so much is that it is so non-specific in terms of the period and the locale that it kind of transcends itself. It leaves itself open to interpretation," he said. "It doesn't have to be about fascism. That's not what our play is about at all. In our production it's more about the classic head versus heart"—with head represented by humans, and rhinoceroses embodying the instinctive qualities of the heart. And for an absurdist play, Rhinoceros isn't all that, well, absurd. If you can get beyond the fact that people are transforming into rhinos. Sure, there's a logician who postulates, "All cats die. Socrates is dead. Therefore, Socrates is a cat." But the play follows a fairly traditional structure with a strong story line that audiences will be able to follow without much confusion.
Perhaps the most difficult sell were the show's primary cast members—Cowell, Leah Cheney who plays Daisy, and Steve Hunt who plays Jean—none of whom were eager to enter the world of absurdist theater. They've since become fans, acceding to Jackson's request that they watch YouTube videos of rhinoceroses as research for their roles. They even have some well-developed theories as to why Ionesco selected the horned, odd-toed ungulate as his title beast.
"I would say the rhino is the perfect example of a purely primal animal. It acts off instinct," Cowell explained. "If humans are turning into monkeys, who cares, right?"
Then there are the many varieties of rhinoceroses, white and silver-brown, and one-horned or two, which undermine Bérenger's belief that all rhinoceroses are identical. In fact, Jackson calls this attitude prejudice and subverts the more traditional interpretation of the play by refusing to assume that the rhinoceroses are inherently evil.
Jackson has reason to believe that audiences, too, will take a chance on an absurdist play, theorizing that local audiences are "probably more accepting than we give them credit for."
"It does draw a smaller crowd," he admitted. "I guess it depends on your purpose. In an educational system our plays shouldn't be picked by their market appeal. We can't continue to do Rodgers and Hammerstein because they'll sell out every time."
IMAGE COURTESY OF CUESTA COLLEGE
COUNTDOWN : A rendering of Cuesta College's new Theater Arts Building, slated to open in the fall.
A dedicated band of local theater junkies have combined to make Jackson's vision a reality; a former student created latex rhinoceros masks for the cast and local director Anet Carlin assumed responsibility for lighting design. The set is equal parts Disneyland street scene and African safari, with a colorful touch of Dr. Seuss that manages to thread through the play's dialogue in rhymes and repetition. "My poor little cat, my poor little cat," cries a woman on the street, to an ensemble response, "It's very upsetting, a thing like that."
After 15 years of working in the chapel-turned-theater, Jackson is understandably sentimental about leaving the found space behind, to a rather prosaic future as a shipping and receiving warehouse. And he admits that the jump to a larger theater will require a sacrifice of the intimacy that is the birthright of smaller venues. But he's willing to accept the trade-off between the synergy of the smaller space and the technical toys of the new, larger theater.
"Instead of talking about what a fly system looks like I'll be able to walk into a space and students will have a first-hand experience with contemporary equipment. It's not just going to change how we produce things. It's going to change our program in terms of what we offer."
With any luck, the Theater Arts Building will play host to stampeding quadrupeds, students rappelling from the heavens, and instructors passionate and brave enough to forego Rodgers and Hammerstein in favor of meatier subject matter. Adieu, Interact Theatre, and bonne chance to the new.
Arts Editor Ashley Schwellenbach hearts absurdity. Send stern frowns to aschwellenbach@newtimesslo.com.