For kids all over the country, the Parkland School shootings became the last straw. Earlier this year, on March 14, students across the nation walked out of class and observed 17 minutes of reverence for those killed. They took to the mic and spoke, sang, and reminded each other that they have the power to change things if they band together and collectively raise their voices.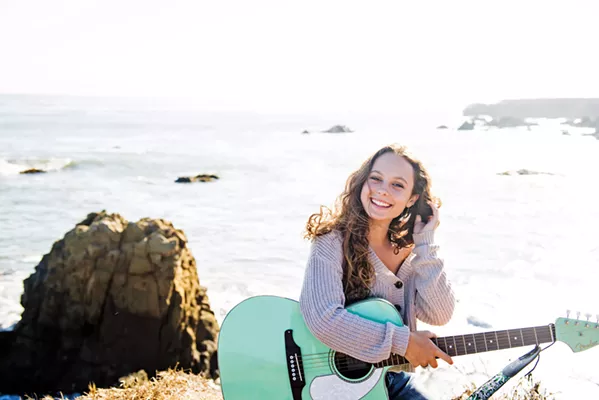 Photo Courtesy Of Vanessa Plakias
RISE New Times Music Awards winner Amalia Fleming, who's just 16 years old but bursting with talent, plays SLO Brew Rock on Aug. 25.
One of the student protesters was Morro Bay High School student Amalia Fleming, now 16, who sang her original song, "Renegades" to her classmates and members of the press covering the protest.
"No one's ever had to save the world before/ They're giving something we can't ignore, something we can't ignore/ No one's ever known what it's like to be running out of time/ It's like being at the scene of a crime, rushing to cover up lies/ I have big dreams for the world, hope we become something more."
The real kicker was her chorus, both a condemnation of adult apathy as well as a call to arms to speak truth to power.
"To hell with their games / We were born to be renegades / We spit our words to ignite the rage / And raise our voices to fan the flames," Amalia sang in her lilting, elastic, expressive voice.
News coverage of the Morro Bay protest and Amalia's song caught the ear of Bowling Green State University ethnomusicologist Katherine Meizel, who asked that it be included on an upcoming nationally released compilation album of student protest songs called Raise Your Voice, with proceeds benefiting the nonprofit organization Everytown, which aims to end gun violence.
To promote the compilation, Amalia will perform "Renegades" at the Hardly Strictly Bluegrass Festival in Golden Gate Park on Sunday, Oct. 7, at 3 p.m. in front of about 65,000 people, her biggest audience by far.
It takes guts to be a songwriter and musician, to get up in front of people and bare your soul. Does she ever get nervous or doubt herself?
"I used to get nervous in the beginning about getting up in front of crowds, but now I've become so accustomed to playing in front of big or small audiences, it just feels natural," Amalia said in an email interview. "Sharing my music is what I love to do. If it were to make me anxious or if I doubted myself, I wouldn't keep putting myself out there."
She's certainly had some practice. She wrote her first song at age 9 and sang it a cappella at the Live Oak Music Festival's kid talent show. The following year she returned with a new guitar and more original songs, and she's been writing almost daily ever since.
She recently recorded her first demo, Vibrations, which you can hear on her website (amaliafleming.com). Last year, she won first place in the New Times Music Awards Youth Category for her song "The Simplicity of Things." A lot of her songs are about global and self-awareness. Where does her inspiration come from?
"My songs are usually inspired from a word I see or a feeling," she wrote. "Most of the time my experiences are what inspire me to write a song. However, once I have an idea that I begin to build off of it's almost my subconscious that is downloading the lines in my songs. The rhyming lyrics and words I've heard previously I may not even know the meaning of but come to me and tend to fit just right with what I'm trying to say."
She says one of her favorite musicians is Sabrina Carpenter, "because her style of music is similar to mine in that it has an alternative pop feel but also differs. Her lyrics also relate to my experiences in life and have similar themes to my songs."
She also likes James Blunt "because his lyrics are metaphorical and melodies are uplifting and upbeat," but she says Ellie Goulding, U2, and Duran Duran also inspire her.
"The songs I choose to cover usually have a message that I relate to or even just a melody that catches my ear," she said. "When I hear a song that I like, I get my guitar and I play it to see if it works well with my voice. Sometimes the cover songs I play live I've selected to appeal to a specific audience."
Just 16 years old and she's already an award winner whose music will reach a national audience thanks to the forthcoming compilation. Does this success surprise her? What are her dreams for her music career?
"I'm amazed by all the things that are happening right now," she said. "I was so excited to find out that I made national news and I'm going to be playing in front of thousands of people. I would definitely say that I'm surprised by all of my upcoming events, but it's hard for me to wrap my head around it. I just keep saying yes to gigs and putting myself out there. I hope that I can make a career out of playing my music. I know how unlikely and difficult it is to make a living from being a live performer and musician but it's what I love to do and I can't see myself in any other profession. I plan to apply to several universities that have majors in songwriting and music. As long as I continue writing and pursuing what I want and what feels right, I'll see where this takes me."
You can see Amalia Fleming when she plays SLO Brew Rock on Sunday, Aug. 25 (1 to 5 p.m.; all ages; free). Expect mostly originals with some eclectic covers.
Punk, operatic rock, uplifting songs, and roots reggae
Numbskull and Good Medicine Presents, in conjunction with Morro Bay's The Siren, have once again set up a diverse lineup of great music for your week, starting with classic punk act the Swingin' Utters this Thursday, Aug. 23, at The Siren (7:30 p.m.; 21-and-older; $13 presale at Boo Boo's and ticketfly.com or $15 at the door), with Kevin Seconds opening.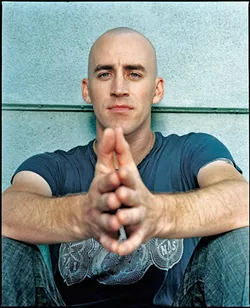 Photo Courtesy Of Tyrone Wells
OPTIMIST Wholesome singer-songwriter and family man Tyrone Wells plays The Siren on Sunday, Aug. 26, delivering his uplifting original songs.
Queen Nation, a tribute to the music of Queen, appears Friday, Aug. 24 (8 p.m.; 21-and-older; $20 presale at Boo Boo's and ticketfly.com or $25 at the door). "We Will Rock You," "Bohemian Rhapsody," "We Are The Champions," "Crazy Little Thing Called Love," "You're My Best Friend," "Another One Bites The Dust," "Under Pressure"—expect to hear the hits!
Earnest and uplifting singer-songwriter Tyrone Wells plays Sunday, Aug. 26 (7 p.m.; 21-and-older; $15 presale at Boo Boo's or ticketfly.com, or $18 at the door). He's got a terrific voice and writes great songs, and he's funny: "Tyrone Wells still sort of chuckles to himself when he thinks about the fact that making music is his 'job.' He loves to create music. He loves to perform. He is a husband, and a father of three daughters. He believes that Jesus is for real. He's writing this bio. He's referring to himself in the third person. He knows that this bio has a ring of sarcasm, but he is dead serious," he wrote in his bio.
Photo Courtesy Of Israel Vibration
THE SOURCE Roots reggae harmony group Israel Vibration plays The Siren on Aug. 30, delivering authentic Jamaican sounds.
Iconic vocal harmony roots reggae act Israel Vibration plays on Thursday, Aug. 30 (7:30 p.m.; 21-and-older; $25.50 presale at Boo Boo's or ticketfly.com, or $30 at the door). Formed in Jamaica in 1970, the group opened for Bob Marley and Dennis Brown before reaching international super stardom in their own right.
One-man sound factory
Photo Courtesy Of Mura Masa
SONIC ELECTRONIC EDM producer and multi-instrumentalist Mura Masa plays the Fremont Theater on Aug. 27.
Electronic music producer Mura Masa (aka Alex Crossan, 19) will bring his multi-instrumentalist show to the Fremont Theater this Monday, Aug. 27 (9 p.m.; $27 at eventbrite.com), with Empress Of opening. His new track, "Complicated," is lighting up the summer, and when he plays the Fremont, "he'll be surrounded by pedals, guitars, keyboards, a laptop, and microphone, building his amazing compositions live on stage," according to press materials. Expect other viral hits such as "Move Me" and cuts off his Grammy-nominated self-titled debut album.
Grunge redux
Nirvana, Pearl Jam, Soundgarden—you can't hear those famous names and not think of Alice in Chains, another hard rock band that came to prominence in the '90s as part of Seattle's grunge scene.
Alice was huge, selling more than 20 million records worldwide, with two No. 1 albums and six top 10 albums, 17 top 10 songs, five No. 1 hits, and 10 Grammy nominations.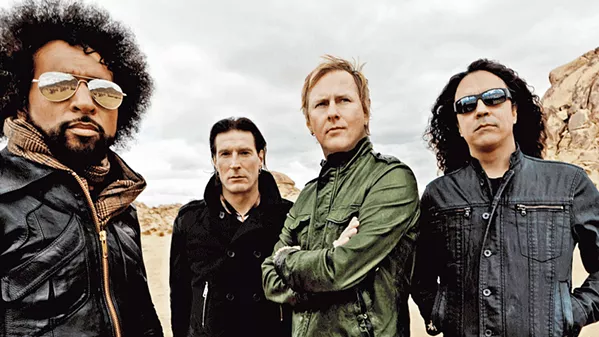 Photo Courtesy Of Alice In Chains
GRUNGE Alt-metal rockers Alice in Chains will shake the Vina Robles Amphitheatre stage on Aug. 28.
Due to lead vocalist Layne Staley's purported drug use (which he died from in 2002), the group went on an unofficial hiatus from about 1996 until they reunited with new guitarist/co-lead vocalist William DuVall for a live benefit show in 2005, and the following year they went on tour and have been going strong ever since, delivering blistering alt-metal and face-melting heavy metal shows.
They play Vina Robles Amphitheatre on Tuesday, Aug. 28 (7 p.m.; all ages; $59.50 at vinaroblesamphitheatre.com), with The Pink Slips and Starbenders.
More music ...
Photo Courtesy Of Michael Fracasso
AUSTIN CLASSIC Singer-songwriter Michael Fracasso will perform an intimate concert at Painted Sky Studios on Aug. 24.
Austin singer-songwriter Michael Fracasso will be joined by SLO favorites Bob & Wendy in an intimate performance this Friday, Aug. 24, in Painted Sky Studios (8 p.m.; all ages; $20 at Boo Boo's, Ball & Skein, or by calling (805) 927-8330). Fracasso has nine solo CDs, recorded duets with both Patty Griffin and Lucinda Williams, sings an amazing version of John Lennon's "Working Class Hero," and pays tribute to Woody Guthrie, Mickey Newbury, and Townes Van Zandt.
The annual Whale Rock Music Festival with headliners Aloe Blacc and Lake Street Dive is coming up on Saturday and Sunday, Sept. 15 and 16, but to get you in the mood, Castoro Cellars is going to do a little warm-up show on Saturday, Aug. 25, with the Coffis Brothers and the Mountain Men, B & The Hive, and Miss Leo and Her Bluegrass Boys (doors at 6 p.m.; all ages; $15 presale at whalerockmusicfestival.com or $20 at the door).
St. Benedict's annual jazz concert features Julie Kelly and the Real Time Jazz All-Stars this Saturday, Aug. 25 (3 p.m.; all ages; $27 at stbeneslososos.org, includes complimentary beverages and snacks, with wine and beer for sale). The group includes jazz luminaries such as Darrell Voss, Dave Becker, Marshall Otwell, and Dylan Johnson.
Gypsy jazz group the John Jorgenson Quartet plays a benefit for the Templeton Performing Arts Center Foundation this Saturday, Aug. 25, in the TPAC (7 p.m.; all ages; $30 adults, $15 students, at brownpapertickets.com).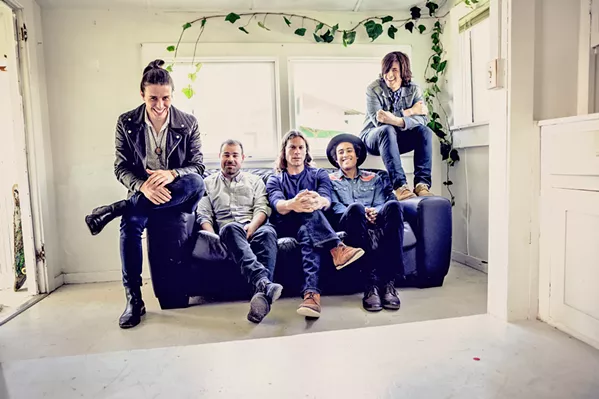 Photo Courtesy Of Coffis Brothers And The Mountain Men
WHALE ROCK WARM-UP Castoro Cellars presents Coffis Brothers and the Mountain Men on Aug. 25, in a warm-up show leading to their annual Whale Rock Music Festival.
The Cal Poly Collegians Alumni Big Band will celebrate its annual reunion with a performance from 7:30 to 10:30 p.m. on Saturday, Aug. 25, in the Madonna Inn Ballroom. The gathering draws more than 20 alumni musicians playing the music of Count Basie, Duke Ellington, Benny Goodman, Glenn Miller, Les Brown, and other famous ensembles of the big-band era. The Collegians draw a full house every year, and seating is guaranteed only for those who make a reservation and dine in the Madonna Inn Gold Rush Steak House.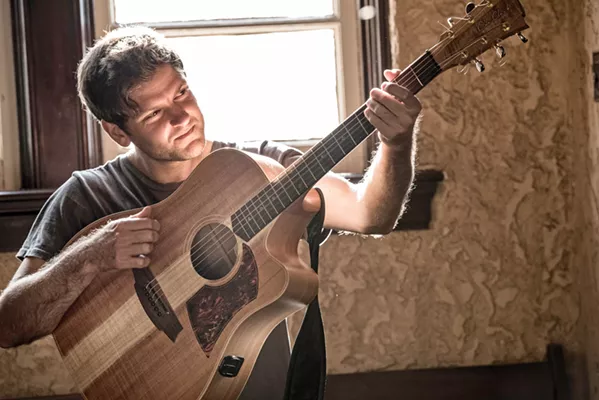 Photo Courtesy Of Daniel Champagne
DOWN UNDER Australian guitarist and singer-songwriter Daniel Champagne plays the Morro Bay Wine Seller on Aug. 28.
Australian guitarist and singer songwriter Daniel Champagne plays the Morro Bay Wine Seller this Tuesday, Aug. 28 (6:30 p.m.; free). Champagne was the official showcase artist at Folk Alliance 2018 and has also played festivals such as California Worldfest, Bear Creek Folk Festival, Port Fairy Folk Festival, and others. He's opened for the likes of Rodrigo Y Gabriela, Tommy Emmanuel, Albert Lee, and Kaki King. Δ
Keep up with New Times Senior Staff Writer Glen Starkey via Twitter at twitter.com/glenstarkey, friend him at facebook.com/glenstarkey, or contact him at gstarkey@newtimesslo.com.