A stone's throw in any direction in the tight-knit community of Santa Margarita can stir up a flurry of opinions, especially when it comes to tough questions about property rights.
Residents are currently watching a land-use drama unfold in front of county officials, who are considering a proposed rock quarry in the area. The San Luis Obispo County Planning Commission heard the project on Dec. 11, with the issue continued to Jan. 8. No matter the ultimate decision, it will likely be appealed to the Board of Supervisors.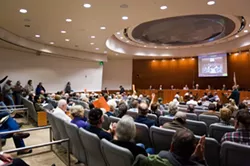 PHOTO BY KAORI FUNAHASHI
CONTENTIOUS DIVIDE: Santa Margarita area residents filled the County Board of Supervisors' Chambers on Dec. 11 to give the planning commission their take on a proposed quarry on Highway 58, three miles east of town.
The project has been the talk of the town since plans were first unveiled five years ago. Since then, community opposition has been inflamed by concerns over the project's impacts on traffic and the area's rural aesthetic, while project supporters continue to defend the quarry by downplaying the projected impacts and citing an unmet demand for rock aggregate around the county.
"The reason we wanted to open a quarry is, for one, it was a permittable site use," said Cheryl Cole, who with her husband, Mike, owns Cole Farms Trucking.
They've partnered with another Santa Margarita-area resident, Steve Souza, owner of Souza Construction Inc., to create Las Pilitas Resources LLC, the proposed project's operator.
"The granite was there, it was zoned for that, it was on Highway 58, which meant to us that those trucks would be allowed to run their commerce on [Highway] 58," Cole said for her second point.
"And three, we saw a need for it," she finished. "To be a locally owned company provides a lot of benefits. Somebody has a problem with one of my trucks, or one working on one of Steve Souza's sites, they can call us on the phone and get us, and we can remedy that."
The proposed quarry would involve mining the several types of rock for construction and road uses, eventually occupying 41 acres of a 234-acre site owned by Danny Oster, which sits along Highway 58 and the Salinas River just 3 miles east of Santa Margarita. Decision makers will be tasked with weighing the project's benefits—namely an additional source for aggregate—with the assessed negative impacts.
County planning staffers, however, see the balance as off-kilter and are recommending that the project be denied based on an extensive set of findings.
"At this point, we have not seen a public benefit that has been demonstrated that will deal with the impacts that have been identified in the [Environmental Impact Report] process," said Murry Wilson, a senior planner with the department.
The staff report identified several inconsistencies with planning guidelines and existing uses, including unavoidable impacts to traffic, noise, aesthetics, and the area's character. Traffic impacts were a significant part of the findings, which revealed tension related to the frequency of four-axel trucks hauling aggregate through a winding highway and then traveling through both an elementary school zone and crossing through town.
"This additional traffic would compromise the small-town, rural character of this historic community," the report reads. "Strong concerns have been expressed by residents along the proposed truck route through the community of Santa Margarita and from within other parts of Santa Margarita and the surrounding areas."
Roughly 65 people spoke at the meeting, with about three-quarters of those opposing the project.
The commission was originally prepared to make a decision at the Dec. 11 meeting, but a final decision was delayed to Jan 8. after project applicants asked that the hearing be continued so they could have adequate time to craft a response to the staff report's findings, which they say caught them off guard. The decision to continue had the potential to be controversial itself, because current planning commission chair Tim Murphy's term ends this year and incoming 4th District Supervisor Lynn Compton will appoint a new commissioner before Jan 8. The commissioners managed to sidestep that conversation, however, opting instead to finish by 5 p.m. so people could get home before the oncoming storm drenched the roads with rain.
During the extensive public comment, residents and businesspeople offered a complex and diverse matrix of interpretations of property rights and their relation to the area's rural nature.
Project supporters characterized the proposed quarry's operators as upstanding, responsible members of the community.
"I've worked with both applicants on many different projects, and they both do business in the most upstanding way, and they both take it upon themselves to help mitigate any problems," said Kyle Peterson, a resident and business owner in the Santa Margarita area.
Project opponents contended that even if that were the case, the project's impacts would extend throughout the surrounding area and would reverberate in such a way that it would impact the private property of others.
"It's really hard for me to understand why they would want to take this next step and actually put a quarry out there. I know the project will be well organized and well run," said Steve Owens, resident of Digger Pine Drive, which sits near the site.
Owens spoke highly of the Coles and Souza, adding that Souza played a fundamental role in building his current residence.
"You'll get reams of paper for and against this thing, but it's not a popularity contest. If it was a popularity contest, Steve and Mike would win this thing," he said. "It's not that we don't want the project; we just feel that it's not in the right location. Our quality of life would change."
The potential cumulative impact to the area had longtime Parkhill Road resident Robert Meek concerned as well.
"The area to be decimated by this project and the Santa Margarita area is one of the county's most pristine, scenic, and historic areas," Meek said. "Santa Margarita has retained its small-town rustic charm. Highway 58 is a narrow highway, limited shoulders, limited sight distance, leading to the proposed strip mine. The thought of allowing an industrial strip mine in this area to fulfill an imaginary demand for additional aggregate and competition is very disturbing."
He added: "It's not often that somebody says 'government got it right.' But in this case, the staff got it right."
Project applicants say that while certain impacts are inevitable, the Final Environmental Impact Report (FEIR) overstates the amount of truck traffic the project would generate. Because the amount of construction done around the county wouldn't increase as a result of this project, the trips used to haul aggregate from one place to another would just get shifted around, said the project's Santa Margarita-based attorney Sophie Treder, who dubbed it "essentially a redistributions of truck traffic in this county."
The FEIR estimates the quarry would generate a maximum average of 198 truck trips a day, with an additional 75 trips generated by recycling material, making a total average of 273 trips a day.
Project Manager Ken Johnston estimated a more likely average to be around 120 trips a day, adding that the 273 number is a maximum envelope assessed for maximum production, whereas the industry standard is about 60 percent or less of production. Opponents, however, are quick to point out that the numbers are an annual average, and don't adequately represent an operation that sees a peak season and a slow season.
Whether it's 120, 250, or even more truck trips may or may not matter to residents.
"One property owner's rights should not negatively impact the property values of others and the ability to enjoy their country lifestyle along the roads," said Rochelle Wagner, who lives on Parkhill Road—half a mile from the site. "You've heard many concerns expressed, and taken one by one they could be easily discussed, but all together, it is akin to a death of a thousand cuts to the community of Santa Margarita."
Contact Staff Writer Jono Kinkade at jkinkade@newtimesslo.com.
-- Melody DeMeritt - former city council member, Morro Bay