That first gulp of creamy, spicy eggnog slowly coating your tonsils. Steaming hot cocoa sipped before a crackling fire as the rain dances outside. The exuberant pop of the the cork as you pour the dark red contents of that tiny, wax-sealed bottle of port-style syrah for visiting friends—the one you've saved all year long. There's something about chilly December nights that calls out for a celebratory drink. Whether wrapped in blankets while stargazing in rural San Miguel or gathered around your pink-flocked Christmas tree in Arroyo Grande, be sure to toast these creative, crafty drink delights sourced from right here on the Central Coast.
Give wine with a beat
Remember when giving someone a mix tape was the highest sign of affection? It can be again. Each bottle of cabernet franc produced by Halcyon Wines comes with a multi-track playlist tied around its neck with twine. This isn't just a charming idea, it's a genius wine-drinking breakthrough. When you mix this light, slightly green, smooth-drinking Paso Robles red with just the right tunes, sparks fly.
The inaugural 2014 cab franc offers up whiffs of enticing clove and lingering spice—perfect for sipping while listening to The Barr Brothers' eclectic, ambient jamming on the recommended song "Static Orphans." Each playlist is tailored to the specific wine (the bubbly features quite a bit of hip-hop), and all are featured on the winery's website. In other words: It's easy listening. And drinking.
"You can sit back, pop it, drink it, and just enjoy it," Winemaker Tyler Elwell said. "This wine is simple without being boring."
Elwell co-founded the winery with partner Kim Schultz with help from their graphic designer pal Svante Nilson. Elwell, who splits his time at Tablas Creek Winery, named the passion project after a Greek goddess who marries a mortal. When mortal hubby dies on an ocean voyage, grief-stricken Halcyon drowns herself in the waves—which impresses the gods—who decide to bring both lovers back as seabirds. The story gets weirder and darker from there. If this story doesn't personify the tortured, love-stricken teen obsessively recording the perfect mix tape for their crush, I don't know what does. Thank you, Halcyon Wines for bringing back the art of the mix and for drowning out all of that annoying Christmas music, if only one bottle at a time.
Get your groove on and see which wine is right for your loved one at halcyonwines.com.
Share shine from the vine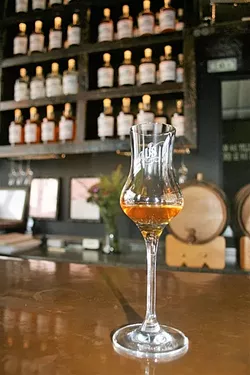 PHOTO BY HAYLEY THOMAS
WINE SHINE: Wine is great and all, but brandy made from wine grapes is pretty darn festive this holiday season. Stop by Wine Shine's new tasting room, located in the artisanal beverage haven of Paso Robles' Tin City, for a tasting snifter and a bold bottle perfect for winter gifting.
Wine country just got a little wilder. We're talking about handcrafted, artisanal spirits sourced from premium Paso Robles grapes—yee-haw! The fellas over at Wine Shine aren't just excited about blending age old distillation practices with tempting herbs, botanicals, and fruit—they want to have fun doing it. And they do. I caught up with co-owners Mark Sahaydak and Patrick Brooks along with distillery dog Chewy on a weekday afternoon. By the time I was done tasting, it felt like a Friday night.
Swing by the new tasting room nestled in the craft drink mecca of Tin City (located across from BarrelHouse Brewing Co. in Paso Robles) and get yourself a snifter of aromatic orange brandy, lemon hibiscus hooch, or—quite possibly the coolest gift ever—Wine Shine's Manhattan Project, which owes its "Manhattan" cocktail flavor to a dash of in-house bitters.
"We want Wine Shine to be a distillery for Paso Robles, for San Luis Obispo County, and we are getting a lot of local love," Brooks said. "So far, we haven't been able to sell to anyone else besides locals because local folks keep buying all of it."
That being said, get your bottles of Wine Shine now, as they are guaranteed to sell out by Christmas Eve. When you're there, be sure to take a peek in the production facility, which you can see from the bar. Just look for the hand-painted mural that reads, "The man banging on the door was yelling, 'alcohol, tobacco, and firearms.' We figured he was bringing supplies."
But seriously folks: These are delicious, unique spirits, and you don't have to be any kind of expert to belly up to the copper bar.
"People come here and they have fun," Brooks said. "No one leaves here dissatisfied."
For shine from the vine, find Wine Shine on Facebook or visit the tasting room at 3065 Limestone Way in Paso Robles' Tin City.
Gift a growler to go
Buying a growler always brings up uneasy questions, at least for me. How long will the beer stay fresh? When should I open it for maximum yum? Should I try to finish it in one fell swoop? The answer to all of these questions is "it depends." This holiday season, we can rejoice in the fact that Central Coast Brewing Company has made the growl drinking (and gifting) experience a teeny bit easier. The downtown SLO-based craft brewery uses a unique counter pressure growler filler to keep your brew fresher longer.
"You can fill up a growler with anything we have on tap and it will last longer than regular growlers," said CCB lead brewer Brendan Gough. "It will certainly last over the course of a week if you were traveling for the holidays, and that buys you a bit more time to enjoy it."
May I suggest filling up with the brewery's American style Monterey Street Pale Ale, which won gold at the 2015 Great American Craft Beer Fest in Denver? Or, if you want to go a tad more "wintery," pick up a six pack of 16-ounce CCB Stenner Creek Stout. Gough said the cans "make nice little stocking stuffers." He's a true St. Nick, I tell you!
With several smart-looking growlers to choose from—including amber glass, stainless steel, or a hydro flask insulated stainless steel wide mouth model—you can wear your proud beer nerdiness on your sleeve.
Get and give fresh beer at Central Coast Brewing Company, located at 1422 Monterey St. in downtown Paso Robles. For more information, go to centralcoastbrewing.com.
Hayley Thomas feels fortunate to live on the Central Coast. You can buy her a drink by emailing hthomas@newtimesslo.com.