Roederer Estate Brut Rose
ROEDERER ESTATE BRUT ROSE :
With the holiday season quickly approaching it's time to stock up on bubblies, and this elegant wine should be at the top of your list. One of my favorite California sparklers, this beautiful blend of 60 percent Pinot Noir and 40 percent Chardonnay is grown in their estate vineyards. In the traditional house style, Roederer adds five percent oak-aged reserve Pinot Noir to enhance its flavor and pretty pink hue. A full-bodied bubbly that's easy drinking on its own, I also love it with food. It's my first choice for Dungeness crab, but it's also great with roast chicken, turkey, and ham, or smoked salmon. This classic bubbly is widely available in markets and wine shops, usually at $28.99 but it's on sale at BevMo! for $24.99 (watch for bargains at Costco during the holiday season—but it never lasts long).
Gloria Ferrer Blanc de Noirs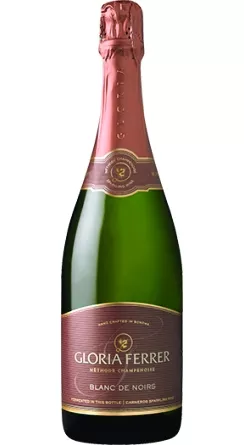 GLORIA FERRER BLANC DE NOIRS :
This bargain-priced sparkling wine is a great buy for stocking up your cellar. Easily found in a variety of markets, it's typically $18.99 a bottle but it's on sale now at BevMo! for just $14.99 (their Brut available at Trader Joe's is another good choice). Well-balanced and preferable to most bubblies in this price range, it's deliciously creamy and lively. Made from Pinot Noir, it has bright strawberry and black cherry flavors that meld with zingy citrus notes. This wine is an excellent aperitif, and pairs beautifully with a variety of seafood from halibut and sole to crab and prawns.