THE STORM: "Before and After Katrina, photographs by Peggy Jansson" is on exhibit at the SLO Art Center through May 31. The Art Center is located at 1010 Broad St. and is open from 11 a.m. to 5 p.m. every day except Tuesday. For more information visit sloartcenter.org.
W

hen Hurricane Katrina hit New Orleans in August of 2005, the country and world watched, and mourned. People sent money and supplies. And after a month-long flurry of coverage and attention, people seemed to forget New Orleans, assume that it would rebuild, somehow. Photographer Peggy Jansson has photographs that contradict this expectation and is exhibiting them in a series called "Before and After Katrina" at the San Luis Obispo Museum of Art's McMeen Gallery through May 31.
Jansson's trips to New Orleans began in 1971, when she married a New Orleans native. Her husband's family lived in St. Bernard Parish, a community in southeast New Orleans, one of the areas hardest hit by the storm.
For years, Jansson visited New Orleans, which she calls one of her favorite cities in the world, and documented the French Quarter, the Garden District, the swamps. The before photos capture a romantic, almost mythical place—the city of jazz, tourism, and Mardi Gras.
Then there are the after photos.
"Traveling down to New Orleans after the hurricane was a reality check. Some 38 members of our extended family lost their homes to the hurricane," said Jansson. "My sister-in-law's house was under water for three weeks and was leveled 18 months later by the local authorities."
PHOTO BY PEGGY JANSSON
SWAMP :
While traveling to New Orleans to help now-homeless relatives, Jansson took the opportunity to document the devastation. She has four Polaroid emersion transfers that she made in 2006 as part of an experimental photography class at Cuesta College. The exhibit also features three post-Katrina panoramas that Jansson shot in 2008, titled "Three Years in a FEMA Trailer" and "Refrigerator Graveyard." To illustrate the slow pace of rebuilding efforts, Jansson describes a 300-home subdivision with fewer than 20 homes resurrected to inhabitable condition.
Besides being a member of the Photo Society of the San Luis Obispo Museum of Art (formerly the SLO Art Center), Jansson is a member of the SLO Camera Club, a board member of the Morro Bay Art Center, and a member of the Cayucos Art Association. She studied at Cuesta College.
Documenting sites of tragedy and resurrection is becoming something of a pattern for Jansson. Besides her New Orleans series, she began photographing the World Trade Center site in 2006 when it was a mere pit, a gaping wound that only served as a reminder of a lost limb. She now has nine panoramas of the space, taken in 2006, 2007, 2008, 2009, and 2010 and has plans to return in 2011. Her goal is to complete 10 images in time for the 10-year anniversary of the attack.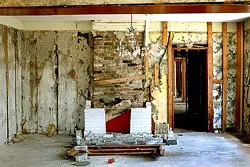 PHOTO BY PEGGY JANSSON
RED ROSE OF THE NINTH WARD :
"The comparison that I see

with both of these tragedies is that the rebuild is slow," she explained. "I'm a landscape photographer gone urban. My New Orleans work and World Trade Center are similar bodies of work because I have documented two American tragedies because I have family in both cities. The New Orleans work started from a tourist point of view before the storm and after Katrina as a concerned relative to make people more aware of what was happening."
Jansson speculates that New Orleans will likely never be what it once was. Many New Orleans residents simply moved, leaving incomplete communities behind. While they lack the personal assets to rebuild, progress at the World Trade Center site is dampened by weather and bureaucracy. Her World Trade Center images will be on display at the Photoshop on Marsh Street between June 15 and July 15.
Arts Editor Ashley Schwellenbach can be reached at aschwellenbach@newtimesslo.com.