It's been a while since I've made my way down the 110 freeway and exited on Dodger Stadium Way. It's April 15, a monumental day for all baseball fans—the 70th anniversary of Jackie Robinson breaking the color barrier and entering into America's favorite pastime. In his honor, the Dodgers unveiled a statue depicting Robinson sliding in to steal home plate, a focal point of his career.
So here we are, driving up to the blue entrance gates. I can feel the excitement emanating from the cars to my right and left. While we're all here for the love of the game, it's clear which team everyone here is rooting for: Passengers are dressed in a vibrant shade of azure. The color is often described as that of the sky on a clear day, and it was a perfectly clear day, for a Saturday evening baseball game.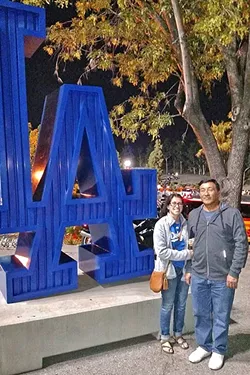 PHOTO COURTESY OF KAREN GARCIA
FAMILY : While I will be a forever Dodgers fan, my dad is firmly behind the St. Louis Cardinals.
As we make our way up to the stadium, the roar of the crowd signals the end of a quick first inning against the Arizona Diamondbacks.
I nudge my dad and say, "See, the Dodgers are starting the game off right because I'm here." It's something I've said to him since I was a kid. He chuckles and rolls his eyes at me, which is the usual response.
I'm scanning the field, and all of the players from both teams are wearing 42 on their jerseys in honor of Robinson bringing the baseball world together in a segregated world.
I look over at my dad who's intently looking at the field and the scoreboard, checking out the statistics of the next batter up. It's been a couple of years since my dad and I have gone to the open LA stadium, but baseball is something we've enjoyed together for as long as I can remember. It doesn't matter if we watch it at home or make the short drive to Dodger stadium, I've grown up with baseball, and it's about the love of the game.
As I'm thinking about this, Corey Seager, shortstop and rookie for the home team, walks up to the plate and hits the ball right to center. The crowd takes a breath of anxiety in unison as we wait for a verdict—it's out of here! Seager scored the first home run of the game. A booming crowd gives him the recognition he deserves.
PHOTO COURTESY OF KAREN GARCIA
PASTIME: Baseball brings sport lovers together to enjoy a game that's been around since the 1830s.
My dad has loved baseball since he was a kid, but growing up with nine other siblings in Mexico didn't lend itself to having extra money for baseball gear. Still, he found a way.
"We played with a branch that we would find laying around and a ball we made out of the top of a pumpkin gourd," he said.
When he was older, he would get hand-me-downs or scrounge up his savings and buy a glove. But it wasn't until he immigrated to the United States at the age of 17 that he joined a league. During the workweek, he's a truck driver for a meatpacking and distribution center, but come the weekend he's a player in a men's baseball league—and an all-star in my book.
Before you know it, the fourth inning is here and the Diamondbacks are leading the game 4 to 3. My dad claps as the opposing team makes an attempt to steal second, but the runner makes it back to first at the last minute.
VISITING : For more information about LA Dodgers tickets, home dates, stats, or gear pricing, visit mlb.com/dodgers.
I nudge him and ask, "Who's side are you on, Dad?" He laughs and calmly tells me it was a good play, "I can't help it if your Dodgers aren't any good."
After some laughs, more teasing, and the delights of a Dodger Dog, the boys in blue win a triumphant 8 to 4. And I've enjoyed another game with my dad.
Staff Writer Karen Garcia is rooting for her home team at kgarcia@newtimesslo.com.