Two of the most distinct voices in roots music are teaming up for a second nationwide tour that starts this week at The Siren in Morro Bay. Dave Alvin's edgy growl and Jimmie Dale Gilmore's reedy twang—not to mention their excellent guitar chops—will be on display during an intimate acoustic concert of their most popular songs and select covers.
Photo Courtesy Of Tim Reese Photography
PALS AND ICONS Longtime friends and music icons Jimmie Dale Gilmore (left) and Dave Alvin play The Siren on May 23, the first stop on a nationwide tour.
Some online footage features the pair trading licks on their hits, such as Gilmore's "Dallas," which he wrote as a member of The Flatlanders, and Alvin's "Marie, Marie," which he wrote as a member of The Blasters. They both have amazingly deep catalogs of great material, and they're both musical archivists who love to play songs written by greats such as Lightnin' Hopkins, Brownie McGhee, and Johnny "Guitar" Watson.
The tour makes future stops at the Strawberry Music Festival, Houston, Austin, Dallas, Philly, NYC, Boston, Buffalo, Cleveland, Columbus, Pittsburgh, and other major markets, so it's kind of amazing they're playing Morro Bay.
Numbskull and Good Medicine Presents host Dave Alvin and Jimmie Dale Gilmore on Wednesday, May 23 (7 p.m.; 21-and-older; $22 presale at Boo Boo's and ticketfly.com). You can also expect some great stories from these old friends who've know each other for 30 years but never shared a stage until last year's tour.
Don't miss it! If you're on the fence, go online and look up their video for "Downey to Lubbock," it'll push you straight to The Siren.
Don't forget that this Thursday, May 17, alt-Americana darlings The Brothers Comatose play the SLO Mission Plaza (5:30 p.m.; all ages; $20 presale at ticketfly.com or Boo Boo's, or $25 at the gate) with Próxima Parada, The Cimo Brothers, and Bear Market Riot opening. Later that night, Huntington Beach-based blues, soul, and rock act The Harlis Sweetwater Band plays at The Siren (9 p.m.; 21-and-older).
Also, California Classics, covering the Beach Boys' greatest hits and assorted surf rock songs, plays Saturday, May 19, at The Siren (8 p.m.; 21-and-older; $20 presale at Boo Boo's and ticketfly.com or $25 at the door).
Photo Courtesy Of Modest Mouse
STRAIGHT OUTTA ISSAQUAH Indie rock heroes Modest Mouse play the Madonna Expo Center on May 22.
Numbskull and Good Medicine Presents' other big show this week is indie rock heroes Modest Mouse playing the Madonna Expo Center on Tuesday, May 22 (6 p.m.; all ages; $35 presale at Boo Boo's and ticketfly.com or $40 at the door).
Formed in 1993 in Issaquah, Washington, the band released their first full-length album, This Is a Long Drive for Someone with Nothing to Think About, on the Up label in 1996. Their second, The Lonesome Crowded West (1997), landed the group a contract with Epic Records, which released The Moon & Antarctica (2000). In 2004, their breakthrough album, Good News For People Who Love Bad News, sold more than 1.5 million copies, earned the band two Grammy nominations, and cemented their rep as an important alt-rock act.
That same evening over at The Siren, see Americana juke/honkytonk/vintage blues artist The Suitcase Junket and uplifting folk rocker Dan Curcio when they bring their respective one-man-band styles on Tuesday, May 22 (7 p.m.; 21-and-older; $13 presale at Boo Boo's and ticketfly.com or $15 at the door).
Experience the Power!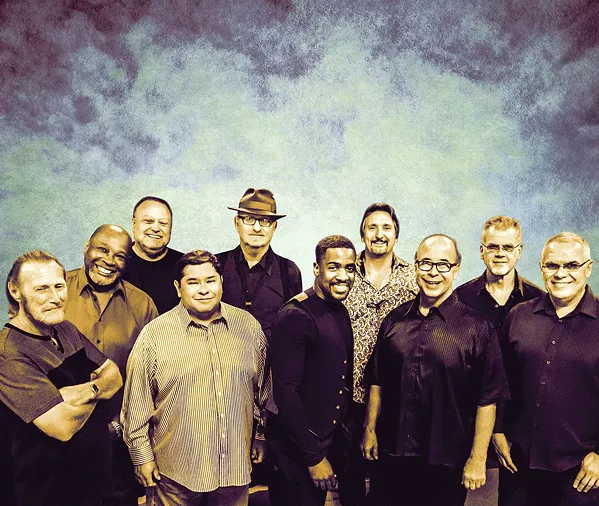 Photo Courtesy Of Tower Of Power
WHAT IS HIP? The legendary Tower of Power plays the Fremont Theater on May 19.
The Fremont Theater has a bunch of big shows this week, but perhaps the biggest is soul, funk, and R&B powerhouse Tower of Power, which formed in Oakland in 1968, and enjoyed hits such as "So Very Hard to Go," "Don't Change Horses (In the Middle of the Stream)," and "You're Still a Young Man." Known for their amazing horn section, this is a band to be reckoned with. See Tower of Power on Saturday, May 19 (7 p.m.; all ages; $59.56 to $77.16, or $209.12 for meet-and-greet, at Boo Boo's and eventbrite.com).
Also this week at the Fremont, see hip-hop artist YBN Nahmir on Thursday, May 17 (9 p.m.; $22 at eventbrite.com or Boo Boo Records). YBN Almighty Jay and Anthony Ray open.
The Desert Daze Caravan music festival will be live in the Fremont on Friday, May 18, featuring Ariel Pink (think '70s and '80s pop radio sounds) and Brooklyn rockers DIIV (9 p.m.; $25 presale at eventbrite.com or Boo Boo's).
Reggae and hip-hop artist J. Boog plays the Fremont on Tuesday, May 22 (7:30 p.m.; all ages; $27 to $77 at eventbrite.com) as part of his L.O.E. (Love Over Everything) Tour. Special guests I-Octane and Westafa open.
What's old is new again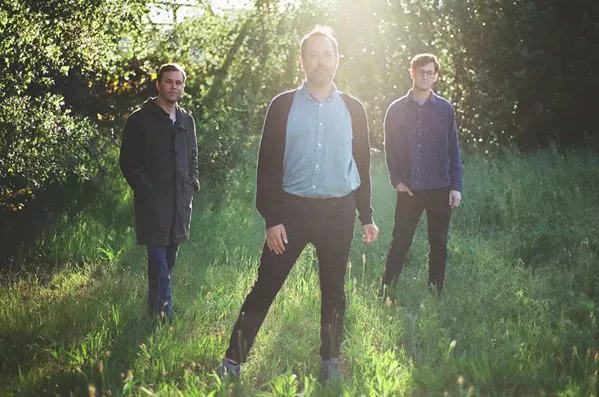 Photo Courtesy Of Shannon Odenthal
MUSIC FOR SOCIALISTS (AND LUDDITES) Soft People plays a cassette release party for their debut American Men, on May 19.
First, local surf punk pop act Hayley and the Crushers released a cassette tape, and now Soft People frontman Caleb Nichols has started a cassette label called Sandwich Kingdom.
"It's a strange little label that's going to put out cassettes and streaming music of artists based in or with connections to San Luis Obispo," Nichols said. "To kick things off, the label is releasing two tapes on May 19."
Sounds Of The Sandwich Kingdom: Vol. I is a mixtape featuring Arthur Watership, Other Houses, Tasia Trevino, Noah Kwid, Soft People, Depressed Specter, and more.
American Men, Soft People's debut, will also be released on cassette. Nichols describes the sound as "early Midlake having a baby with Broadcast and Clinic and Deerhoof and Boards of Canada"—or alternately—"America's best gay socialist band." I think it's got a cool '80s vibe with contemporary noise pop sensibilities and lots of political over- and undertones.
"The tapes are $5! They are beautiful!" Nichols gushed, also noting his band Soft People and glitterwave artist Paperman will play the Saturday, May 19, mixtape release show at SLO's Underground Brewing (doors at 8 p.m.; 21-and-older; free).
Lemons to lemonade!
You probably heard that Huey Lewis & the News had to cancel the rest of their tour—including their upcoming appearance at the Avila Beach Blues Festival—due to Huey's hearing loss. Instead of canceling the whole affair since the headliner was gone, Bruce Howard of Otter Productions Inc. instead decided to refund all the sold tickets and make it a free concert with the other scheduled acts!
That's right! On Sunday, May 27, head down to the Avila Beach Golf Resort to see Shemekia Copeland, The Fabulous Thunderbirds featuring Kim Wilson, and The Guy Budd Band for free! The gates open at noon and the show starts at 2 p.m. First-come, first-served. Upgradable VIP Beach Club Balcony tickets will be available for sale onsite, for those who cherish the VIP experience.
Photo Courtesy Of Shemekia Copeland
SOUL SISTER Shemekia Copeland (pictured), the Fabulous Thunderbirds, and the Guy Budd Band play the now-free Avila Beach Blues Festival on May 27.
"It's the party that kicks off the summer! We're proud to have brought the festival to the Central Coast for the past 25 years, and we're looking forward to the next 25 years!" Howard said. "We're honored to have brought greats such as John Lee Hooker, Bo Diddley, Etta James, Gregg Allman, Bonnie Raitt, Steve Miller, the Doobie Brothers, Dr. John, the Neville Brothers, Jonny Lang, Kenny Wayne Shepherd, Little Feat, Booker T. Jones, and so many, many more. [This year's free concert] is our way of saying thanks for the support! We're saddened that Huey Lewis called in sick this year, and we're hoping for a speedy recovery and a quick return to the beach at Avila sometime soon."
Gee, Bruce. You had me at "free."
More music ...
Carbon City Lights—a local indie alt-rock act influenced by the Dave Matthews Band, Coldplay, and Pearl Jam—plays SloDoCo this Friday, May 18 (6:30 p.m.; all ages; free). Key Party, described as "a slinky, combustible eccentric" quartet, will also perform.
Bakersfield alt-rock quartet The Bar Room Riot plays Frog and Peach this Saturday, May 19 (10 p.m.; 21-and-older; free). They're like Rush meets The Clash meets Jane's Addiction.
Traffic Records and the SLO Record Swap present The White Blinds at The Siren on Sunday, May 20 (doors at 6:30 p.m.; 21-and-older; $10 presale at ticketfly.com, Boo Boo's and Traffic Records or $15 at the door). Organ-heavy funk and soul outfit The Whites Blinds pay tribute to the '60s and '70s soul sounds. A SLO Record Swap vinyl fair will precede the concert—buy, sell, trade! (3 to 6 p.m.; 21-and-older; free).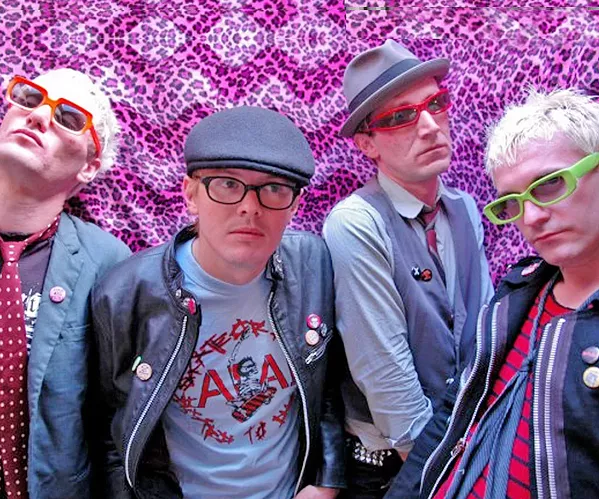 Photo Courtesy Of The Briefs
ASTRO-SNOTS Melodic Seattle punkers The Briefs headline a three-band show at Manny's Pizza on May 20.
A whole passel of punk awaits this Sunday, May 20, when legendary Seattle punk act The Briefs, local glitterpunk heroes Hayley and the Crushers, and Cal-Val's Lucky Losers convene at Manny's Pizza in Paso (8 p.m.; all ages; $17 at the door).
SLO Jazz Festival 'postponed'
Though scheduled for Friday, May 18, and Saturday, May 19, in the SLO Mission Plaza, the fifth annual SLO Jazz Festival has been, according to organizer Scott Andrews, "postponed until 2019" because "several important cash sponsors did not follow through with earlier pledges, leaving us in a bind at the 11th hour." Apparently ticket sales alone are not enough to fund this event. Refunds are available.
Keep up with New Times Senior Staff Writer Glen Starkey via Twitter at twitter.com/glenstarkey, friend him at facebook.com/glenstarkey, or contact him at gstarkey@newtimesslo.com.