When I was 10 years old, my mom and I started reading The Little Prince by Antoine de Saint-Exupéry together every night before bedtime.
It had everything I wanted in a bedtime story: royalty, adventure, a strange and exotic land, a love interest, and an unlikely friendship.
As exciting as the story of The Little Prince is on its face, I quickly realized that it had more depth than the average bedtime story. Here's a passage for you: "And now here is my secret, a very simple secret: It's only with the heart that one can see rightly; What is essential is invisible to the eye." Word.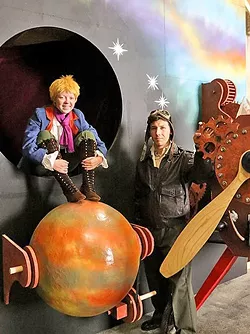 PHOTO COURTESY OF CAL POLY
AN UNLIKELY FRIENDSHIP: After being stranded on a strange planet when his plane breaks down, the Aviator meets the Little Prince, a child who is seemingly wise beyond his years.
So I was excited, curious, and a bit apprehensive when I heard that Cal Poly's theatre and dance departments were collaborating to perform a version of The Little Prince adapted from the book for the stage by Rick Cummins and John Scoullar.
Still I dutifully entered the Spanos Theatre on Thursday, Nov. 12, enthusiastic about how the book would translate to the stage and confused about how dancing was going to work out in a story with fairly serious themes and minimal characters.
The Little Prince stage adaption did a good job of staying true to the story without going too long. The show started at 8 p.m. and I was back in my car by 9:30 p.m.
The gist of the plot: The Aviator's (Jacob Corsaro) plane crashes, stranding him on a strange desert-like planet, where he meets the Little Prince (Miranda Ashland). The two strike up a friendship, going on adventures and the Little Prince tells tales of his homeland and his beloved Rose (as in the flower) that he left behind.
Performances by Corsaro, Ashland, Charlene Jenny Cox (Snake), and Miko Vespremi (Fox) were very spot on. While Jennifer McLinton did a good job of being a cloying, vain, and needy rose, I do remember the Rose of the book being a bit more fierce and hurtful. It would have been nice to see the Rose use her thorns a bit more on stage.
Given that there is a limited number of characters in the story, the dancers were incorporated as a sort of nomadic group of desert land dwellers, complete with the keffiyeh head garb, and helped to transition the show from scene to scene, literally carrying the Little Prince off stage stiff-as-a-board-light-as-a-feather style at the end.
A ROYAL AFFAIR : Cal Poly's production of The Little Prince is showing Nov. 19, 20, and 21 at 8 p.m. at the Spanos Theatre on campus. Tickets are $12 and can be purchased online at

pacslo.org

.
While the Aviator is frustrated at being stuck in this seemingly endless desert land as his supplies run short, the Little Prince, with the kind of wisdom that sometimes only a child has, sees more.
"'What makes the desert beautiful,' said the Little Prince, 'is that somewhere it hides a well ... .'"
Ryah Cooley is not so patiently waiting for her not so little prince at rcooley@newtimesslo.com.