CONTRIBUTE TO THE CAUSE: If you're interested in playing, coaching or sponsoring the Central Coast Grizzlies, or sponsoring Knengi Martin's trip to Stockholm, contact her at knengim@gmail.com. For additional information about the Independent Women's Football League visit iwflsports.com.
To think of playing cricket for hard cash! Money and gentility would ruin any pastime under the sun," bemoaned English novelist Mary Russell Mitford. And she made that statement in 1823, a full century and a half before multi-million dollar salaries and endorsement contracts.
Czech long-distance runner Emil Zátopek said, "An athlete cannot run with money in his pockets. He must run with hope in his heart and dreams in his head."
The reality is—at least for American professional sports—the old-fashioned tradition of sacrifice for one's sport has been replaced by a value system by which athletes refuse to attend training camps until their million-dollar contracts are signed. They shill everything under the sun, from beverages to soup to shoes, leaving one final frontier of athleticism and sacrifice, where athletes are counted lucky to draw any salary at all: women's sports.
San Luis Obispo resident Knengi Martin counts herself lucky to play football. She's in the middle of her second season with the Independent Women's Football League: a nonprofit, full-tackle women's football league with 51 teams across North America. Martin plays fullback for the California Quake, a team based in Long Beach. In SLO, Martin lives with her girlfriend and her girlfriend's two children. But in order to play for the IWFL, Martin moves to Southern California for six months each year, from January to July. Last year she lived in her younger sister's walk-in closet. This year she's lucky; she lives in a guest bedroom in her coach's house, and has a free ride to practice.
And Martin's not alone in the sacrifices she's made for her sport. One of her teammates moved from Japan to play with the Quake. One of the players last season commuted about five hours round-trip to practice.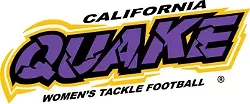 IMAGE COURTESY OF CALIFORNIA QUAKE
"We have two girls on our team who commute roughly an hour each way. You really have to love what you're doing," she admitted. "You get players like me who will move four hours from home to play for a good team. That's one thing that's great about women's football."
During pre-season, players practice about 20 hours each week. When the season starts, the hours drop to about eight, counting two hours a week of film watching. If they have an away game, they're gone Friday night to Sunday morning. For a home game, they spend all of Saturday afternoon and evening at the field. And the players don't see a dime for their efforts. In fact, most players pay at least $1,000 just to get out onto the field—a $750 training fee, and an additional $200 to $400 for equipment.
When Martin first tried out two years ago, she was hoping to land a spot on either the California Quakes or the Los Angeles Amazons. California has four tier-one teams—California Quake, Los Angeles Amazons, Sacramento Sirens, and So Cal Scorpions—and two tier-three—Nor Cal Red Hawks and Redding Rage—making it the most abundant state in terms of women's football. Martin wanted to test her abilities to determine whether she would be capable of competing with the league's tier-one athletes. Last season, she was voted MVP of the Quakes and was selected for the IWFL All-Star team.
This year, she received a greater honor still; Martin was one of 45 athletes selected to compete on the Women's National Team. In June, Martin will travel to Stockholm to compete in the first International Federation of American Football Women's World Championships. Rather than competing against the best athletes in California or Portland, Martin's team will go head to head with the best football players from Sweden, Germany, Austria, Canada, and Finland.
Martin's excitement is somewhat tempered by her dislike of flying, but the competitive quality driving her is motivated by the opportunity to compete against the very best. She acknowledges there will be kinks to work out, considering this is the competition's first year, but women football players know the meaning and value of patience. Meanwhile, Martin is working to raise $3,000 to cover her traveling expenses, besides another fundraising effort she's spearheading, to revive a Central Coast women's tackle football team she started in 2005.
"I was just testing the waters to see if I'm any good," said Martin of the past two years' adventures. "It's nice to know that I am. But I'm ready to come home."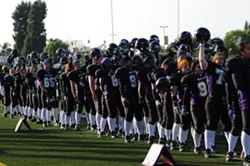 PHOTO COURTESY OF CALIFORNIA QUAKE
The Central Coast Grizzlies played in a six-on-six tackle football league in 2005, 2006, and 2007 before Martin left to explore the bigger, more challenging waters of the Independent Women's Football League. The team won the national championships for their league, but still Martin felt the team was overlooked, invisible to the general public. She's hoping to revive the team as a traditional 11-against-11 tackle team for the 2011 season, and is recruiting players, sponsors, coaches, and a practice venue.
"I think it will be easier for me to start a team here than anywhere else," said the eight-year SLO resident. "There are enough players to get a good team. Whether we are a top-notch team right off the bat …"
In the off-season, Martin coaches for the San Luis Obispo Youth Football League, and she recently accepted a job coaching the JV team at Mission Prep. She hasn't yet had any girls on her team, but whenever she encounters a girl in the league, she makes a point of offering a word of encouragement. It's always difficult for girls to play in high school, Martin pointed out, but as soon as they turn 18 they have a haven in the IWFL,
if they're willing to work for it.
PHOTO COURTESY OF CALIFORNIA QUAKE
Women's football has a lot of growing to do, and Martin is practicing a philosophy of baby steps. But she's hoping that the half-dozen women's football leagues currently operating in the US (Women's Professional Football League, Women's Football Alliance and National Women's Football Association, among them) will eventually meld into one organization that fosters and promotes only the most talented players. Every couple of years a new league screams into existence. A lot of them survive for a few seasons and then quietly disappear, and the teams either disband or are absorbed into another league.
For anyone looking to support women's football, Martin's got a lengthy list of suggestions, starting with purchasing a $10 game ticket and cheering a team from the bleachers.
"There are some teams that can fill one whole side of the stadium at a high school," she said of the IWFL. "Our games, we're feeling really good if we can get 400 to 500 people. It used to be your mom, your dad and your sister came to watch you play. Now it's your mom, your dad, your sister, and your co-workers."
Arts Editor Ashley Schwellenbach thinks taking the million-dollar salaries out of sports is a grand idea. Pitch fits at aschwellenbach@newtimesslo.com.